Blindspot Season 1 Episode 9 Review: Authentic Flirt
Paul Dailly at . Updated at .
If someone tells you to stop digging, stop digging.
That's something that poor David will be taking to the grave after the events of Blindspot Season 1 Episode 9. If you've followed any of the recent spoilers for the show, this should have come as no surprise, but I can't help but think NBC made a big fuss out of nothing.
The way the promo machine was going, you'd have thought it would be Patterson, or even Tasha saying goodbye for good. If NBC hadn't gone on about it as much, it would have been a nice shock that would have given something to talk about at the water cooler for a change.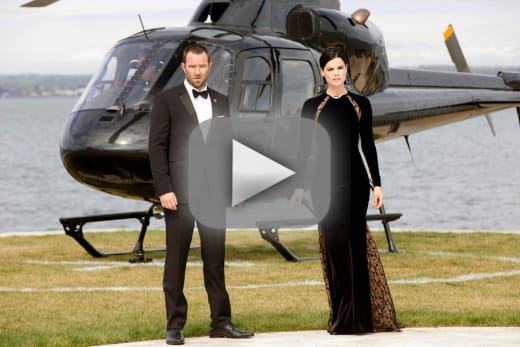 Blindspot Season 1 has been decent enough so far, but there's always room for improvement and this episode was a step in the right direction. 
Before we got to the rushed final few minutes, we had the best case to date. Who knew that Weller and Jane off on an island, dressed to the nines, would make for some good TV? 
Rich.douche was one of the most annoying villains I've ever witnessed on the small screen. I was counting down the minutes 'til Jeller (yes, I'm calling them that for this week only!) opened a can of whoop ass on him. He seemed to think he could get whatever he wanted and that might have been true when Kim Dot Com was a thing, but he isn't now. 
I totally bought Jeller (Ha!) as assassins. The two of them had some solid fight scenes tonight. Jane's one liners were on point. Her character is developing really well, and we're slowly, but surely, unlocking more about her as the weeks go on. 
The main thing that will hold back a relationship with Kurt is that the two actors have a complete lack of chemistry, and I can't fathom why anyone would think these two would make a great couple. 
Elsewhere, Saul (the annoying dude from earlier in the season) was murdered in prison and it looks like that will come back to haunt our characters in the upcoming mid-season finale. Did Mayfair make this happen? I kind of think that's how it's going to play out. 
Back to David. Patterson is going to feel like crap after the way she brushed him off. He was a little corny, but it was evident that he loved her and she's going to struggle to get over how she treated him. 
One thing I was really shocked about was that the dude tailing him wasn't the one to end him. I'm also a little unsure that's he's actually dead. Mayfair could have sent the dude to watch him, and then when she realized how dangerous things were getting, she sent him into hiding. One can hope, right?
"Authentic Flirt" was a solid effort from this freshman NBC drama. It seems like the show has found it's groove, and I hope it continues to pick up. 
It was nice that we got to meet Weller's ex. Wouldn't it be great if she and Weller sailed off into the sunset and off the show?
Poor Tasha. She's having a difficult time right now, and it isn't going to get better for her any time soon unless someone ends the token villain. 
Did anyone else get the impression that Jane was wiping her tattoos at the end? My jaw hit the floor, then I realized I wasn't even in the same zip code as correct.
Remember you can watch Blindspot online, right here on TV Fanatic. Get caught up now!
What did you think of this episode? Is David really gone? Will Tasha be able to tell the team the truth before it's too late? What do you think is coming up on the mid-season finale? Hit the comments!
Note: Blindspot Season 1 Episode 10 airs Monday November 24 at 10/9C on NBC.
Paul Dailly is the Associate Editor for TV Fanatic. Follow him on Twitter.