It looks like Penny is here to stay, and Meredith and Amelia have to figure out how to deal with it.
On Grey's Anatomy Season 12 Episode 6, Penny finds herself on Meredith's service, while April brings in a new patient. Join TV Fanatic writers Stacy Glanzman, Elizabeth Harlowe, and Amanda Steinmetz for a discussion of "The Me Nobody Knows."
Was Richard wrong not to share what he knew about Penny before she was hired?
Stacy: I was a little confused on this. Shouldn't the board be consulted before new people are hired? But yes, I think it would have been a good idea for Richard to give Meredith a head's up before she was hired. Also, his comparison, while good advice to rise above it, wasn't really the same situation. Richard had a hard time with Meredith there because of something he did. He was the one who cheated, it wasn't Meredith's fault he was uncomfortable with her there. I'm not saying Penny doesn't deserve a real chance, everyone on this show has made mistakes, but it's still not the same situation.
Elizabeth: I don't know, it seems like there would be some kind of confidentiality clause where he couldn't tell Meredith about a candidate. But it does seem like he could have told Penny what she was getting into somehow. He screwed her over just as much as Meredith.
Amanda: I agree with Stacy. While I don't necessarily think it was Richard's personal obligation to tell Meredith, I figured the board knew who was being hired at the hospital they own.
What's your take on Penny now that she's working at Grey Sloan Memorial?
Stacy: I'm not a fan of her. I hope she doesn't stick around too long. There are so many characters that already don't get enough screen time, we don't really need any more.
Elizabeth: She hasn't done anything interesting yet – despite what Amelia and Meredith think, she didn't even kill Derek, which would be *something*. She was just the resident on call with a terrible attending at a hospital that wasn't qualified to care for him. I don't understand how she wasn't good enough to match at a level one trauma center originally but now she is.
Amanda: She seems like a well-intentioned person, but I'm still fuzzy as to how she was qualified for the program? Even if she got fantastic recommendation letters, wouldn't those letters have come from the horrible doctors at the hospital that closed down?
Do you think there's hope for April and Jackson?
Stacy: Yes, there was always hope. Jackson still loves April, but he was hurt and needed time and space to process it and figure out if he could move past it. April wasn't giving him that and that pushed him and made him angrier. It definitely seemed like they were starting to make progress in this episode though and I think they'll continue to do so.
Elizabeth: If Riggs doesn't meddle and screw everything up, yeah. April's move with the kid was risky, but she needs to keep reminding him of why he fell in love with her in the first place. I'm loving her commitment to her marriage and this storyline.
Amanda: I think there's still hope. April is a very different person since they got married, but that doesn't mean they can't find their way back to each other.
Was there anything missing from this episode?
Stacy: Not enough Alex! I loved his scene in the chapel, but I always want more of him. Several characters were either barely in the episode or weren't at all, and like I said before, I'd rather spend time on them than Penny.
Elizabeth: I agree there could have been more Alex, and I would have liked some scene where Meredith was leaving a voicemail for Christina or something. This is some major ish going down in her life, she needs her people. Also, it is starting to get very weird that we don't see the kids.
Amanda: We're all in agreement about Alex. I'd rather him not appear in the episode than to pop up for one scene. We need an episode that prominently features him soon.
What was your favorite quote or soon from "The Me Nobody Knows?"
Stacy: Probably the scene with Alex and Meredith in the chapel. It was funny and sweet. I love their relationship.
Elizabeth: The chapel scene was pretty great. I wasn't even annoyed that she was looking to the most selfish man ever for advice – talking to Derek made sense in this situation.
Amanda: I actually really like the scenes between Richard and Maggie. We haven't touched upon their father-daughter relationship for a while, so it was nice to see their dynamic explored more.
What did you think of this episode of Grey's Anatomy? Share your thoughts in the comments below!
Need to catch up on past episodes? You can always watch Grey's Anatomy online right here via TV Fanatic! Don't forget to tune into Grey's Anatomy Season 12 Episode 7, "Something Against You," Thursday, November 12, and watch a sneak peek now.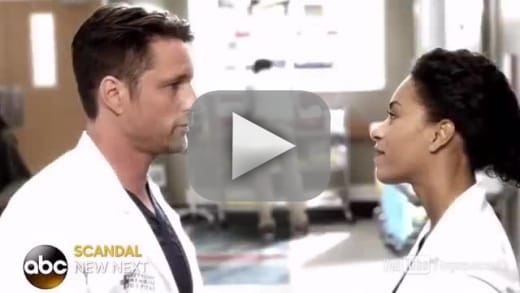 Ashley Bissette Sumerel was a staff writer for TV Fanatic. She retired in September 2017. Follow her on Twitter and on Google+.