Reign Season 3 Episode 8 Review: Our Undoing
Miranda Wicker at . Updated at .
Remember that time the prince of Spain asked Mary to participate in a little masochism, and she agreed but invited Catherine along for the ride because she didn't think she could handle it and then everything went bananas and Don Carlos got stabbed in the head?
Reign Season 3 Episode 8 picked up immediately after that moment with Mary and Catherine in the tunnels, frantically trying to figure out how not to get caught.
God, I love it when these two scheme together.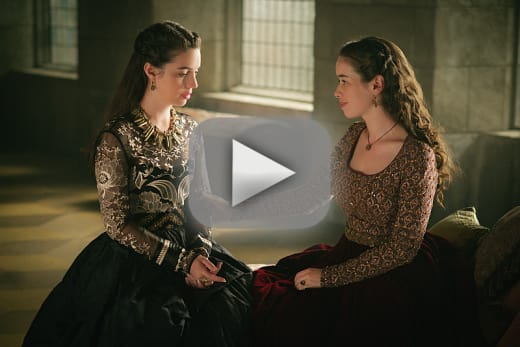 As much as I have a love-hate thing with Catherine de Medici, there's nothing I love about her more than when she's concocting some plan to keep herself out of trouble. Even if it means killing the prince of Spain with a wash cloth.
She's best when she's being wily, and her efforts to prove her own innocence were top notch tonight.
Narcisse usurped Catherine as Regent, and someone framed her for Francis' death saying the Queen Mother had murdered her own son in order to become the leader of France. She thought it was Narcisse. He declared it wasn't. She didn't believe him and still doesn't.
Turns out she's wrong. 
Narcisse, for once, isn't behind this. 
The person, or group rather, who is behind her framing, wants to bring about the end of the Valois line at any cost. I'm not sure if we know the identity of the man who killed Cardinal Morel yet. His face is familiar, but when it comes to French court, they all start to blur together eventually.
Part of me wonders if the group attempting to end the Valois line has something to do with Antoine and Lord Conde, but given this show's penchant for villainy, it could literally be anybody who might want Catherine de Medici dead or otherwise indisposed. But this woman has nine lives, so no one should expect her to go down quite so easily.
While Bash still had nothing to do to keep him on the screen, he did assist Catherine in retrieving Francis' body in order to prove that she didn't poison her son. Good job, Bash. I guess. (Seriously, dude. Get a new job. Woo Mary again. DO SOMETHING FOR THE LOVE.)
For now, at the urging of Catherine and at the recognition that there's nothing she can really do to save her people, Mary is engaged to Don Carlos, the now brain-damaged and docile prince of Spain. This allows her to save Scotland, and it allows Spain to save face. Win win?
They could do worse than having Mary essentially rule the country someday. Not that it will come to that.
Gideon, Elizabeth's spy, is still out there, lurking in the shadows of French court, waiting to make his move in order to lure the Queen of Scotland into his bed so she won't marry Don Carlos. (Previews for Reign Season 3 Episode 9 show Elizabeth trying to make a move on Don Carlos! Get your own monarch, lady!)
Historically, we know Mary doesn't wed Spain, and since the showrunners wouldn't change history to keep Francis alive, we probably shouldn't expect them to change the trajectory of the rest of Mary's love life either. Bummer. 
But all of that, and that was a lot, wasn't even the biggest thing of all.
Lola knows the truth about the rat and that it was Narcisse who placed it into her bath so that she would turn to him for protection and eventually marry him. I mean, the lengths to which he went to woo her are sort of endearing, right? (No.)
Not only that, but to cover his tracks, instead of confessing to her long ago, he's just continued down a murderous and dishonest path, and Lola is nothing if not a woman who tries to be honorable and do the right thing. 
In order to save her father and three brothers, Lola is leaving French court for a life with Elizabeth in England. Why, specifically, Elizabeth wants Lola I'm not yet sure, but it's probably to separate Mary from the rest of her ladies, leaving her isolated and alone, and also to provoke Narcisse, the acting Regent, into picking another fight with England.
Ugh. Elizabeth. 
I'm glad Lola knows the truth about Narcisse's dishonesty, and I'm glad that she realizes that staying in France would mean he would definitely win her back. But part of me is sad because I'm a sucker for a good villain-redemption and I really, really wanted Narcisse to turn into a decent-ish guy. 
Oh well. We can't always get what we want, right?
Claude is certainly trying, though! Will Catherine convince Charles to let Claude choose her own husband, and will Leith choose Claude in return? That all has to be dealt with, and then there's Greer's pregnancy, too!
The baby is not Leith's, but he's the sort of guy who would eschew a life married to a princess in order to marry his former lover and raise a pirate's baby. The world needs more Leiths.
We have a lot of Reign left before the series takes its hiatus, returning who knows when to finish out the season. 
What did you think of "Our Undoing"? Who is trying to frame Catherine? Why does Elizabeth want Lola specifically as her hostage? Sound off in the comments below and remember to watch Reign online!
Miranda Wicker is a Staff Writer for TV Fanatic. Follow her on Twitter.