Downton Abbey Season 6 Episode 6 Review: An Open House

Caralynn Lippo at .
It looks like the hospital drama has finally reached its end, thankfully. Though the family drama is only just beginning.
Downton Abbey Season 6 Episode 6 saw the Crawleys make the unprecedented decision to open up the Abbey to the general public (for a price) to raise money for the local hospital. It was as hilarious as expected.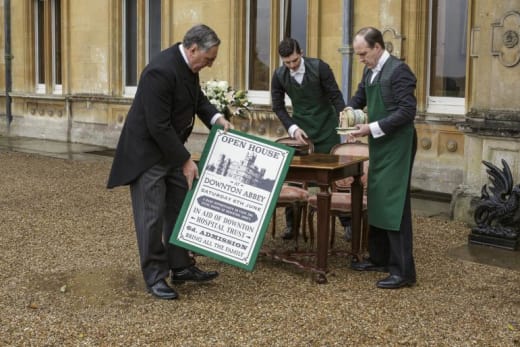 Downton is not typically a funny show, per se. It has its laugh-out-loud moments, for sure; but it is a soap, after all, not a comedy.
That said: Mary, Edith, and Cora trying their best to answer the visitors' questions as they led them around the house and each having literally no idea whatsoever about the Abbey's history was easily one of the funniest things I've ever seen on this show.
Cora: No, the third Earl built it. Well, he didn't really build it so much as envelope it, because this room is originally medieval. It was the monks' refectory of an abbey that King Henry sold after the Dissolution of the Monasteries.
Visitor: Is that why it's called Downton Abbey?
Cora: ... I guess so.
The confusion over why the rich would live in a place so "not cozy" was also an interesting theme repeated throughout. The little boy who snuck up into Robert's room was baffled about why anybody that rich would choose not to buy a cozier house. Similarly, the spectators on Edith's tour noted that the house wasn't cozy, which set Edith on the defensive (it's cozy at night, with candles and things... of course).
This was used for both comedic effect (the Crawleys don't understand the concept of "cozy," because they've only ever lived in this grand house) and to underscore the larger theme of the times changing.
Both the Crawleys and the servants guessed that the spectators would be interested in seeing how "the other half" lives. Of course, everyone assumed that there would be admiration and a spark of jealousy within that interest.
Rather, it was mostly confusion and an academic curiosity. People were more interested in the house as if it were a sort of museum. Those who paid to see Downton asked primarily about the art and the architecture. Who built this? Whose painting is that hanging on that wall?
For them, it wasn't a house so much as a piece of history. Stepping into Downton and seeing it live was like stepping into the past for them. Yet another signal in the season-long theme of the Crawleys way of life being all but dead in the water.
Sorry, Mary. You and little Master George may be made of "sterner stuff," but that won't keep the tide of time from washing away your exorbitantly large house and outdated way of life. Alas.
Staging the open house also allowed Bertie Pelham a reason to visit and re-meet the Crawleys as Edith's paramour. I really like Bertie, and Bertie/Edith. There's nothing particularly special about him, but he clearly adores Edith and is not a scoundrel, so that already speaks volumes about him.
Edith appeared to be testing the waters when she brought Bertie in to see a sleeping Marigold. Her parents wondered among themselves about whether she would tell Bertie the truth about her daughter.
As Mary got closer to the truth about Marigold (she already basically knows and is now just baiting Anna and Tom to get them to admit it), I'm starting to get nervous. Edith better tell Bertie the truth before Mary gets her hands on it.
As much as I'd like to believe Mary has grown and changed, there really has been no significant improvement in the Edith/Mary relationship. It's unfortunate, but also realistic. They are just too different and will never have a typical sisterly relationship. At best, they'll be cordial. At worst, Mary will use Edith's secret daughter to blow up Edith's burgeoning romance.
Speaking of romance: there was a big leap forward for Mary and Henry Talbot. They attended a dinner with Tom, Evelyn Napier, Henry's driving buddy Charlie, and two ladies whose presence seemed necessary only to make the evening more gender-balanced.
Seriously, who were those ladies? I don't even remember their names, but if they hadn't been there, it would have been Mary and four dudes and that probably would have looked a little strange even in the progressive 1920s.
The gist of the Mary/Henry relationship is thus: Henry is head over heels for Mary (as per usual, with Mary and any non-Tom man she interacts with for more than three scenes), but Mary is hesitant and thinks things are moving too quickly. Mary deserved all the kudos in the world for being honest with Henry, finally: Matthew died in a car, so naturally she would be hesitant to be with someone whose life is so car-centric.
This reason, while perfectly legitimate, seemed more like a stand-in for the real reason – that Mary isn't quite ready to move on from Matthew. This would explain why her previous relationships after Matthew's deaths were such pointless non-starters.
She let herself fall into those Gillingham and Blake dalliances because on some level she knew, right from the start, that neither man was right for her. There was no actual danger of her falling in love with one of them and really dealing with replacing Matthew in her heart. With Henry, there is.
The fact that Tom is so into the whole "playing Cupid" thing also ramped Henry's esteem up in my eyes. Tom is such a wonderful character, and his relationship with Mary is so unique and enjoyable. He made a positive determination about Henry, which is a big check in the "yes" column on Henry's suitability as Mary's next mate.
Tom's also been sassy as hell ever since he got back from America, and it is amazing. Love it.
Mary: Why are you playing Cupid?
Tom: He's nice, he's mad about you and he loves cars. I rest my case.
The other major storyline revolved around the hospital drama. Thank the heavens, the final decision was made and sense prevailed over pride: the local Downton hospital is to be absorbed by the larger York hospital. Dr. Clarkson got to stay on in his position (yay!) but unfortunately Violet was ousted in favor of Cora as the new president (yay but also uh-oh).
It seemed that everyone knew before Violet, so it wasn't surprising when the Dowager stormed into Downton during the open house to confront Cora. She was all no-nonsense when she got there, leading to some grade-A Violet zingers.
Mary: Ah, Granny, thank god you're here. What else could I tell them about the library?
Violet: The library was assembled by the fourth Earl. He loved books.
Mary: What else did he collect.
Violet: Horses and women.

Has someone made a supercut of all of Violet's best one-liners yet? If not, somebody get on that, stat.
Cora taking over the position made sense both rationally and thematically. Cora was in favor of the hospital change, and would therefore be more amenable to the way things would now be run. She's also much younger than Violet. Beyond that, it's long beyond time for Cora to really step into the role of family matriarch. 
Nothing against the Dowager, of course. She is formidable and excellent, and Maggie Smith is an international treasure. But by her remaining the family matriarch for as long as she has, she's influenced the Crawleys to stay in an outdated mode of thinking. It's high time to pass the torch to Cora, who isn't exactly young and hip but is clearly more "with it" than Violet is.
Other Thoughts:
Mrs. Patmore and Mr. Mason flirted adorably with one another and Daisy was not having any of it. Daisy is reaching new heights of annoyance. I want to root for her education and her future, I really do, but she is so damn annoying that I almost want her to fail. She was beyond rude to Mrs. Patmore, and everybody was taken aback and weirded out by it (as well they should be!)
Mrs. Patmore and Mr. Carson noticed Andy and Thomas sneaking around because of their secret reading and writing lessons and assumed the worst. Poor Thomas. He was really a horror in much of the early seasons, but he's come a long way and seeing him break down crying alone after Carson accused him of taking advantage of "young, naive" Andy really broke my heart. Especially on top of the fact that he's being foisted out of the house, labeled the expendable employee. Rob James-Collier is a wonderfully talented actor, and he really makes you feel for Thomas.
Something odd is going on with Lord Merton's son Larry's fiancee, Ms. Crookshank. Not only does she have quite a villainous-sounding name, her sudden appearance and proclamations of being a "friend" to Isobel are random and suspicious. I don't trust her.
The headmaster Mr. Dawes offered Molesley the chance to take a test and become an assistant teacher! Mr. Molesley is by far one of the most consistently good-hearted and kind characters, so it's excellent that the series is gearing up to end on a good note for him. He deserves it.
Carson being nitpicky about Mrs. Hughes' housekeeping and cooking worked my last nerve. This has literally been going on since they got married. Right now, between this and accusing Thomas, Carson's tied with Daisy for most unbearable character of the week.
This Lord Grantham line made me do a double take. Cue my weirded-out eyebrow raise echoing Carson's.
But what on earth can we show them to give them their money's worth? Lady Grantham knitting? Lady Mary in the bath?

Robert
We're nearing the end of the series, with only two episodes and a special left to go! How do you think it will all wrap up? Let us know your thoughts by commenting below and watch Downton Abbey online here at TV Fanatic to catch up on any Downton drama you may have missed!
Caralynn Lippo is a staff writer for TV Fanatic. Follow her on Twitter.