Deimos got his revenge against Victor, Eduardo considered leaving town, and Abigail was convinced that Ben was out to steal her baby this week in Salem.
TV Fanatics Jack Ori and Christine Orlando are joined by Oquossoc from MyHourglass a Days of Our Lives fan forum to debate whether Abigail is losing her mind, Kate's intentions with Deimos and if Belle is the new Sami Brady.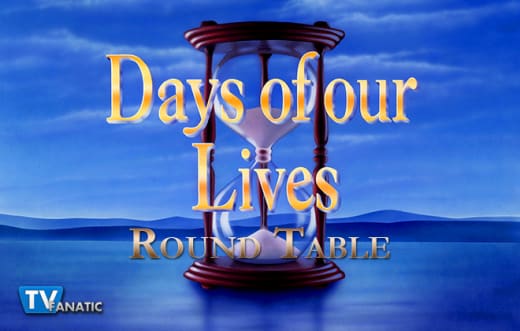 Is Abigail losing her mind?
Jack: She's been losing her mind her whole adult life, but this is different. I think this is some sort of PTSD-like reaction, though, not schizophrenia and certainly not a panic disorder like Fynn diagnosed her with!
Oquossoc: Clearly this is Chad's worry. Seeing him react to her continued spiral is heartbreaking, as he clearly wants everything to be okay, but has a harder time denying there is a problem.
Christine: She obviously has issues. I think it's a combination of PTSD and latent guilt over almost marrying a serial killer. I'm surprised no one has called Marlena in a for a house call! Abigail definitely needs help and not just a couple of pills. 
Do you want Eduardo to stay in Salem?
Jack: Yes! He's been growing on me lately and Dario needs to stop thinking that he speaks for the whole Hernandez family with his proclamations that "we don't want you."
Oquossoc: Yes, I think he's a really interesting character, and its nice to have Rafe surrounded by his family. I hope they are able to move towards a real reconciliation.
Christine: Yes. I love the actor and the character is complex and interesting. I love that Rafe finally has family to interact with but I'm already sick of Dario. Can we get him to leave Salem instead?
Is Kate playing Deimos or does she really want a relationship with him?
Jack: I think Kate wants a relationship with him. She's attracted to money, power and sticking it to Victor. Plus the two of them have a history of poisoning people and crazy revenge plans in common.
Oquossoc: I really hope she is playing Deimos. She has to be, right?!
Christine: I'm hoping she's playing Deimos as well. For all she's done, I've always thought better of Kate than this. I'm really not happy with this story.
Belle is all attitude these days. Is she the new Sami Brady in Salem?
Jack: It certainly seems like it. Maybe this is Andre's revenge, turning Belle into Sami somehow.
Oquossoc: I'll put it this way: I've never liked Phillip Kiriakis, but even I feel bad for him being strung along by Belle. He should recognize the warning signs and get out while he can.
Christine: Ugh. Sami was more fun and at least when she bounced from man to man, she was always in love with them. Belle is boring, self absorbed, has no sense of humor, and at times, downright mean. It appears she's only with Philip so that she doesn't have to be alone and deal with herself. 
What, if anything disappointed you this week in Salem?
Jack: We finally get to see JJ, but he's only allowed to prop Abigail with ridiculous stories and statements that don't make sense. More Summer nonsense. Also, Abby and Chad having sex in the garden in the midst of the Ben thing was ridiculous.
Oquossoc: I think the week was well done.
Christine: Why wouldn't JJ spend the night at the mansion? Did they not have enough bedrooms for him to stay and help protect his sister and nephew? And Summer is a waste of airtime. I wish she'd head back to California and take Dario with her. 
What was your favorite quote, scene or storyline from this week's Days of Our Lives?
Jack: Steve and Kayla's romance! We need more of this sort of thing and less of the violence on our screens nowadays. 
Oquossoc: Monday's episode was great - I love when they can dedicate a whole episode to a storyline, and once again the show benefited. It was a tense hour with great acting all around.
Christine: I love how supportive Chad was with Abigail, even though I think she needs more help than Fynn. I also loved when Victor referred to himself as Maggie's arm candy. Those two may be Salem's most adorable couple. 
Want more? Don't forget to check out Jack Ori's Days of Our Lives review here at TV Fanatic. 
C. Orlando is a TV Fanatic Staff Writer. Follow her on Twitter.