Wow!
Despite having signed the show's three male leads to contracts, ABC has decided to cancel Castle!
Perhaps the network truly didn't expect the uproar…
In the wake of telling leading lady Stana Katic (Kate Beckett) and co-star Tamala Jones (Dr. Lanie Parish) that they would not be asked back if there were to be a season 9, fans were outraged.
The cast cuts were supposedly due to budgetary concerns on ABC's longest currently running procedural.
Co-showrunners insisted that they had a plan for a reinvented version of Castle, perhaps with Rick Castle continuing as a private investigator with his daughter and new sidekick, Hayley Shipton, by his side.
The idea simply produced more anger from long time fans.
Twitter lit up with hashtags such as #CancelCastle and #NoCastleS9.
It even spurred a fan campaign to #SaveCaskett where fans sent ABC network coffee sleeves with messages about saving their favorite couple, even if that meant canceling the show.
Coffee was long the symbol of love between the titular couple but not much of it was seen in Castle season 8. 
It's hard to believe that fans would fight so hard to see their once favorite show end.
But that's exactly what happened.
The show runners have said that they filmed two endings for Monday's finale.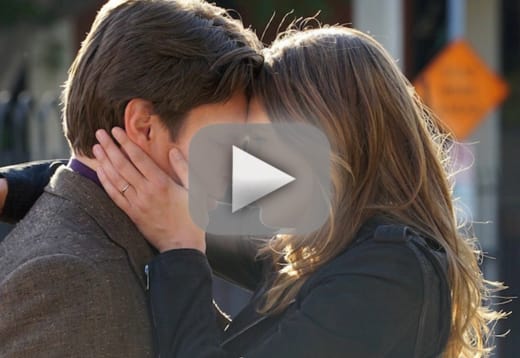 If the show had been renewed, many fans feared that the cliffhanger version would have killed off Katic's character, Kate Beckett, allowing Castle to somehow move on without her. 
The alternate ending is expected to give viewers more closure…
And many fans hope a much happier ending. 
We've got our fingers crossed that they're right.
Because we were told that the Caskett love story was for Always, and we believed. 
Don't forget to check back in for my review of Castle Season 8 Episode 22, the series finale!
And if you can't wait until then, you can always watch Castle online here at TV Fanatic. 
C. Orlando is a TV Fanatic Staff Writer. Follow her on Twitter.