The LokSat story finally concluded... Castle and Beckett lay bleeding on their floor... and a seven-year time jump gave fans their happy ending on Castle Season 8 Episode 22.
Below, TV Fanatics Stacy Glanzman, Jim Garner and Christine Orlando are joined by Arky and NathanFan from A Possibility For Joy a Castle fan forum to debate the LokSat wrap up, if they'd watch a spin off and was this a satisfying series finale for Castle fans.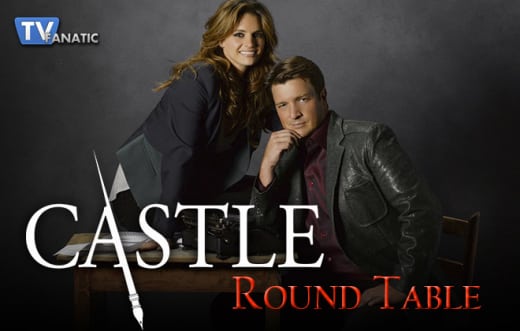 Were all of your questions about LokSat answered in this episode?
Stacy: Yes, I thought they wrapped it up nicely. I can't think of anything specific that was left unanswered. 
Jim: While it felt a little rushed, it did answer all my questions and I was happy with how it ended over all.  
Arky: LokSat....LOL,I was never interested in that story line. Can't even fully explain why. I guess it was part of the change that took place in the show along with the introduction of Vikram and Haley. LokSat never gelled as a story line for me. Boring and fragmented is how I would describe it. So... It didn't matter to me. I didn't even know who Caleb was and he killed Castle and Beckett.
NathanFan:  I definitely have questions remaining about LokSat starting with what the heck the acronym even stands for! We now know WHO was behind it, but I still don't have a sense of the purpose. Quite honestly though, I'm not so sure the show runners ever had a sense of the purpose either!
Christine: It was the lamest, most convoluted story arc of the entire series. I'm still not sure I can adequately explain what it was or why it happened…or how Caleb Brown survived and decide he had to kill Castle and Beckett. I hate that my favorite show that was always so happy and entertaining ended it's run with such a dark, depressing mess. 
Was this a satisfying conclusion for the series?
Stacy: Personally, I loved it. It was action-packed, involved the whole team, and had some great Caskett moments. I had hoped it would be renewed for a shortened final season, but once I heard Stana wouldn't be returning, I wanted it to end. With not much time left, I think the writers did the best job they could ending the series. 
Jim: I agree with Stacy, it was a satisfying ending. You could see where the summer cliff-hanger would have been, but they did a great job of getting past that and letting us know that the love story we've been following was a success in the end.  
Arky: NO !!! Castle and Beckett were killed.That was the end. Then the flash forward 7 years with the children and home life just didn't fit as an add-on. That should have happened at the beginning of the season so we could experience some of the married bliss that we craved for our dynamic duo. Didn't even get a child's names. WTH? Unsatisfying I guess and thrown in as filler to placate some of the fandom. Then the abomination that was the firing of Stana and Tamela while still thinking about another season!?!?. Well that probably ruined it for me. For all that... I will miss this show for much of what was and what could have been.
NathanFan: For the most part, I'm satisfied, but I say that only in the context of the limited options we had available to us. To have had the series continue without Beckett was unfathomable so, yes, I'll take this 30 second glimpse of happily ever after but I wish with all my heart that season 8 had been approached entirely differently and that it had led to a natural and satisfying ending for the series.
Christine: Ugh. As much as I'm grateful that Beckett wasn't actually killed off, I found it really unsatisfying. So we're left with Castle and Beckett bleeding out on their kitchen floor! Why? Why not cut that out and just give fans the happy ending they truly wanted? The 30 second ending felt like nothing more than tacked on fluff but I suppose I should be grateful for even that, as the show runners obviously had much darker plans for our beloved characters. This show had so much potential to be great. It's disappointing to see where it ended up. 
What's your favorite show on TV now that Castle is over?
Stacy: While I'm one of the few people who still enjoyed watching Castle all season, it wasn't my favorite show on TV anymore. It definitely was for a long time though, and The Big Bang Theory and Parks and Recreation each took turns there as well. As for what it is now? That's really hard. TBBT is not nearly as good as it used to be, but I still enjoy it every week, and I love Mom, so I'd probably go with those. 
Jim: My new guilty pleasure is Lucifer. I adore that show so much and I'm so thrilled that it did so well and has been renewed. Beyond that I'm a huge Blacklist fan and I'm looking forward to the spin-off.  
Arky: Probably Blacklist on network TV. Maybe NCIS...all of them.
NathanFan: The only other show I even watch is Dancing With The Stars. I continue to enjoy it.
Christine: I watch a lot of TV and enjoy many shows but I don't currently have another favorite. Perhaps that's what made this abysmal Castle season 8 even more depressing. Although I may try and binge watch Lucifer this summer. I've heard good things about it. 
Do you ship any other couples on TV?
Stacy: It's funny, as invested as I get into TV shows, I rarely "ship" couples. There are ones I'd like to see get together, but for the most part, I'm not that invested in relationships specifically. I think the only two couples I've ever really "shipped" are Buffy and Angel and Castle and Beckett. 
Jim: I'm not sure I'm much of a shipper of anyone. I enjoyed Kate and Rick together, but I just wasn't living and breathing by their relationship.. I'm a romantic, so it seems odd that I'm not more of a shipper.  
Arky: No, I haven't allowed myself to get that close to another couple after what happened with Caskett. Guess I'm not ready to be that disappointed again.
NathanFan: As I said, I don't watch any other shows so Caskett has been my only 'ship.'
Christine: I've always been a shipper, even as a kid, but no couple has come close to hooking me the way Caskett did. Most shows pull their couples apart far too often and I find that a turnoff. Some angst is okay but I want to watch a stable, happy couple. I really thought that was going to be Castle. Like Arky said, Castle has made me leery on investing in a "ship" again anytime soon.  
Would you watch any characters from Castle in a spinoff and if so, which ones?
Stacy: I'm not a huge fan of spinoffs. There are some that I like and work well, but now that Castle is over I think it should stay that way. 
Jim: Sorry Stacy, I disagree.. I would watch a Hayley and Alexis PI spin-off in a heartbeat! Same world as Castle but could be done with female leads. It could easy be this generations Cagney and Lacey (but PIs).  
Arky: Depends on the story, writers, showrunners etc. Sure,I guess I'd take a look and give any of them a chance to earn my viewer loyalty. Better grab me hard though. I feel badly burned by the way this series ended and the ugly drama that was associated with it's demise.
NathanFan: I'm eager to see what all of the actors do next! I think they are all very talented and I will definitely check out whatever they do if I possibly can. 
Christine: Unlike Jim, I hated Hayley and Alexis but I'd love a spinoff with Esposito, Ryan, and Lanie. With the right team of writers I think their story could easily continue without Castle or Beckett and I'd definitely tune in if that happened. 
What was your favorite quote or scene from "Crossfire?"
Stacy: I'll go ahead and say the final scene. Of course I wish it could have been longer and we could have had more, but I am just so relieved that we got a happy ending, and it was a really sweet scene. I'm just thankful that they didn't kill Beckett in order to continue the show. 
Jim: Totally agreed Stacy, I would have loved even a few more minutes of seeing the future to see how Alexis, Martha, Halyey, and the rest were doing. But, I'm grateful beyond belief that they didn't try to continue the show without Beckett. 
Arky: Nathan Fillion just before he was hooked up to the truth serum, "I'm not betraying anyone," "I don't care how many thumb screws you put to me." Now that was acting. Then every thing else about the truth serum scene was pretty good. Both truth serum scenes.
NathanFan: Hands down, my favorite scene was the truth serum scene when Castle has to admit that everyone he loves knows about LokSat and he understands that he's putting their lives in mortal danger by doing so. The intensity of Nathan's portrayal of that had me choking back the sobs. I also want to mention how much I appreciated hearing both Castle and Beckett get to express their love and commitment for each other when asked by Flynn and Ward. 
Christine: Agree with Arky and NathanFan that the truth serum scenes were the best, by far. Hearing Castle explain why he loves Kate and wouldn't consider a do over and then watch him suffer as he had to say the names of everyone he cared about who knew about LokSat, knowing they would be killed. Nathan Fillion knocked those scene out of the park. 
Check back next week for our Castle season 8 report card and then later for our Castle series review.
If you're already craving more classic Caskett, you can watch Castle online here at TV Fanatic. In the meantime, enjoy our 29 Most Memorable Caskett moments below...
C. Orlando is a TV Fanatic Staff Writer. Follow her on Twitter.