Devious Maids Season 4 Episode 1 Review: Once More Unto the Bleach

Yana Grebenyuk at .
Devious Maids is back with lots more deceit, murder and mystery. 
Devious Maids Season 4 Episode 1 moves the show six months, and it wouldn't make sense if there wasn't a new murder to bring all the characters back together. This time, Peri Westmore bit the dust, but at least we saw a little of what led to her death before Spence woke up to her dead body and decided he was the killer.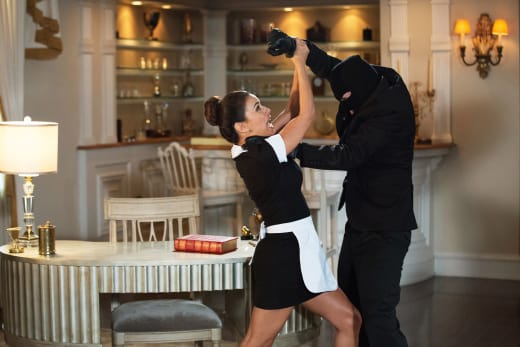 Before we get that bombshell murder at the end of the hour, there was lots of drama brewing for everyone.
Do all the maids have to be Latina? It seems kind of racist.

Eva Longoria
Marisol's plot was hard to pinpoint, at first, since she went from being mad about how her book was adapted to freaking out that Jesse was back in town after she made a fool of herself trying to win him back.
Marisol might have kept cool if Jesse hadn't dropped the friend bomb, but am I the only one who never thought her feelings for him were this serious?
The last season is a little fuzzy, and Jesse is really good looking, but Marisol seems to be too caught up in her feelings. They got together quickly, and then she spent a good amount of time accusing him of murder. How does that translate to the one that got away?
And what about this new man in her life? I'm a fan of Peter, but that could have to do more with James Denton and the Desperate Housewives nostalgia that he brought with him.
As for Peter in general, I am not sure what to think of him yet. He came out of nowhere, and he fell for Marisol, but that seems a little too good to be true. And if Devious Maids has taught us anything, it's never trust the new guy in your life unless you are into danger and near death experiences.
You said I could call myself a butler.

Jesse
Poor Rosie! Things weren't easy for her, and now she is stuck in a loop where her husband doesn't remember their love? She has to start all over and once was already one time too many.
It's tiring trying to remind this guy that his evil wife doesn't love him since he can't put it together on his own.
I'm not sure if it's just me who never fully got Rosie and Spence together, but with all that they've been through, I would like to see them get their happy ending.
Those two have dealt with too much not to, but with Spence thinking he killed Peri, I don't see that happening yet. He will be stuck. 
My biggest question is about Ben, though; how does he play a part in all of this?
What did he do to Spence that had him all submissive and brainwashed? And will Jesse figure it all out like the hero that we knew him to be? Does his story even connect to Peri's murder, or is her killer someone new that we haven't even met yet?
Carmen getting a visit from the daughter she gave away was a twist that I should have seen coming but was still kind of surprised when it happened. Carmen is going to deal with a lot this season, and that looks very promising. Last season it was more about a guy who wasn't good enough for a character like Carmen's.
Maybe not the deaf. They don't have to hear her awful whine.

Genevieve
But even though this looks like an interesting path for Carmen, I am, again, not sure about Daniela. There's not enough about her to judge yet, but her reckless behavior might do more harm than good. What did you think of her sneaking out to go to that party? 
Zoila leaving Genevieve because she can't get over the baby she lost had to be the most heartbreaking part of the episode. I knew Zoila was going to be in a dark place when we found out that she lost her baby, but it played out even better than expected.
Genevieve and Zoila always had a friendship that brought them back to one another no matter what, so seeing Zoila distancing herself was shocking.
But it's also intense because we will get to see these two completely on their own. They no longer have one another, and that might affect Genevieve more at first, but Zoila needs that crazy in her life, too.
As for Zoila's potential romance? I don't see myself engrossed in this plot because it's too obvious where this all will go. The neighbor not knowing that Zoila is the maid already doomed that relationship.
Zoila is dealing with so much. A fling might get her mind off it, but it won't help her move on. Eventually, she will have to deal with her pain and getting romance mixed in with that is too messy.
I'm not going to lie, being in a wheelchair is boring and this promises to be positively scintillating.

Adrian
Adrian and Evelyn Powell have to be the best part of Devious Maids. Each season they make the show even better with their banter and secret schemes.
But Adrian pretending to be paralyzed to keep Evelyn in his life has to be the best, right?
It's bittersweet because Adrian is finally appreciating Evelyn, but she isn't looking for that anymore. And when she finds out about his lies, there might be another death on our hands.
Adrian and Evelyn need to find a way to work all this out though because they are always better together. Especially when they get involved in other people's business.
What did you think of that killer (too soon?) season premiere? Did you think Peri should have died or was someone else better off? Which maid's story are you most excited to see play out? Let us know what you think below! 
If you want to refresh your memory before Devious Maids Season 4 really starts heating up, watch Devious Maids online right here on TV Fanatic! Because nothing is going to slow down and only the most attentive will come out on top! 
Yana Grebenyuk was a staff writer for TV Fanatic. She retired in April 2021.