Devious Maids Season 4 Episode 4 Review: Sweeping With the Enemy

Yana Grebenyuk at . Updated at .
Devious Maids did not hold back! 
Devious Maids Season 4 Episode 4 has us learning more about the new characters that joined the show, which created some interesting dynamics. Meanwhile, relationships that we were used to got a shake up, as well.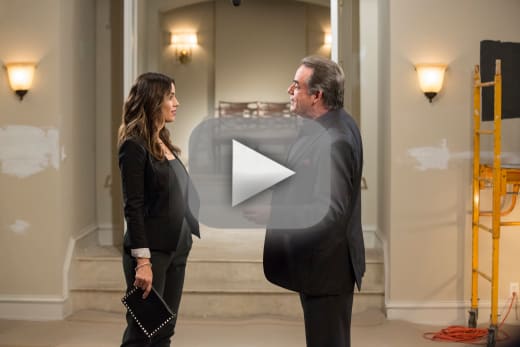 The humor was turned up a notch, reminding us that the show was staying true to its soap opera inspirations.
My doctor says its best to wake naturally from a Merlot and Ambien sleep.

Evelyn
Marisol and Evelyn trying to make their new house arrangement work was a disaster just waiting to happen.
I would like to see more of Evelyn bonding with the maids, because if there's anything that brings out the best in Evelyn, it's judging others.
Getting arrested, though, was a close second. Can we get some scenes of Evelyn behind bars? Because something tells me making a few friends in prison would be worth the watch.
Marisol finding out what Adrian had planned and essentially flipping him off was the best part of the episode.
The show is all about women supporting other women, and it's nice to see that back in action.
And if this brought Evelyn one step closer to a new job, it was all worth it. Evelyn thrives through judgment so making her money off that is even better.
Now you're just saying words.

Zoila
Spence's time in prison has to be the most outrageous story, but all the while entertaining. Watching that guy with the word "kill" on his face intimidate Spence was confusing .
Spence must not have anything else to show us while he is in prison, but they could have done something a bit more realistic.
Spence was unhappy for most of the previous season and if it continued, it could have tired everyone out. At least while Rosie is playing detective, Spencer has something (or someone) keeping him busy.
And nothing will keep him busier than a new play in prison and being poisoned.
This prison play plot could have been the end for Spence. Being poisoned does nothing.  But while Spence is having a fun time in prison, Rosie found out about Ben and Shannon in the worse way.
Those two are my least favorite characters on the show so far, and seeing them have sex did not make it better.
The idea that Genevieve and Rosie could be friends sold me, but I wish we actually saw Rosie show up for the dinner.
The people that work for her that aren't maids adore her, so Genevieve made the right choice with her hairdresser. Until he pulled out some book and gave us those cult vibes.
This circle concept runs from Ben/Shannon to Genevieve and it sounds promising. They couldn't have chosen a better person to introduce this cult, but this does worry me.
Genevieve has been through a lot, and this cult could lead to death or brainwashing. This reminds me a lot of Scientology, something that can't be an accident, right?
I may be 50 but I am very, very handsome.

Spencer
Daniela still hasn't grown on me and probably never will. Her and Jessie make no sense, and it's only a matter of time before Marisol shows up in his life again.
Jesse is still nice to watch, but it looks like he is only there to flip flop from woman to woman. It's getting old. Jesse should get back to detective work with Rosie because that will need some humor soon.
Meanwhile, Daniela's mother was not what I expected. She is colder and less supportive, but that's what they need to sell the Carmen/Daniela relationship.
Ignoring her daughter's singing is upsetting, but it makes sense.
Sometimes supporting a child means tough love, and showing Daniela that her life could end up like Carmen's is the best example.
And in the end, Daniela finding out that Carmen is her mother is going to lead to a bigger mess. Josephina and Carmen shouldn't have fought because it only made it worse for them and Dani.
Dani will spiral even further and might not get saved this time around.
Both of them are in the wrong and need to work together if they want to fix what they started.
What do you think of Daniela? Is she growing on you or do you think someone else's plot is better this season?
I've got a big mouth, you should have known better.

Carmen
Zoila and Adrian make no sense, yet they make so much sense. Adrian would be attracted to a woman that isn't afraid to call him out on his bullshit. And Zoila needs some nonsense before she returns to her real world.
But if he is planning to pursue Zoila, he needs to drop this vendetta with Evelyn. I was on board with him trying to win his wife back, but making her suffer first is ridiculous.
But what's more interesting is Kyle and his mother is their Norma/Norman-Bates-like behavior. Kyle became more interesting when Zoila dumped him, so maybe the jealousy plot does win some points.
Yet we know nothing about Kyle's mother and what she gets out of all this. She seems too good to be true, and her intentions are definitely not innocent.
What do you think Kyle's mother wants with all of these matchmaking ploys of hers?
What did you think of the episode? Are you excited for the introduction of a possible cult? Do you think there is hope for Spence or is he going to bit the dust this season? Let us know what you think below.
Next week's episode is too far away but you could always watch Devious Maids online on TV Fanatic to catch up with the drama you missed so far. 
Yana Grebenyuk was a staff writer for TV Fanatic. She retired in April 2021.