We may have to wait several months before Supergirl premieres on The CW this fall.
But executive producers have at least given fans of this fun drama something especially fun to ponder in the meantime.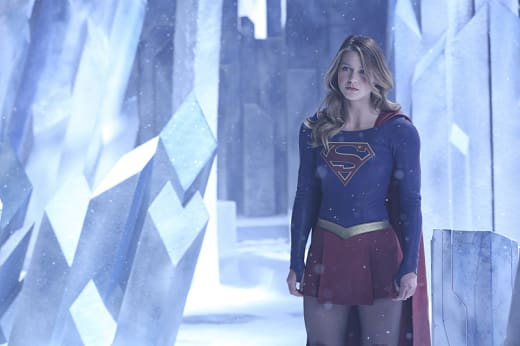 A certain superhero, someone faster than a speeding bullet, will be flying into National City at the outset of Season 2.
Oh, yes, folks, it's about to go down!
"Greg [Berlanti], Ali [Adler] and I are beyond thrilled to welcome Clark Kent and his slightly-more-famous alter ego to the world of Supergirl," previews executive producer Andrew Kreisberg.
"Superman will be appearing in the first two episodes of the new season we cannot wait to see who next dons the red cape!"
Whoa there!!!!
In the past, producers have  stressed how this is Supergirl's story.
Still, they did leave open the possibility of seeing the Man of Steel on the series... at some point.
"It will always be a dream of ours to be able to have Clark or Superman on the show," Kreisberg told Entertainment Weekly ahead of the season 2 renewal.
"Hopefully with continued success, that opportunity will one day present itself."
Superman did make a number of appearances during Supergirl Season 1, but his face was never shown.
Moreover, a young Kal-El (portrayed by Daniel DiMaggio) turned up when Kara imagined herself back on pre-explosion Krypton.
Supergirl will move to The CW and air at 8/7 on Monday nights this fall.
What do you think of this Supergirl Season 2 piece of casting news? And who should play Superman?!?!?!?!?
Matt Richenthal is the Editor in Chief of TV Fanatic. Follow him on Twitter and on Google+.