12 Monkeys Season 2 Episode 13 Review: Memory Of Tomorrow

Henry A. Otero at . Updated at .
Another amazing season's come to a close. Did you guess the identity of the Witness?
Madeleine Stowe's voice-over was the perfect way to bookend this year's narrative. 12 Monkeys Season 2 Episode 13 delivered in every way possible. This series continues to be one of the most well-written and acted shows on television.
Personally, I can't thank Syfy enough for giving us another season.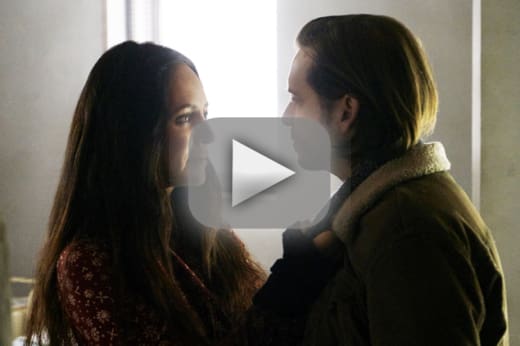 Clearly Cole and Cassie were not meant to live happily ever after in the past. That said, I had no idea what role Madeleine Stowe would be playing in the finale, let alone that she'd pull Cole back into the drama.
I'm honestly still not sure how she's connected to the mythology, but it sure was fun to see the original Kathryn Railly revisit the world of 12 Monkeys. Her cameo gave me the urge to dust off and re-watch Terry Gilliam's film, which I haven't seen in years.
Perhaps I'll do that this weekend.
Anyway, I mentioned in my 12 Monkeys Season 2 Episode 12 review that it was a bit disappointing Cole/Cassie's big romantic moment cut to all the death at Titan in the future. Now that we have a better idea of why that was relevant to the bigger picture, I'm pretty much okay with it.
Either way, I thought the gift exchange was a genuinely tender moment between the couple. How thoughtful of Cole to get Cassie that butterfly, right? I'm glad she loved it. His reaction to the news they were pregnant was perfect.
This is exactly where we're supposed to be. Home.

Cassie
Then of course, everything froze and it was painfully obvious their happy ending was history. Damn you Terry Matalas!
"It's not over James," Lillian told Cole. My first thought was that the mystery woman was related to Jennifer Goines. We know Leland locked his wife up and Cole visited Lillian at St. Mary's Mercy - Asylum for the Insane... but the timeline didn't match up, did it? 1959?
The nun mentioned Lillian killed her parents and two younger siblings. Was she Primary? How did she stop time? I'm curious to see if Lillian will pop up again next season, because there's got to be more to the character, don't you think?
Lillian was right, the drama was far from over, and Cole saw a tree go from "Green to Red."
So the plan was for Cole to drink some red forest tea and let his consciousness return to 1957 to stop the paradox. That seemed like a stretch, but then again this was James Cole we're talking about. The catch, sexytime with Cassie would be undone... As would their unborn child.
I will admit, I absolutely loved watching Cole revisit certain key moments from 12 Monkeys Season 1. The Night Room! How cool was that, guys?
Wasn't it sad that Cassie thought the reason Cole was in a funk was due to their baby? Why didn't he just tell her all about Lillian and her visions right then and there? That is Cole's signature move, he shuts Cassie out and basically lies his way out of situations. Damn shame.
When Cole finally found himself back in 1957, he killed Charlie, saved the Primary and stopped the paradox. In the future, Jones was back, and I was thrilled!
It took months, but I watched time repair itself. The red forest is gone for now. A memory of tomorrow.

Jones
Jones cleaning house was pretty frakkin' badass! Why was she alone at the facility fighting scavs though? Wouldn't the other doctors be back as well? Except for Adler, of course, who was with the others at Titan. Thinking about all the details gives me a headache, so it's easier to go with the flow. Jones used the machine, okay sweet!
Jennifer's pop culture references sure came in handy. I can't believe the "Independence Day" speech didn't work on the Daughters, but that was funny as hell. Then Jennifer used, "Be excellent to each other," from Bill & Ted's, and I nearly lost my mind. That was just so damn perfect Terry, thank you.
Would the Witness actually take off the mask this time around? I mean, we were promised a big reveal, right? Yeah, not so much.
Cassie: The Witness has his own machine?
Cole: We need to find it.
There was definitely lots of death at Titan (ciao Deacon), but most of our heroes survived to fight another day.
Even though Elliot Jones mentioned a big project a few episodes back, I certainly was not expecting the entire city of Titan to be a time machine. How about you, did you see that one coming? BTW, once again, the visual effects were outstanding. Bravo Folks VFX; hope you guys are back next year.
What about Cassie remembering the butterfly and their time together at the house? How is that even possible?
In the end, Titan jumped to the far future with Cassie aboard. Once again, our lovers were separated by oceans of time.
I know that many of you clever readers figured out the identity of the Witness, but I honestly did not think he was Cole and Cassie's son. The question now is, why would our protagonist's own child orchestrate all this chaos? What does he have planned for his mother in 2163? Will Cole bring Cassie home?
All I can say for sure is that I feel extremely fortunate that Syfy renewed 12 Monkeys, and we will get answers to all these questions. Can you imagine not understanding the Witness' point of view had the story ending here?
It stands to reason that next season we'll find out exactly what motivated Cole and Cassie's kid to put them through so much suffering. It can't be as simple as making sure his parents meet and fall in love, right? So what makes the Witness tick? We'll find out in 2017.
It's been a blast sharing my thoughts on the season with you. What did you think of "Memory of Tomorrow"? Did you know who the Witness was? Did Titan traveling to 2163 surprise you? What the heck comes next? Your turn, sound off in the comments below. We've got tons to talk about.
Relive the entire season when you watch 12 Monkeys online via TV Fanatic. Do it!

NOTE: 12 Monkeys Will Return for Season 3 in 2017 on Syfy.