Devious Maids Season 4 Episode 6 Review: The Maid Who Knew Too Much

Yana Grebenyuk at . Updated at .
Devious Maids didn't hold back on the cult secrets and a brand new death.
Devious Maids Season 4 Episode 6 had Rosie digging more into the circle and getting hurt in the process. Carmen was trying to further her career as she approached a milestone birthday that wasn't making her feel young.
Zoila wanted to let Frances know that Kyle was dating her again, but she didn't get the response she was hoping. And Evelyn's new man was even better than expected.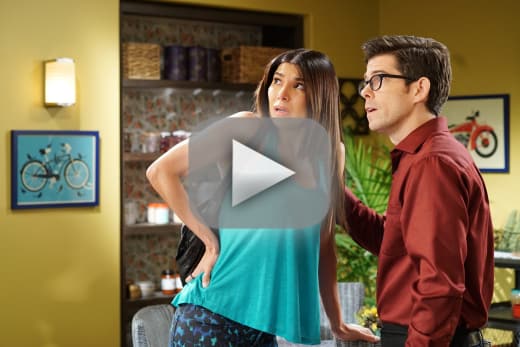 The biggest part of the episode was probably Ben's death, but each character had something worth talking about.
I wrote it in my calendar last year after your struck me with a dust buster when I didn't.

Adrian
Genevieve joining the Scientology like cult is everything I could have hoped and more. If anyone was going to infiltrate them and make it worth watching, it would be her.
This circle organization reminds us even more of Scientology, from the auditing to the mysterious member deaths to the well known members with money. 
Genevieve helping Rosie was the best part of the episode, but the more they know, the less safe Rosie is.
Ben running her off the road got him killed, which is everything he deserved. Even Frances realized that Ben made the wrong choice, although she was worried more about Tucker.
Ben dying wasn't shocking, but I'm still glad we finally got to see that happen. This means we might see Peri's sister snap, which could either help or endanger Rosie more. 
You're like a feral cat, who's also drunk.

Evelyn
Marisol struggling with her movie in a man's world is a very real idea. 
The direction Marisol's plot is taking is getting much better. She is standing up for what she believes in – her story and her material.
The only issue would be Peter, even if it's him who made her a writer. Their personal relationship got in the way of the production, and now Marisol is off the project.
Peter, as always, isn't around because of work which makes me wonder if Jesse will come around soon.
Marisol should push for her project more, but she might have to think about dumping Peter because this just isn't working. 
And as much as I don't want to admit it, I see her coming around to Jesse. That shouldn't be the focus of Marisol, but it looks like we won't see more until she gets back together with him or finds someone else.
And let's be honest, no one is ever going to choose you.

Fabian
Carmen struggling with her age could have gone down the wrong path, but Devious Maids makes sure there is humor in everything.
Daniela's exit was quick and painless. Carmen was right back to following her dream, and the injury was a long time coming. 
Of course everything was back to a relationship; her barista was there for her, and they slept together before I could even blink.
This dude is new and sweet, but there's not much to think of him right now. We know nothing except that he gives her free drinks and likes her even after discovering her age.
That's nice, but maybe Carmen could focus on her career instead of another man? 
Her daughter leaving turned into a possible next step job wise, but she dropped that as quickly as she got it. I don't mind that she doesn't talk about Dani much – she shines more – but this has to continue for the rest of the season.
As long as she doesn't become all about this new guy, this could be good, and it looks like she was more shocked than happy after they slept together.
I always like it when I don't have the worst idea.

Marisol
Zoila and Kyle are somehow getting better after each week. 
Zoila and Adrian scheming should happen more often, because those two have an interesting back and forth. It doesn't work as a relationship, but a friendship is even better.
Kyle standing up to his mother surprised me, but for the better. It looks like his feelings for her will help him get out of this cult.
But will they work if Zoila is lying about her money? 
Kyle probably doesn't care about money since he likes Zoila for herself, but it's only a matter of time before the maid thing comes up.
And their relationship isn't ready to take that hit that early, moving in probably wasn't the best move either, but he could always come back home since it's right next door.
Evelyn and James had me hooked from the start of the episode, but it was James giving Evelyn her money back that sold it for me. Evelyn is starting to see that there are better fish in this vast sea. She's even trying to be a better person. 
Evelyn changing herself isn't right. She's perfect the way she is, but the sentiment might override that.
James isn't the pastor we thought he would be since he isn't afraid to change things up, not taking money for the poor, for example. Hopefully, he sticks around for a while. Adrian needs to see that there are good men out there willing to fight for her.
What did you think of James and Evelyn? What about this circle business, and Genevieve slowly becoming a member? Who made the episode this week? What would you like to see more of on Devious Maids Season 4 Episode 7?
Let us know what you think below and then watch Devious Maids online right here on TV Fanatic before the new crazy episode next week!
Yana Grebenyuk was a staff writer for TV Fanatic. She retired in April 2021.