One of summer's guiltiest pleasures is no more.
ABC has decided to pull the plug on Mistresses, making the Season 4 finale, which aired on Sept. 6th, now a series finale.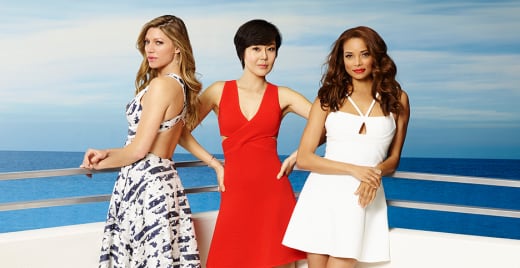 Executive producer Rina Mimoun had told TVLine that she'd hoped for one more season to wrap things up, "There'd be some new hot messes in the mix, and we'd be moving back toward the kind of racy romp that Mistresses was when it began."
Unfortunately, that's not going to happen with Mistresses finding the end of the road long before the characters were ready to get out of the car.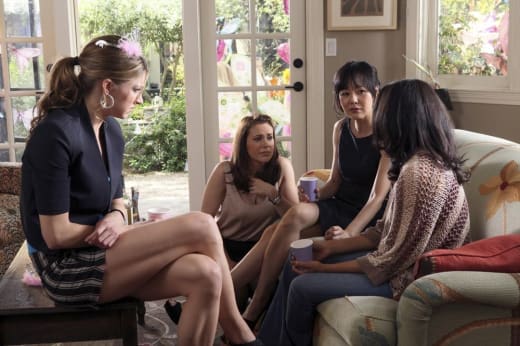 That romp included everything from husbands back from the dead, affairs, accidents, threesomes, babies, and murder. The show was a soapy roller coaster ride from beginning to end. 
The show was originally based on the U.K. series by the same name but took on a life all its own. 
Mistresses originally starred Alyssa Milano, who left after Mistresses Season 2 when production moved to Vancouver. The series sustained that loss and the changed continued for the series' short run.
Jennifer Esposito signed on for only Mistresses Season 3 and Tabrett Bethell became a cast regular on Mistresses Season 4.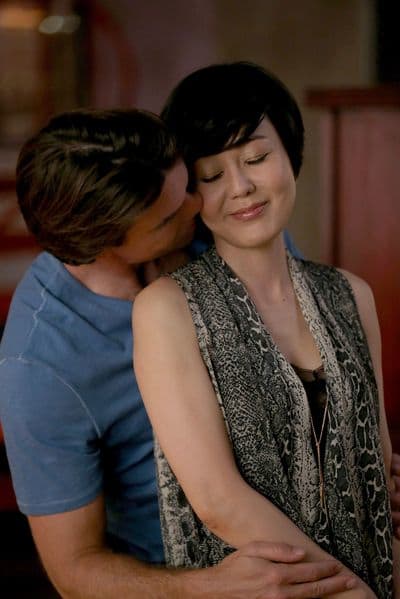 Mistresses Season 4 concluded with the death of Dr. Karen Kim, a fan favorite because she could be such a hot mess. Karen began the show by sleeping with her dying, married patient, moved on to pretending to be a hooker, wound up in a thruple which produced her child, and in the end died trying to save someone. 
On top of that, the finale had the appearance of a mystery woman, plus a serious time jump. 
Although the show had its highs and low, I'll definitely miss Mistresses for providing what was at times jaw-dropping summer fun.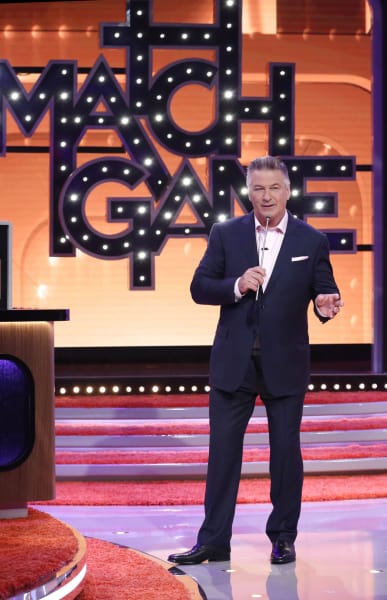 Mistresses was the last scripted original left on the ABC summer schedule. 
The new winners have been resurrected game shows from the decades of yore. It's hard to deny their escapist fun and the ease in which they can be produced, probably many different episodes in any given day.
Celebrity Family Feud, $100,000 Pyramid, Match Game and To Tell The Truth have all done smashingly well and already been renewed for next year. Will more celebrities sign up to play and get on the air as they realize the fun that's to be had on these throwbacks?
Still, they are not scripted fare, and we're wondering whether ABC will abandon all of it's scripted summer entertainment going forward.
For some reason, fictional programming really hasn't hit the ground running for any network this summer. Fox's Wayward Pines dropped a lot from its season one numbers, and CBS didn't find the ace in the hole they must have hoped to score with BrainDead from Michelle and Robert King.
The real shocker is this cancelation comes just after Lifetime canceled Devious Maids. That's two super soapy summertime dramas ripped from the schedule. Will Tyler Perry's soaps on OWN and TLC finally be seen, or Chesapeake Shores on Hallmark, or maybe the spectacular Queen Sugar (less soap. lovely drama)?
We'll find out, but we won't stop missing those that have come before. 
If you want to relive the good times, you can watch Mistresses online right here via TV Fanatic.
Drop us a line to let us know what you think of this surprising cancelation. Will you be picking up a new show to watch in its place, or will you read? Inquiring minds want to know!
C. Orlando is a TV Fanatic Staff Writer. Follow her on Twitter.