All work and no play makes for one boring life. Everyone needs to have fun every once in a while. Even Chloe.
On Lucifer Season 2 Episode 4, Lucifer convinces Maze to take Chloe out for a night of fun which ends up being quite a wild night when Dr. Martin and Ella join in on the festivities.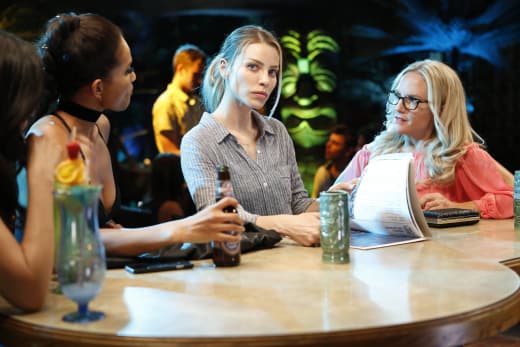 Can we have girl-centric episodes more often, because this hour of Lucifer was tons of fun. Who would have ever guessed that Dr. Martin used to be a phone sex operator or that Ella used to steal cars?
Maze telling everyone she was "forged in hell" was such a Maze thing to say, but what do you expect from a demon who's still trying to find her way in the human world. What other kinds of secrets could she possibly have?
It was nice to see Chloe finally let her hair down, even if it took her a while to do so. She seemed pretty relieved being able to share her upcoming divorce and the other things that were weighing on her mind. 
And, of course, Dr. Martin ordering tequila shots for everyone certainly helped. Linda really knows how to get the party started, because before she arrived absolutely nothing was happening.
Girls' night when done right is about female bonding.

Dr. Linda
Even though the idea behind Maze taking Chloe out was to have fun, Chloe couldn't help but work the case. That was the whole basis for her going out with Maze in the first place, but I think Maze was hoping Chloe would forget about the case. She obviously doesn't know Chloe too well.
Maze was getting pretty annoyed. At one point, I thought maybe she was going to grab Chloe by her pony tail and force alcohol down her throat like Lucifer had warned her not to do. Ella just seemed like a party girl and would have had fun whether there were other people there or not. 
I thought for sure Maze was going to pop her when she brought up God. Is that all she ever talks about? Sheesh.
But, then Linda showed up and all was good. Chloe was able to put aside her folder of work and actually have fun. At least until Chloe saw the guy's tattoo or whatever it was. After that, it all went downhill. All Chloe was trying to do was ask questions, but the girlfriend didn't see it that way.
It was funny that Linda was the one who instigated the fight. Had she not said what she said, it probably would have turned out differently, even if Maze got all crazy beforehand.
Clearly this woman has some serious trust issues. Or, maybe she's just a raging bitch.

Dr. Martin
I loved how she was so protective of Chloe. Quite a difference from how she used to feel about the detective. These two are going to be great friends especially now that they are going to be moving in together. 
I would have loved to have seen how that came about. I know Maze explained it at the station, but I still would have like to have seen it. How awesome is it going to be to have Trixie, Chloe and Maze together? I think the Maze/Trixie dynamic is going to be the most fun.
Chloe and the girls weren't the only ones having fun this hour. Amenadiel got in on the action when Lucifer took him to the sex party Dan was investigating.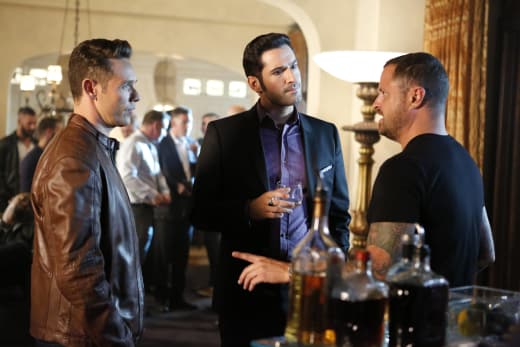 It's no wonder Dan and Chloe got married. They're both boring. I know Dan was working the case, but he could have let his hair down a little. Lucifer didn't have a problem drinking, though Amenadiel sort of got out of hand.
But, hey, Lucifer started him down the path when he made his brother stop drinking girly Cosmos and made him drink bourbon instead. I don't get why Lucifer thought it was okay to invite Amenadiel to the party considering it was "official" business, but Amenadiel had no problems fitting in.
Lucifer was acting like the big brother this time instead of the other way around. I just wish Amenadiel would have shared his wing issue with Lucifer, because maybe they could have worked together to figure out the problem and fix it.
They do work well together.
Amenadiel seemed genuinely shocked that Lucifer had agreed to find their mum and take her back to Hell in exchange for Chloe's life. It makes sense that Dad might not see Lucifer's punishment as sufficient enough for the deal they made. Considering the ending of the hour, it seems like Lucifer is going to have to make a tough decision regarding mum.
I actually liked not seeing so much of mum this hour. She's actually starting to get grating with her continuing complaints about life in human form, and I don't believe for one minute she's willing to tolerate it just so she can be close to her kids. There's just something hokey about it.
I'm glad the show isn't showing us her life as mom and housewife, because I really don't care. The little bit that we saw this hour was sufficient to get the gist of what she's going through.
Maze: How's that human husband?
Charlotte: I discovered a trick with him. Whenever he asks a question, I just have sex with him. Seems to render him mute.
Lucifer always works best when it isn't focused on the procedural. The case of the hour was important only in that it allowed for all the fun pieces to be played out. It really didn't matter to me who killed the girls or why, and I liked that the show didn't go all CSI like it has previously. 
There was a lot to love about this hour, and I hope Lucifer gives us more hours like this one.
Other Thoughts:
Dr. Linda's thumb action when Amenadiel was talking about his "issue" was hilarious.
I loved Lucifer dancing in Ella's office. Would you rather see Lucifer dance or play the piano?
Maze was just awesome this hour. We need to see more of her. I absolutely loved when she came out fighting with the sticks.
Does anyone else get the feeling that Dan and Chloe may not be headed for divorce? That somehow they might kiss and make up?
What did you think of "Lady Parts"? Hit the comments and share your thoughts.
If you missed any of the fun, you can watch Lucifer online right here via TV Fanatic.
Lisa Babick is a staff writer for TV Fanatic. Follow her on Twitter.