Secrets and Lies: McNally Sagal Dishes on the Exciting Second Season!

Jasmine Blu at .
Secrets and Lies is rapidly coming to an end, and the race to find Kate's killer is still going strong!  Secrets and Lies Season 2 has been filled with twists, turns, and a heck of a lot of revelations! In addition to the secrets and lies of course!
The suspect list is long and ever changing, and we're still no closer to figuring out who the culprit is. There are only three episodes left before the biggest secret of them all is finally revealed: Who killed Kate Warner?
TV Fanatic had the pleasure of picking the mind of one of the accomplished stars of season two. McNally Sagal plays Eric Warner's loyal, efficient, and bordering on omnipresent assistant, May Stone.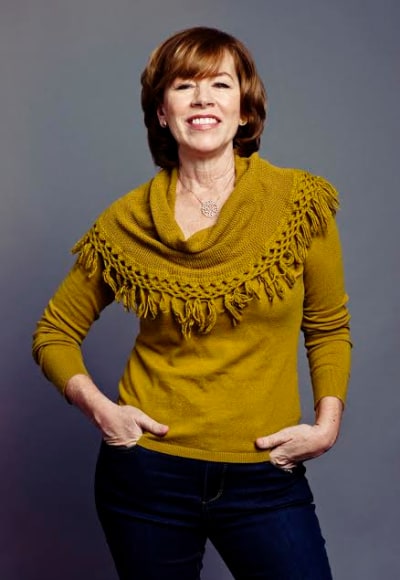 So who killed Kate? Well, unfortunately McNally Sagal couldn't reveal that tidbit, but she was able to tell us a little about the behind the scenes shenanigans on set, what it was like playing May Stone, and she even talked a little Sons of Anarchy with us. Check out our interview below!
First things first, who killed Kate?! Just kidding. Unless of course, you want to answer that. I had to try. I know you can't reveal who killed Kate, but can you tell us anything about what the rest of the season has in store for us?
McNally Sagal: My character, May Stone, pushed Kate off the roof in a fit of jealous rage…she wanted Eric for herself! Just kidding….however, there was a time when I was the number one name as the killer in the cast pool. We put a dollar in the bucket each episode with our guesses. We were left in the dark as was everyone else. Each week we would read the script with heart pounding, wondering what would happen next…and I am not allowed to tease!
The Secrets and Lies cast is incredible! There are so many supremely talented individuals. You, obviously, Michael Ealy, Juliette Lewis, Jordana Brewster, and Terry O'Quinn...what has it been like working with this fantastic cast? Between us ladies, how do you stare into Michael Ealy's eyes without becoming distracted?
MS: Yeah, that was really challenging, I should have gotten some kind of "hazard pay." And besides being incredibly handsome, he is very warm and generous to work with…always trying his best to lift the work to the next level. A total pleasure to work with; however, he is a bit of a scamp and enjoys pranking people when you least expect it. I was in awe of his work ethic and also his kindness and joy in the moment. He made it really fun to go to work…what did you say about his eyes? Sorry, I was distracted.
Were you familiar with Secrets and Lies before you landed the role? How did you come across this part?
MS: I had worked with one of the executive producers, Adam Arkin, on Sons of Anarchy. When I came in for the role I was very happy to see him and we talked about the role. I knew that it was something that I really wanted to do. I had seen Season 1 of Secrets and Lies, and was excited about the prospect of working with the amazing Juliette Lewis! I have a two hander webisode that I did with her and had a great time doing it.
May intrigues me, because she knows just as much, if not more than, Kate knew. She's always around and always ahead of everyone else. She's on my radar, I can't lie. What attracted you to the role? Do you relate to her in any way?
MS: My father had the same secretary for 25 years and she really was part of our family. I grew up in a family of 10 children and Anna was always a part of all our family functions…I definitely conjured some of her in the role of May. She always knew what was up before any of us did! 
Secrets and Lies is such a serious show, but I've heard that you and the rest of the cast love to have fun! What kind of behind the scenes fun did you guys engage in while filming?
MS: Well, I told you that Michael enjoys a good prank. We were doing a scene where it was just the two of us moving quickly down a hallway while I gave him loads of information. He tells me that we should definitely stay tight in the shot the whole way. I agreed. The director tells me that it is imperative that I stay right on his shoulder no matter what. Well, Michael is an athlete….and he starts down the hall kind of quickly….then he suddenly hauls a**! I am scrambling down the hall in my high heels, desperate to keep pace until he keels over laughing with the whole crew….ahhhh well, you have to laugh at yourself, right?
Did you know the identity of Kate's killer the entire time you were filming? How did that affect the way you played May?
MS: No one in the cast knew who the killer was! We looked at each other with suspicion every day! I had to make up some things in my head, and I had my list of naughtys.
I have to ask, Sons of Anarchy had one of the most talked about finales ever! People still haven't gotten over it! How did you react to it and what do you think about the news of a spinoff?
MS: It was an amazing finale, that's for sure…I was blown away by all the twists and turns and who got done and how…I was happy to go back to my safe suburban life afterwards! The spin off sounds like a great idea…I would love to tune in to check on the Mayans…and "hopefully" some of them might get hurt and have to check into the hospital and have some big run-ins with the hospital administrator!
Speaking of which, you're a bit of a Renaissance woman. You pop up some of everywhere! What new projects are you working on and where can we look forward to seeing you next?
MS: I have a really fun role on Teen Wolf coming out in January. I get to play a super powerful screaming banshee…I can throw people across rooms and into walls with my voice. It actually was a very moving role and I had a blast doing it. I also just did a role on Jane The Virgin. And you can see me soon playing opposite a cuckoo clock in a new Geico Commercial. The fun never ends!
Secrets and Lies Season 2 Episode 8 returns Sunday, November. 27 at 9/8c on ABC! If  you've missed any episodes and would like to catch up, you can watch Secrets and Lies online right here at TV Fanatic!
Don't forget to look out for McNally Sagal on Jane the Virgin and on Teen Wolf! If you want to show her some love, you can find her on Twitter! 
Jasmine Blu is a senior staff writer for TV Fanatic. Follow her on Twitter.