Once Upon a Time Season 6 Episode 10 Review: Wish You Were Here

Christine Laskodi at .
Be careful what you wish for.
On Once Upon a Time Season 6 Episode 10 the Evil Queen made the ultimate wish, giving us a glimpse into what the world would be like if Emma Swan had never become the Savior. 
Elsewhere in the hour, we learned who the mysterious figure under the hood is — the person who is destined to end Emma's life.
There's a lot to talk about from "Wish You Were Here" so let's dive right in!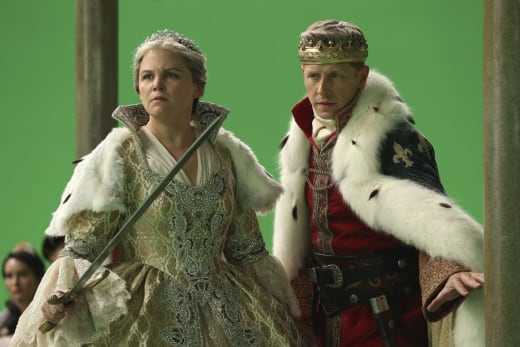 Where to begin?
Well, obviously with the Evil Queen, because let's face it — everything starts with the Evil Queen.
I wish that Emma Swan's wish to have never been the Savior be granted.

Evil Queen
After the Evil Queen discovered that Emma's mystery sword could hurt her without bringing any harm to Regina she upped her game in the fight against...you know, I'm not even sure what she's fighting against anymore. I think it's mostly just that she's mad at the world because she honestly believes that she's owed something.
And in reality, she has everything she deserves, which David discovered when he took his turn as the keeper of the lamp. 
David's wish doesn't affect her at all, surprisingly.
Because for one fleeting moment, she's in control. She's defeated Snow and David with the sleeping curse. She's sent Emma and Regina to an alternate reality. She's had her revenge on Rumple. There was nothing left for her to want.
Her happiness didn't last long. She's a snake now. More on that in a minute.
I may not be able to get a hold of the genie lamp, but you're right - we are the same person, which means you're not the only master of the lamp.

Regina
I was nervous about Aladdin becoming a genie because it seemed obvious that it was going to be a terrible idea, but the results of this story were actually really fun.
Aladdin played the role of a genie really well. Much like Robin Williams classic Genie, Aladdin was playful. He was obedient to his masters without hiding his disgust and excitement over their choices. It was finally an Aladdin and Jasmine story that didn't leave me rolling my eyes. I just enjoyed it for what it was.
I hope that we see them again. Their story felt incomplete in this first half of the season. We barely got a glimpse at Jafar, and never saw the resolution between them about Aladdin's decision to use the shears on his Savior destiny. With so much build up to their arrival, the payoff was very lackluster.
David: How do you share a home with someone and not know their secrets?
Hook: Because we don't stand around and talk about what happens when a bloody genie appears, mate!
But really, I feel like I should tell my husband what to do in the event that a magical genie appears now — or is there already a Facebook function for that?
All kidding aside, David is frustrated, and he's not the only one. I'm frustrated for him.
He's stuck in this crappy sleeping curse, unable to be with his wife, waking up every day to a Cliff Notes version of what he slept through. David received the short end of the stick as far as storylines go.
At least Snow has her job as a teacher. What does David have, really? He's the sheriff of a town that's literally filled with heroes. 
He and Hook aligned together, trying to hold down the fort in Storybrooke while the three most powerful ladies in the town were away (or sleeping, because...curse). 
What we learned from watching their adventures on the sidelines (which were pretty great, actually) was that David is terrified that he's becoming a killer, like his brother. That seems like a pretty far jump, if you ask me, but I'll go along with it. As I said, he's frustrated.
Emma: The person I was here just wasn't me. The fighting, and the pain - it's what makes me me. I'm good with that, even if it means my end because, you know, that other person kinda sucked.
Regina: Yeah, singing princess Emma isn't my favorite model.
The real story you came to read about (or as tends to be the case quite often, vent about), is Emma's.
Her alternate reality where she isn't the Savior is boring. There's not much more to it.
She skips through the forest, collecting flowers, humming "Someday My Prince Will Come," and it's the most unlikable Emma has ever been. (That's saying something, guys.)
In this reality, Neal was some kind of fallen knight hero, and Henry is following in his footsteps. Her parents are aging gracefully, and Emma — well, she's not doing much of anything. I think it was her birthday? Either that, or alternate-universe Emma just goes around blowing out candles on strangers' cakes. 
This version of Emma doesn't even fight! Her solution to getting back her kidnapped parents is to hand over the keys to the kingdom. 
The kingdom! 
Oh, Emma... this is who she dreams of being in her fantasy visions? It's so bad, just bad all around.
It's only fitting that the only person in the world who could bring Emma back to reality is Regina. 
Show her your inner darkness, and the Savior will be reborn!

Rumple
Regina spends a lot of this hour reflecting on her own journey. She doesn't say it with her words, other than trying to convince everyone that she's not the Evil Queen. It happens mostly in her actions. 
Watching Regina walk through her old castle, looking at the ruins, there was a look of nostalgia on her face. When Regina put those Evil clothes back on, she smiled like she was putting on an old cozy sweater that she hasn't worn in ages. 
But because so much about her has changed, it's not as easy to be dark again, even when the stakes don't matter as much because they're not "real." 
A lot of time has been spent reminding us that Regina and the Evil Queen are still the same person. It's hard to continually buy into that story because of moments like these, when Regina sacrifices everything to rescue Emma, knowing full well that she's the only one who can. 
Losing Robin Hood was the best thing that ever happened to us; it pushed you to liberate me. To free me from the prison of your self-loathing. To make me the best version of us.

Evil Queen
Emma isn't the only person Regina sacrifices everything for this hour. 
After waking up the Savior, and essentially saving the day, rather than jumping back into the portal to take them back to Storybrooke, Regina is stunned when she sees Robin Hood.
Not REAL Robin Hood. No, real Robin Hood is dead. (RIP)
But this alternate-universe Robin Hood is a good enough reason to let the portal close, leaving Regina and Emma without a magic bean, and without a way back to Storybrooke.
On one hand, I feel for Regina, because this is the closest she'll come to seeing her True Love again. But on the other hand...
Belle: What have we done to each other? What have we done to our son?
Rumple: We have to work together before it's too late.
Baby Gideon is coming for Emma. 
And when he discovers that she isn't there, it's going to be Bad News Bears for her family and friends.
Rumple and Belle have been through the worst or the worst. Now they've discovered that their baby, who was just born like, a week ago, was raised on a different timeline by his grandmother, the Black Fairy, and he's apparently got a score to settle with Emma — while wearing a hood. 
Oh, and he DID give the Evil Queen what she deserved, turning her into a snake. How long do we think that'll last? 
I think it was supposed to be a shock, but this show has become so predictable that it wasn't. As soon as Rumple and Belle realized that their son had been taken by the Black Fairy, it seemed pretty obvious that the person all in black with a hood would be Gideon. 
I enjoyed the conversation between Belle and Rumple that led to them working together. He realized magic wouldn't make her listen, and freed her from his GPS bracelet. He knew she had no reason to listen to him and urged her to call the Convent herself. Rumple humbled himself for just a moment to assure Belle that his motives were purely to find their son.
It's small growth, but still growth. Rumple and Belle have a big problem on their hands now, and they need to be on the same page. I'd rather see them working together than continuing to snipe at one another and play ridiculous magic games.
Once Upon a Time is going on a long break (March?!), and we'll have to wait until then to find out how the heroes will re-assemble, but one thing is for sure: the writers have a lot of explaining to do before Emma and Gideon face off. 
What did you think of the Winter Finale, TV Fanatics? Were you pleased to discover Gideon under the hood? Did you enjoy the visit to another reality? Will Regina stay there to be with Robin Hood? Where do you think Zelena was during all of this? Sound off in the comments below!
Need to catch up? No problem! You can watch Once Upon a Time online right here at TV Fanatic. You could even binge the entire series before it returns in March!