That was truly unexpected.
I would never have guessed This Is Us Season 1 Episode 10 would deliver the most intense hour we'd seen to date. 
After all, it was our first Christmas with the Pearson family. Surely we were in for some sweet memories, right? Wrong! Although we learned "nothing bad ever happens on Christmas Eve," even that may be coming to an end this year.
This one was even delivered to us a little differently, with our venture into the past coming at the beginning and right at the very end of the hour. 
The year was 1989, and although that particular Christmas Eve featured a trip to the emergency room so Kate could have her appendix removed, the focus was more on Randall than Kate, as Dr. K. was also admitted for wrapping his LeSabre around a tree. 
What really threw Rebecca was how resigned to Dr. K. was to his fate. He had internal injuries that resulted in significant bleeding and didn't expect that if his family tried to make the trip from Montana to Pittsburgh that he'd still be alive to say goodbye. 
That was pretty dreary, but much like Olivia asked William what it felt like to be dying, Rebecca asked Dr. K. if he was afraid of the great beyond.
Whether it was his lack of fear or having the Pearsons pulling him out of his doldrums, the doc even surprised himself by waking up after surgery.
Randall proved that while he may have been a frugal child (and Kevin would grow up to live in a box), when the situation warranted it, he put his money to good use. Giving Dr. K. a snow globe was so sweet, and part of his way of saying thank you for being a Pearson.
Jack had told him all about how integral the lemons to lemonade speech was in putting him into the right frame of mind to be open to accepting Randall as the gift he was that night.
All of the photos posted on NBC for "Last Christmas" were misdirects. Kevin hasn't been spending time with Sloane outside of rehearsals, but to pay her back for getting her play cancelled since Olivia ran off, he agreed to attend her family's Hanukkah dinner as her pretend boyfriend.
Hearing Olivia disappeared after Thanksgiving sounds like we'll see her again. Strangely, I wonder if she went into therapy. The girl certainly had issues, but Kevin was arousing in her a bit of self discovery that not only shocked her but might have been hard to digest.
If she's as intelligent as I think she was written to be, therapy could be an option.
It would make sense that she'd appear again just when Kevin and Sloane got their play off the ground. Kevin's lightbulb moment shouldn't be all that difficult to pull off given the experience they have between them. I think they'll be able to do it.
William went looking for an old friend, Jessie, who is also his lover. That's a new dimension to his life that we haven't seen as of yet, and one that apparently shocked Randall.
There wasn't much to the scenes we haven't already learned about William, and my favorite came from Tess.
Dad, Grandpa's gay. Or at least bi.

Tess
Randall and Beth at the office Christmas party was good stuff. Going to the party on Christmas Eve is a bit of a pain, but if the boss is handing out checks, that's not too bad. It would be terrible if your name wasn't called, though.
I wonder what was up with the boss, who finally got angry and threw all the checks into the air rather than continuing to call out the names for bonuses. It seemed he knew nobody was listening, so his frustration took over.
At least Randall wasn't the only one at the party struggling with issues.
Beth: What are you going to do with a boat?
Randall: Sometimes a man just needs a boat, Beth.
Beth: This boat is not a boat, babe. This boat is sadness.
Randall: That's a bad name for a boat, Beth.
At first, I thought the man outside was going to be Randall's boss. But no!! It was William from Westworld! Or Andy, another man fighting his internal demons. Randall didn't expect he'd just purchased "Sadness" from a man who was about to toss himself over the edge of a tall building.
It gave him a chance to reflect on the things he'd been feeling and to realize none of it was worth fighting over. But to get to that place, Randall was literally clawing at the edges of life trying to keep Andy on board.
I don't know about you, but I was riveted. That scene was so intense I had altered my breathing and leaned in closer to the television, my hands in tight fists. If you've ever been in a life or death situation like that, you never forget the feeling of desperation as you try to do anything and everything to make a difference to the person before you.
So when Beth walked out and Randall screamed, so did I. But her response was so benign, I knew she hadn't just witnessed a man drop over the side of the railing, thank God. Once again, Sterling K. Brown knocked a scene out of the park, but this time he was joined by Jimmi Simpson who honed his craft on Westworld.
Every week, This Is Us. Every week.
And up to this installment, Kate was ready to go through with the surgery. After the events, no matter the outcome, I would think she'd be more committed than ever.
Wasn't it surprising Rebecca didn't know Kate had been on Prozac or still binged? Don't we all binge every once in a while? Like, sit down with a bag of chips and think...whoops! I really got into that bag of chips. Now I feel sick. How does Rebecca think Kate has remained so overweight?
And yes, seeing the size of that egg and thinking that's ALL the food you'd be able to put into your mouth for the rest of your life? That's not only scary, but sad. Portion control on overdrive. It kind of makes you wonder if there would be a point where you wouldn't be able to get enough food to carry weight at all.
But I was so glad Rebecca finally asked the question: Did I do this? Did I talk too much about the food? Because in a lot of the flashbacks, the topic seemed oppressive in how often it was being discussed. Of course, neither of them know why Kate is the way she is and unless she goes to therapy, they may never know.
At least the door is open and they can talk about it going forward.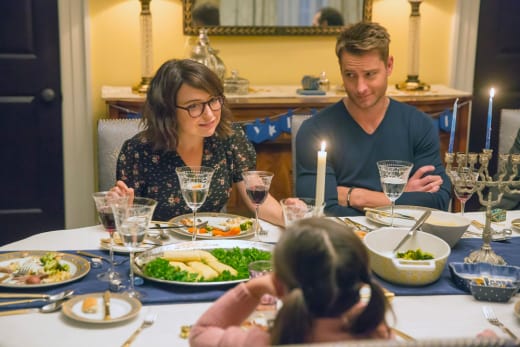 Deadline had a casting announcement for This Is Us today about a new character coming on board who will help Kate during a difficult time. Longmire's Adam Bartley will be doing that as Duke, someone who works at a horse stable.
Toby flying across the US on Christmas Eve was pretty amazing. He put Kate first and the insanity of the holidays took a toll on him. That and the yo-yo dieting and the sex. If nothing else, Kate knows Toby loves her. Or loved her.
If Toby doesn't make it off of that operation table, Kate is going to lose it. Seriously. She's hanging on by a thread already. She's overweight, unhappy, was lost without Toby and he flew across the country to make things right. If she feels she's responsible for his death, she's going to need a lot more than Prozac.
Will Kate be doing horse therapy to try to get through Toby's death? Will Toby suffer some brain damage but otherwise be OK? Was it a stroke? A heart attack? He had been sweating since he arrived. Isn't that an indication of heart trouble?
Nothing bad is supposed to happen on Christmas Eve. But I think the rules might have chanced. Or did they? We have to wait through a hiatus to find out.
It turns out spending Christmas with the Pearsons isn't all it's cracked up to be. Here's hoping ours turns out a lot better!
You can watch This Is Us online over the holidays to spend more time with the Pearsons. Happier times. Say a little prayer for Toby. I'll see you all back in the New Year!
Carissa Pavlica is the managing editor and a staff writer for TV Fanatic. She's a member of the Broadcast Television Journalists Association (BTJA), enjoys mentoring writers, wine, and passionately discussing the nuances of television. Follow her on Twitter and email her here at TV Fanatic.