The kiss was definitely real.
Chloe stepped out of her comfort zone on Lucifer Season 2 Episode 12, and it was awkward and adorable at the same time.
But is this burgeoning relationship over before it even started?
Lucifer spent almost the entire hour trying to figure out if the kiss was real. He really wanted to believe it was genuine, but he had his doubts. 
He cares about her so much, he finds it hard to believe that she could possibly have the same feelings for him.
I really thought her dream was real. I even went along with the whole "love handles" thing. (That was so cute!).
I loved when she woke to find Maze with a bag of popcorn watching her dream show. Sometimes Maze just steals the show and this was one of those times.
What's most interesting though, is that she dreamed he was the devil, which makes you wonder if she does somehow know she's a pawn of God?
I really thought she was going to admit to being in the know all along when Lucifer confronted her at the end of the hour.
The way she was standing, dressed in white, made me think we'd see her turn into an angel or something.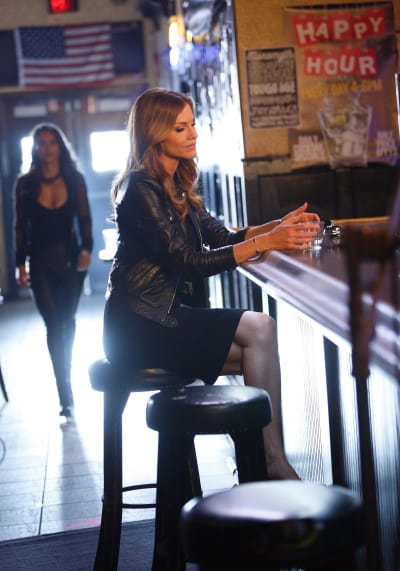 I certainly wasn't expecting her to be poisoned!!!
Chloe was so cute when she was trying to be spontaneous and flirty with Lucifer. The winks, the innuendo, and the slap on the butt were completely out of character for her and hilarious to watch.
She definitely needs some help on the dating front, and she's found herself a guy who's going to have a ton of patience with here.
That is if they stay together.
I wish Lucifer never would have told Charlotte about kissing Chloe. Moms are supposed to be loving and supportive and Charlotte is nothing but selfish. 
Of course she'd use that information to her advantage. It's exactly what she needed to crush him and make him want to go home.
For Lucifer, Chloe's affection was unreal because he couldn't believe the woman he's been completely in love with for so long feels the same about him. 
He finally realized it was true when she ran to him to make sure he was okay after saving the boys. Everything he's been wanting just fell into place.
He was finally going to be with the woman of his dreams.
Then Charlotte had to ruin everything.
I was surprised Maze was going to go along with Charlotte. I would have thought maybe she would've taken the information and then told Lucifer in her own way.
Granny pants Decker a miracle? Please!

Maze
And maybe that's what she was going to do, but then Lucifer saw the picture.
What I have a hard time with was that a picture of Amenadiel and Chloe's mom was still on the wall after 35 years.
Not only that, it was front and center and easy for Lucifer to find.
It just seemed too easy, but I get that it was probably better for Lucifer to discover it on his own.
I also don't know why he is so angry by God putting Chloe in his path? Wouldn't that be the ultimate show of love? To give you a partner who is your soul mate.
Someone who will love you as fiercely as you love them?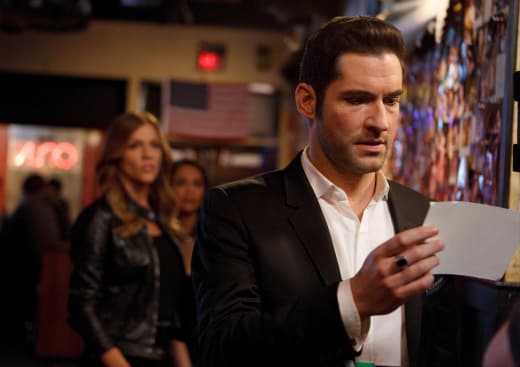 I wish Lucifer would see it that way. 
I'm curious as to how Chloe got poisoned. When would the Professor have done the deed? And where is the antidote?
Or is she really not poisoned and just dying because the secret of her "birth" is out?
It's definitely going to be an interesting hour next week.
I can't wait to see what happens!
How about you guys? What do you all think is going to happen?
Hit the comments and share your thoughts!
If you need to catch up, you can watch Lucifer online right here via TV Fanatic.
Lisa Babick is a staff writer for TV Fanatic. Follow her on Twitter.