Homeland Season 6 Episode 9 Review: Sock Puppets

Vivian Figueredo at . Updated at .
Things seem to be looking up for Carrie in Homeland Season 6 Episode 9, which can only mean one thing, she's in for a rough ride in the three remaining episodes of the season.
With intrigue and action, "Sock Puppets" brought the characters into emotional confrontations as they tried to sort out who to trust and where their own loyalties ultimately lie.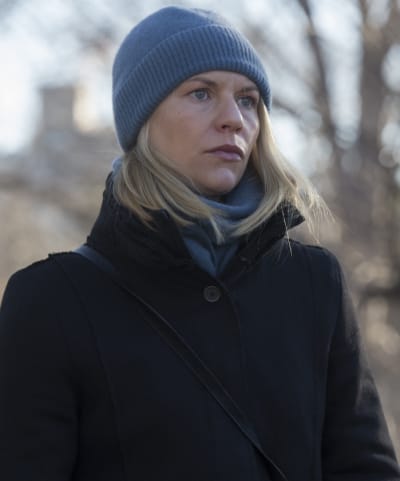 Of Quinn and Franny
During a court-mandated therapy session, Carrie finally came clean on why she's been taking care of Quinn come hell or high water.
Strangely enough, she got there via a little trip down memory lane regarding her lingering guilt over the death of Nicholas Brody.
"I was willing to let you die," Carrie said to a hallucination of Brody back in Homeland Season 4, Episode 7.
But with Peter Quinn, she's not so willing.
[Quinn] nearly died last year in Berlin and I managed to save him. But… [getting emotional] the way he's been acting the past few months, it's as if he wants to finish the job. So I brought him into our home because I can't go through that again. I can't lose another one.

Carrie
She's been taking care of Quinn because she doesn't want to lose him.
But we knew that already.
Just three episodes after confessing to faux-Brody that she willingly let him die, she stood her ground when Quinn tried to set off on a similarly dangerous mission: "You will die trying, or worse, and I won't allow it" (Homeland Season 4, Episode 10).
To prove her point, Carrie stood on Quinn's bomb – knowing he wouldn't detonate it – and told him in no uncertain terms, "I don't want to lose you" (Homeland Season 4, Episode 11).
We did get one new tidbit during this week's therapy session: the reason that Carrie brought Quinn home – despite his erratic, PTSD-induced behavior – was that she feared he would take his own life.
Carrie still refused to put any blame on Quinn for the fiasco at her house.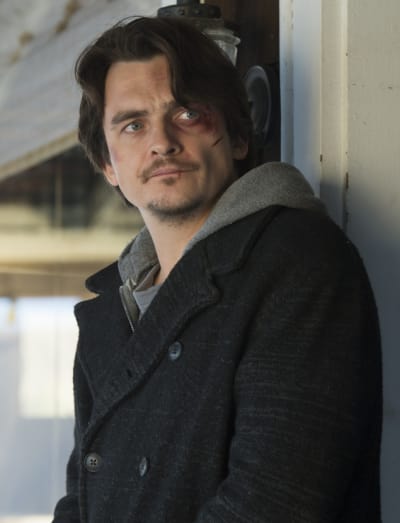 But, of course, she couldn't tell the shrink that she suspects a conspiracy, that she knows for a fact that Quinn was trying to protect Franny.
"I don't see how you could possibly understand," she said. And of course he couldn't.  
When the therapist told Carrie that every parent goes through what she's going through, Carrie practically rolled her eyes.
He did give Carrie some food for thought, though. All parents need to balance their own needs with their children's needs: "a four-year-old doesn't need much, but they do need something. They need, at times, to come first."
Carrie doesn't want to lose Quinn; she needs him in her life. But naturally her daughter's needs must come first.
Let's hope Franny herself can shed some light on this question of just how traumatized she was by Peter Quinn when Carrie visits with her next week. I'm not buying it.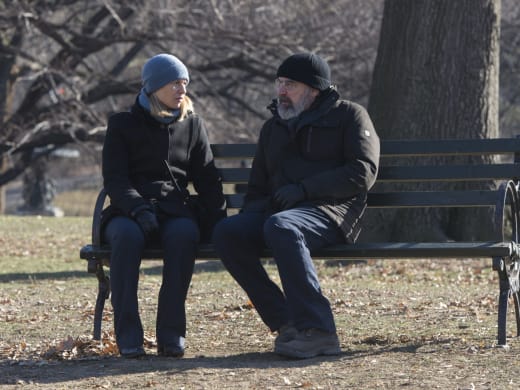 Dysfunctional families come in all shapes and sizes
Luckily for everyone, Quinn is finally channeling his destructive instincts in the proper direction – towards the bad guys.
He even managed to get himself a bit of a makeover in the few hours since Astrid was gunned down: a pair of halfway decent jeans; a knit sweater; a cool-guy jacket; and [gasp] some lace-up boots! So long, clunky Velcro shoes, you will not be missed!
Quinn is "Quinning," and it's a wonderful thing. So exciting to see him stealing exaggerated amounts of firearms and setting things on fire again. Swoon!
Of course, Quinn goes straight to Dar to settle the score with the old man:
QUINN: You tried to kill me. [pointing gun at Dar]
DAR: I would never hurt you, Peter. You know that.
QUINN: I don't.
DAR: I got you out of lock-up.
QUINN: So you knew where I was.
DAR: In a safe place. That was the point. My God, I flew Astrid in all the way from Berlin to take care of you.
QUINN: Astrid is dead.
DAR: Listen to me, we can figure this out together [walks towards Quinn], like we always have.
QUINN: No.
DAR: I raised you Peter. You are my child. More than that. I would never hurt you. Never. I love you. That's the God's honest truth.
Man, that was twisted. Homeland is really pulling out all the stops this season with the twisted, isn't it?
Is this the first time Quinn has heard the words "I love you" from another human? It may well be. Ugh.
After the "icky Dar reveal" from Homeland Season 6 Episode 7, the fact that I kind of believe Dar when he says he loves Quinn – he removed him to the lake to keep him safe, after all – is throwing my delicate sensibilities for a loop. I really just don't want to process this. Maybe next week…
In other dysfunctional family news, we got this golden exchange between Carrie and Saul: 
CARRIE: The only way to bring down Dar is by prosecuting the breach in the Berlin station under the Espionage Act.
SAUL: The breach itself was me. I was in the middle of it. I was the one involved with a Russian spy. […] Everything I've done. My entire career will be wiped out. All anyone will remember is that.
CARRIE: Keane is not ungrateful; she promised you a pardon.
SAUL: What about the Agency?
CARRIE: The Agency has survived worse.
SAUL: Not when the president wants it gone, which Keane does. You're aware of that, right?
CARRIE: Maybe you shouldn't have been fucking a Russian mole.
SAUL: Well, coming from someone who fucked a guy in a suicide vest, that means a lot.
Burn!
While Saul is understandably pissed as hell at Carrie's betrayal, the funny thing is it's not even himself he's worried about, it's the Agency – its reputation and fate under a hostile President Keane.
If Dar and Saul are the screwed up fathers to Quinn and Carrie, the screwed up children, then the CIA is the ultra-screwed up and infinitely toxic wife and mother from whom none of them will ever really be free.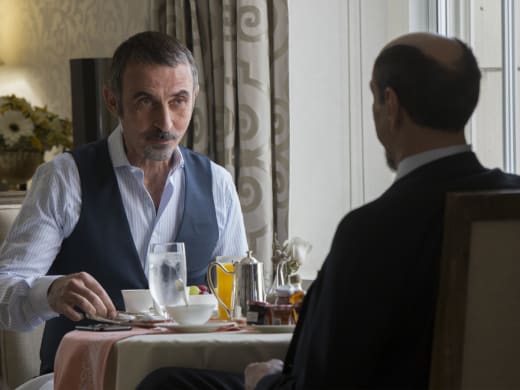 The shifting sands of intrigue
As you may have noticed, I gave up a couple of episodes ago on trying to sort out who the bad, badder, and baddest guys are this season. I'm just gonna enjoy the ride and do my best to keep track of what the heck is going on.
Javadi certainly bet on the wrong horse, huh? 
DAR: They said it couldn't be done. The president-elect could not be moved. That's what they said. But she has been, finally. And I owe it all to you.
JAVADI: You still love it, don't you?
DAR: Victory?
JAVADI: The game.
DAR: Ha! Come on. You do, too.
JAVADI: Nah. I'm done. The second I get the other half of the money, I'm gone.
DAR: [Doorbell rings] Oh, I was unable to mention this earlier, but our partners in Mossad came to me when they found out you were in the country.
JAVADI: I kept my part of the bargain, now it's time for you to keep yours.
DAR: But Mossad made the case that the head of the IRGC has a lot to tell them. Unfortunately, I couldn't convince anyone they were wrong.
Dar may have put him up more extravagantly than his old pal Saul, but ultimately Dar's only loyalty is to himself (and Quinn, apparently), a lesson Javadi had to learn the hard way – by getting dragged out of his fancy suite by two Israeli goons.
But Dar, it turns out, is not all-powerful. For once, he has been checked: whoever ordered the hit on Quinn did so against Dar's command. It may be the first hint to our great puppet master that he may not be the one calling the shots after all.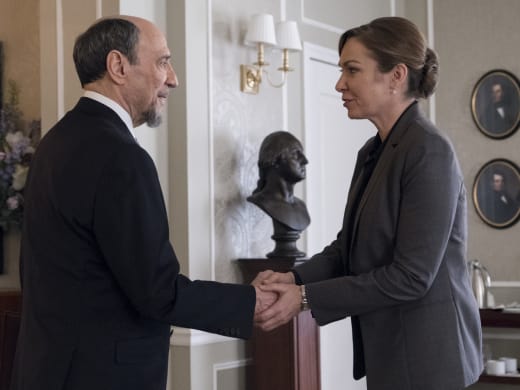 And now that Max is undercover at the mysterious tech company (a fake news factory, it turns out), I just get the feeling everything will turn out fine. Max will finally get to be a hero. Go Max!
All in all, an excellent episode! Did you enjoy it, too? Share your predictions for the closing act of the season and don't forget to watch Homeland online. 
Vivian Figueredo is a staff writer for TV Fanatic. Follow her on Twitter and read her personal blog at Sense Misapplied.