How much longer will Megan and Kyle last?
As much as Megan is enjoying her new life on The Arrangement Season 1 Episode 2, she's starting to find it difficult to accept all the restrictions placed on her.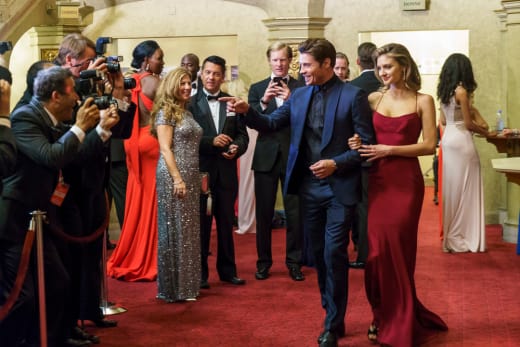 Can you believe it's only been a couple of days since Kyle and Megan met?
They're still in the honeymoon phase so right now it's a lot of fun for the couple. But Megan is starting to see that life with Kyle isn't going to be as easy as she thought it was going to be.
The lifestyle is great, for sure. How awesome to be living the life of a famous actress even if you're not the famous one?
But when everything is being dictated from what you wear to using social media, is it really going to be fun for long?
It's also not fun for Megan to watch Kyle and his ex, Lisbeth pose for photos together. Or for her to be pulled away from him so he can talk to Lisbeth at a party.
It's all for publicity purposes for both Lisbeth and Kyle, but it's also hard for Megan to handle. Her sulking didn't go over very well with Terence and he's the puppet master. He's also the one holding the purse strings.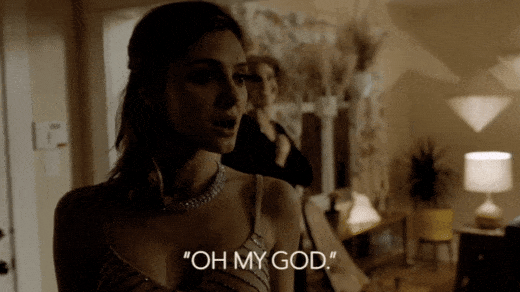 Megan has no idea yet how influential he is in Kyle's life. 
It's also unclear how much of this is real for Kyle. Is it all part of his image or does he really have feelings for Megan.
It's hard to figure out at this point. 
The kiss at the premiere. The dinner on the boat. For Megan it was real, but she's still living in lala land. She only sees the glamour and the jewels.
She thinks she's in the relationship of a lifetime. She thinks he's in love with her, but I'm not so sure.
For Kyle, it just seemed like another photo opportunity. He seems to be having fun with it all, but he's actor. He's used to playing a part. Megan is still green so she can't possibly know what's real and what's not. At least not in this new world she's living in.
And while she's got Deann on her side, she has no idea how much Terence isn't happy about Kyle choosing her to be his partner. Well, maybe she does.
He was very clear to her about the mistakes she made from her leaving with the film director to posting selfies in the bathroom. How he knew what she did is sort of creepy. Does he have spies around?
I would guess that he does because he's so concerned about Kyle and Kyle's image.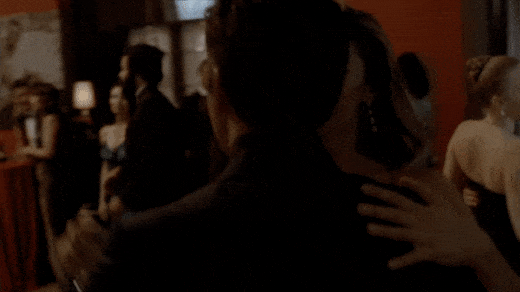 Deann wasn't too happy when Terence showed up and there was definitely some tension between them after he arrived. How much control does Terence have over Deann? I don't think she's the one wearing the pants in the family.
Deann seems to have her own agenda though. Her connection to Anika is a little disturbing. It makes me wonder is she handpicked Megan for Kyle right from the beginning.
She might be a lot more dangerous than Terence. What's her end game?
Anika doesn't seem to be very stable. Her showing up at the Institute is stalker like. I also don't get (or maybe I missed) what the agreement between her and Deann was. And what exactly is the threat Anika is making against Megan? 
Fill me in because I must've missed something!
I'm not particularly thrilled with Megan's behavior. She knew what she was getting into and for her to act so jealous after only a couple of days was childish. She has to have more of a backbone than that, doesn't she?
I absolutely hated the bathroom scene when she made a fool of herself in front of Lisbeth. She should have just kept to her business and not even bothered talking to the woman. 
Lisbeth was pure bitch and Megan deserved what she got because it was stupid of her to do what she did.
I wish Megan's friends would straighten her out. They read the contract. They understand what she was getting herself into. Megan should know what she got herself into.
Of course, there's always the possibility that she never read what she signed. How many times have we done that. Just sign something without reading it for all the details?
Still, watching the story unfold is fascinating. The behind the scenes drama is as interesting as the fakery in the front. The only question is how much will Megan be able to handle, and when she can't handle anymore, will she be able to break free?
What did you think of "The Ex"? Will Megan get with the program or will she just fizzle out? Will Terence ever accept her? Hit the comments and share your thoughts.
If you need to catch up, you can watch The Arrangement online right here via TV Fanatic.
Lisa Babick is a staff writer for TV Fanatic. Follow her on Twitter.