Once Upon a Time Season 6 Episode 20 Review: The Song in Your Heart

Mandy Treccia at .
Emma Swan had the magic of song inside her all along.
And, as the savior learned, she's never been as alone as she believed herself to be on Once Upon a Time Season 6 Episode 20 "The Song in Your Heart."
She even sang a song to prove it.
I love musicals. I don't care if it makes sense for characters to randomly burst out into song for no reason.
Because musical numbers are fun to watch! Especially when they feature original songs designed to match the characters' personalities.
Once Upon a Time lends itself to a musical story like no other. How could it not when the characters are fairy tale favorites come to life?
A quick wish on a star by Snow White, and suddenly everyone's belting out their feelings.
We've been getting a lot of glimpses of younger Emma throughout Once Upon A Time Season 6. Little Emma serves as a reminder of how alone Emma felt without anyone to love her.
Cutting from the heartbreaking young Emma scene to grown-up Emma preparing to marry the man she loves with her mother by her side was only the first of many powerful moments leading to the wedding.
Young Emma had her hopes and dreams crushed at every turn. Adult Emma's overcome her obstacles. She's battled evil. She's won. She's ready to move on to her happy ending.
The hopeful moments, while beautiful, almost always come with a not-so-gentle shove back into reality.
I was never a fan of white weddings.

The Black Fairy
Thanks to Rumple's lies on Once Upon A Time Season 6 Episode 19, Emma and the rest of her family were not prepared to have her wedding day interrupted by the Black Fairy.
Should they have been so quick to trust the Dark One? Probably not. But that's the nature of hopeful people. They want to believe the best in everyone.
Emma made the choice to sacrifice herself to protect her family. Killian recognized it the moment she came to see him. Not to warn him, but to say goodbye. And naturally he had zero plans of sitting back, and doing nothing. 
That's not what heroes do.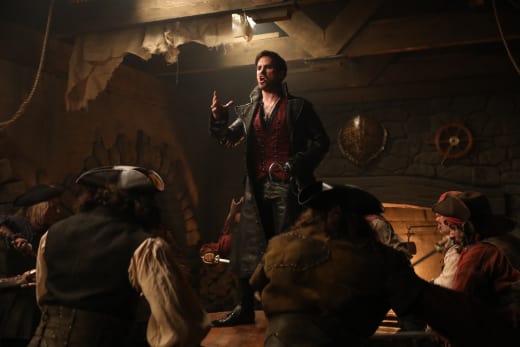 Again, it wasn't a huge surprise when Killian's plan failed. Just as Regina and Zelena's plan failed. And Snow and Charming ended up frozen as well. They were caught in Rumple's trap.
Of course that left Emma as the sole hope. But she wasn't interested in saving herself. Not when the Black Fairy drudged up her bad memories of being alone. Feeling weak. Feeling like no one would ever care about her.
It hurts to watch Emma's confidence shatter. She's come so far. But she's human. And humans are programmed to doubt themselves. That's why we need people around us to help us get through life.
While most of her family was frozen, Emma still had one important person in her corner: Henry.
Henry, I wasn't even brave enough to keep you.

Emma
He believed there had to be another way to win without Emma sacrificing her heart to the Black Fairy. Emma planned to do it anyway. Protecting her family mattered more than her life.
But Henry's not one to give up. He found his answer in the usual place: his storybook. I love when the flashback and the present day stories connect in a perfect moment.
Even if they are trying to say the shady Blue Fairy's been the hero this whole time. Because it wasn't a star Snow wished on when she wanted to protect Emma's happy ending.
It was the Blue Fairy who put a song in everyone's hearts.
The fantastic twist revealed that the songs everyone sang--Snow and Charming's tale of love, Hook's ode to revenge, Zelena's promise of wicked winning while Regina praised evil over love--were designed for Emma.
All the people who loved her, or who would love her in the future, sang so the Blue Fairy could transfer the magic of the songs into Emma's heart before she was born.
Yes, it sounds so corny, but we're not watching Once Upon A Time for its realism. We watch because the stories, and the hope, make us feel good.
And knowing that Emma's loved ones, including her future husband, were with her for her entire life, feels pretty darn great.
Just because you learn that you come from true love doesn't mean you believe that you'll ever find it. But thanks to you, now I have.

Emma
Killian and Emma's wedding ceremony was beautiful.
They exchanged heartfelt vows that not only expressed their love for each other, but they revealed how far they've come. He spoke of replacing revenge with love. She understood she was meant for love and not loneliness.
The danger looming did not overshadow the big moment Captain Swan fans have been waiting for since Emma met Captain Hook on Once Upon A Time Season 2 Episode 5. These two have more than earned their happy ending.
Or, as Emma correctly called it, their happy beginning. Because marriage is only a new start for the happy couple.
Killian: You did it, Swan. You got your happy ending.
Emma: That's not what this is. It's something else.
Killian: What, then?
Emma: A happy beginning.
And with every hopeful start, a curse is sure to follow. At least for any member of the Charming family.
The fun scene of the wedding guests celebrating as Killian and Emma shared their first dance was quickly followed by the clock striking six. The curse was coming.
Unlike the original Dark Curse, no one knows what the Black Fairy has in store for them. Will they be transported to a different land? Will their memories disappear?
No matter what it brings, Emma's made it clear she's ready to fight. And win.
Tell us what you thought of "The Song in Your Heart."
Which musical number was your favorite? Did you cry at Emma and Killian's wedding? What do you think the Black Fairy is planning?
Remember, you can watch Once Upon a Time online anytime!
Mandy Treccia was a staff writer for TV Fanatic. She retired in September 2017. Follow her on Twitter.