Fargo Season 3 Episode 8 Review: Who Rules the Land of Denial?

Caralynn Lippo at . Updated at .
There was so much to love about Fargo Season 3 Episode 8, which featured several incredibly strong sequences, a time jump, and some massive plot developments.
Atmospheric and impeccably directed, I think it's safe to say that "Who Rules the Land of Denial?" was one of my favorite installments of the season – and perhaps of the series as a whole.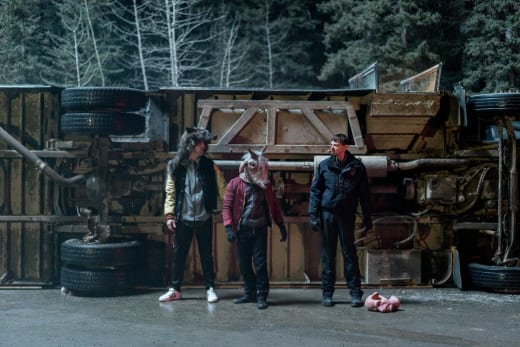 We opened with a masterfully composed sequence that picked up directly where Fargo Season 3 Episode 7 left off.
The first moments of this installment re-told the events of the prison bus crash from the opposing perspective. Whereas we first saw things from the bus' perspective, the opening scene here reversed it and showed how Varga's men prepared their attack on the bus.
Methodical and calculating, watching Yuri in his creepy wolf jacket as he, Meemo, and the unnamed third assassin got ready to overturn the bus was terrifying.
Overall, much of this hour felt like a horror movie. Between Nikki and Wrench being stalked through the woods and Emmit's later Ray-related freak out, the atmosphere was very similar to a scary film about serial killers or a haunting (respectively).
The entire (extremely long) woods sequence is one of my favorite Fargo "moments" ever.
Stylistically, it was flawless.
The direction and cinematography were clear and unconfusing but still filled with unique and very quintessentially Fargo shots.
The colors and lighting in the woods were perfect (again, super effectively atmospheric).
In my review of Fargo Season 3 Episode 7, I wondered whether Mr. Wrench's appearance was just a one-off, a minor Easter egg for dedicated viewers of the show.
I was pleased to see Russell Harvard have such a big role on this installment. Also great: The fact that his involvement was both realistically believable and didn't overpower or detract from the goings-on at hand with this season's cast of characters.
Of course, Mr. Wrench would be on a prison bus several years after the events of Fargo Season 1.
I also totally bought that he and Nikki would help one another even after they managed to separate themselves from their shared chain.
Literally beheading a dude against a tree stump will bond you like that, I guess.
The Nikki sequence ended with an extremely compelling and mysterious scene at a bowling alley.
Ray Wise's Paul Marrane (who Gloria met en route to and in Los Angeles back on Fargo Season 3 Episode 3) reappeared, to fantastic effect.
I noted in my review then that Paul, though a decidedly random character, seemed significant enough (and was played by such an esteemed actor) that it would have been odd for the role to be just a one-off appearance.
His use during his latest appearance proves that point.
Now, I watched the bowling alley scenes several times. They are in no way explicit about what is really going on, but the only possible reading of it (in my view) is that Nikki, Wrench, and Yuri all died in the woods.
I mean, just look at these Paul quotes:
Paul: Have you been to this place before?
Nikki: A bowling alley?
Paul: Is that what you see?
"Is that what you see?" implies, to me, that the bowling alley was some sort of way-station between the land of the living and the hereafter – and that it "appears" differently depending on who it is that has died.
We all end up here eventually. To be weighed and judged. As it is now, for you and your friend. You know, some thought that he should stay behind, but I convinced them that he was on a better path now.

Paul
Maybe it's just because I also review American Gods, but the reference to judgment and weighing immediately also made me think death (specifically, purgatory before the final heaven/hell passing on).
There's also the fact that the woods in this part of the country would be freezing. We saw Nikki and Wrench running through them during a full day and into night.
There is no way they'd survive a night in those woods. Not possible.
Nearly everything the guy said could be interpreted as a voice from the "beyond" – an emissary of the afterlife.
Now, I don't think that Nikki and Wrench necessarily remained dead. That green VW bug (and Paul telling Nikki to deliver a message) implied that they managed to survive in the end. They got a reprieve (for now, anyway).
Yuri, on the other hand... Not so lucky. Paul brought him face to face with the horrors he'd inflicted in his brutal past, back in Ukraine. Yuri had a "message" to hear from Helga Obrecht and Rabbi Nachman.
The fact that Meemo and Varga mentioned that Yuri never came back in the nearly three months after going after Nikki and Wrench suggests that Yuri's scales did not weigh favorably. (Though, for what it's worth Nikki and presumably Wrench have also not resurfaced since then.)
Dude's definitely somewhere in the deepest depths of hell, is what I'm saying.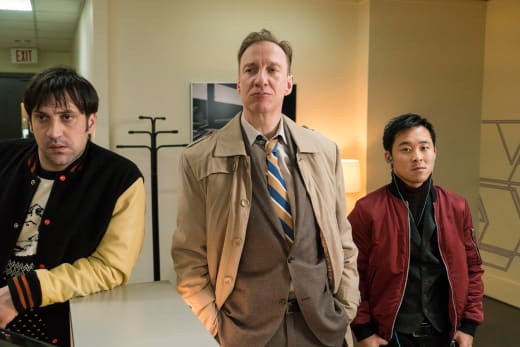 Bye, Yuri. I won't miss you, pal.
Then, we had the time jump.
Much like Fargo Season 1 proved, the show knows how to utilize a late season time jump to its utmost effectiveness.
Over two months passed within the span of a few moments, going from Christmas to March 15 of the following year in the blink of an eye.
This time jump took place in a way that was creative and logically followed a major plot development – namely, that Varga ostensibly poisoned Sy with weird tea, rendering him comatose for months.
Poor Sy. I'm not sure why on earth he'd ever accept any food or drink from someone as obviously sinister as Varga, but I still sympathize. That scene of Sy collapsing at the office was seriously distressing.
Emmit, in the time since Sy's poisoning, has become paranoid and filled with guilt over his actions.
Bizarrely, he doesn't appear to have connected the dots and figured out that it was Varga who poisoned Sy (and that he really let it happen).
Ewan McGregor phenomenally portrayed Emmit's slow unraveling. Emmit is not particularly sympathetic at this point, given all he's done, but his breakdown was still engaging to watch.
My name's Emmit Stussy. I wanna confess.

Emmit
I also loved the fact that Emmit finally, finally took a stand against Varga by not taking the pills he and Meemo gave him and marching himself down to Gloria's police station to confess.
I can't wait to see how Gloria will react to Emmit finally cooperating on Fargo Season 3 Episode 9.
Stray thoughts:
I generally have preferred Meemo to Yuri, and I particularly love Meemo's strange quietness and propensity for listening to music on his headphones at all times. Oh, and his habit of stealthily popping up, unseen, as if he's teleporting. Andy Yu has been doing a great job with this very limited role.
There are few things I enjoy more than a good mustache extreme close-up, so you can imagine how much I adored that Sy-Varga stand-off at Emmit's house.
I don't think it's a coincidence that the time jump picks back up on the Ides of March.
Amidst all of the higher-key drama, Gloria finally signed her divorce papers. Yay, Gloria!
That kitten was so cute and also made me super sad for Nikki. Guess she did love Ray and his beer drinking habits (in her own way) after all. 
What did you think of "Who Rules the Land of Denial"? Share your thoughts by commenting below, and remember that you can watch Fargo online here at TV Fanatic anytime!
Caralynn Lippo is a staff writer for TV Fanatic. Follow her on Twitter.