Riverdale Season 2 Episode 6 Review: Chapter Nineteen: Death Proof

Justin Carreiro at . Updated at .
Jughead. Tough guy jacket. Hot rod car. These are the things of bad boy dreams.
Riverdale Season 2 Episode 6 channeled their favorite James Dean movies for an action-packed hour on the road. It was only a matter of time before more 1950's inspirations returned to Riverdale.
As the classic films have shown, it's not a turf war without a drag race. (And I'm not talking about RuPaul's Drag Race, honey.)
"Chapter Nineteen: Death Proof" didn't have a fully concise plot when it came to Jughead's main storyline. I understood him challenging the Ghoulies to stop the deal, why Tall Boy wanted to consolidate power, and why Jughead visited FP. However, why would the Southside Serpents ever want to hand any power to the Ghoulies?
The Serpents were running the show in the Southside. Beyond some trouble here and there, they outmatched the resistance set by the Ghoulies. In fact, Jughead even confirmed their enemy's home base was basically a basement.
Why would the Serpents/Tall Boy even risk giving up ground or property to a rival gang during a race? And, if Jughead was so against the deal, but Tall Boy and other members were for it, why have the race at all? Tall Boy was the defacto leader; he could shut it down.
The race could've been his way of appeasing Jughead and not causing dissension. Though, we didn't get that clarification, so we're left to guess and make assumptions. This plot moved along pretty quickly just to get us to this street race.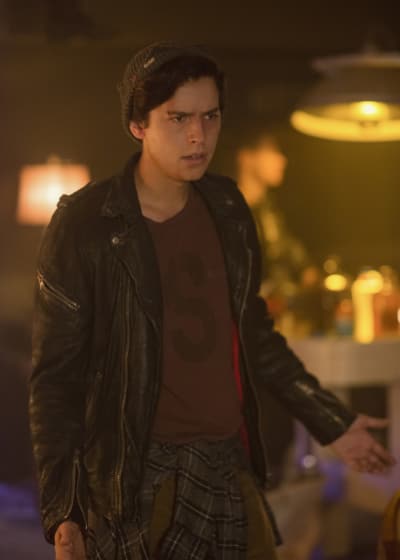 For all of the Bughead fans: Go ahead and breathe a sigh of relief. We won't be seeing a Toni and Jughead romance anytime soon.
I called it that these two wouldn't last long. They always seemed better as friends than romantic. Though, I'm continuing to like Toni more and more as Riverdale Season 2 goes on.
She seemed mature and level-headed about what to do with Jughead. Realizing that he was still hooked on Betty saved her a lot of time and trouble for whatever drama could've been caused by this break. She doesn't need that mess in her life. (No one does!)
Archie: Jughead, calm down.
Jughead: Calm down?! Archie...Riverdale just became a police state.
Archie: Mayor McCoy says the Serpents are the ones dealing jingle jangle.
Jughead: Serpents don't deal that stuff. The Ghoulies do.
Archie: So tell Mayor McCoy that.
Jughead: Oh, Mayor McCoy...Mayor McCoy just arrested my friends for no reason.
The raid on Southside High: Did that escalate too quickly?
Mayor McCoy and Sheriff Keller were on a mission after the parents' meeting. It's understandable why the mayor wanted to clean up the school, especially with the backstory about Josie's dad using drugs. However, the raid was a tad spontaneous to go into full arrests.
Did they have probable cause? Were they allowed to arrest any Southside Serpents without reason?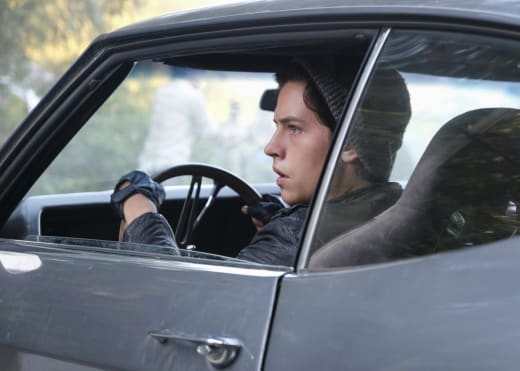 Betty fixing the car, and knowing more about driving, was perfection.
She saved the day as she was the one who got him on the road in a working car. Even though he was the one driving, she had a significant involvement in getting it done.
I like that their mechanic scene shook up gender stereotypes.
We don't see a lot of representation of women fixing cars on television, so it was great to see the role reversal here. Sure, Jughead and Betty were still discussing their romantic relationship when they were together. However, Betty was the one doing the work to fix the car and repair it back to working condition.
It's a subtle addition to "Chapter Nineteen: Death Proof," but it's an important one.
Archie: I called Keller!
Jughead: What the hell, Archie?! Did Betty tell you about this too?
Archie: No, this was my idea. To get rid of the Ghoulies and it worked. They get arrested for street racing and now they're up to Chestport.
Jughead: For how long? One month? Three months?! You know what they're going to want on the other side, Archie? Your head...on a stake! All of ours.
Archie continued his streak of making bad decisions. Calling the police to break up the race and getting the Ghoulies arrested was a short-sighted move. He should've let the race finish so that a decision could be made
FP had the right advice. He's experienced gang relations before heading to prison, and he knew what could stop the Ghoulies. There's a reason Jughead and Archie had to visit him in the first place.
The arrest will no doubt cause trouble in the future. Ghoulies don't seem like the type of people to let these things slide.
What revenge do you think they will do?
Betty taking back the power from The Black Hood is amazing character development.
After the events on Riverdale Season 2 Episode 5, she was being relegated to another victim. The Black Hood had all the power; he made her do things that she didn't want to do. It was all about the control he held over her.
Seeing her stand up to him was a breakthrough that will empower her to find out his identity. She's not going to sit back and let him run her life anymore. And I can't wait to watch it happen!
Also, her reciting the same ominous lines back to him at the end of "Chapter Nineteen: Death Proof" was her 'drop the mic' moment. She got the last words and set the stage for defining their relationship. Betty = Hunter. The Black Hood = Prey.
The metamorphosis of Betty Cooper deserves all the GIFs.
The Black Hood: You're playing a risky game.
Betty: Yeah, but it's my game now.
The Black Hood: Which is what, Betty?
Betty: A game that ends with me catching you. I found out who killed Jason Blossom, I found out who the Sugar Man was. You're next, Black Hood. I'm breathing down your neck. Can you feel it? Can you feel me?
[He hangs up]
We couldn't have Betty's transformation without her making amends to the people she hurt. It wouldn't suit the character if she ignored this. Forgiveness is in her nature.
Regardless of them being cozy at the end, Bughead is still on shaky ground. These two have a lot they need to discuss, like Jughead joining the Southside Serpents and the North vs. South debate. Hopefully, this plot isn't written out quickly in favor of showcasing their romance.
Life doesn't wash away problems from the past. Relationship woes are still there if the people don't fix them. We need to see Jughead and Betty work out their issues.
Betty and Veronica are friends again! All is right in the world.
If Betty had only come clean on Riverdale Season 2 Episode 5, all this trouble wouldn't have happened. It's great to see them sit down, chat and mend their bridges. They acted pretty mature in the situation and focused on the prominent matter at hand, like finding the Sugar Man.
Their journey to the Southside was just another Nancy Drew adventure to add to the list. Though, they do need to work on their stealth skills; they got caught pretty quickly.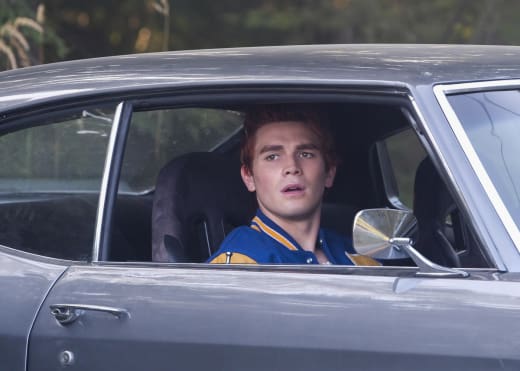 Penelope Blossom may be a lousy parent, but her recovery routine should be applauded.
The last we saw her on Riverdale Season 2 Episode 1 she was severely burnt and recuperating. From the look of her now, she seems recovered, except for the hand. Whatever the secret may be, I need to know the truth.
I couldn't believe she didn't take Cheryl's word after the attack.
If my child, and multiple witnesses, said that someone tried to rape her, the world couldn't stop me from making a scene. Penelope was too cold here and, if you can believe this, it didn't feel like her personality. Her hatred for Cheryl doesn't outweigh the pride she has in the Blossom name. She wouldn't stand for anyone hurting her child, even if it made a public spectacle.
The person we saw during the fireplace scene might be the most "real" Penelope we've had yet.
She was caring, emotional, and yet still stoic as a Blossom should be. It's great to see her finally open up to Cheryl and show that she cares about her daughter. The burning of the check was a big moment for repairing their disastrous relationship.
Betty: Have you ever heard of the 'Sugar Man'?
Cheryl: Yeah, of course.
Betty: What?
Cheryl: As children, Mother told us tales of how Daddy was friends with this so called 'Sugar Man.' And if we were bad, he would sneak into our rooms at night, steal us from our beds and whisk us away, never more to be seen.
I like that Cheryl went out of her way to help Betty.
She didn't need to dig into the story of the Sugar Man; this mysterious man was a fairytale to her. Beyond doing a good deed, finding the dealer wasn't advantageous to her in the long-run. It might be one of Cheryl's most selfless moments.
Cheryl may be an inconsistent character at times, but she does have a heart.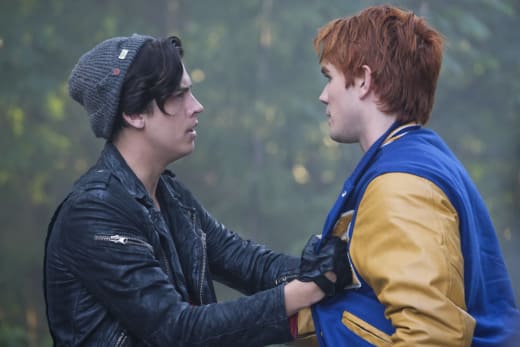 In another round of great parenting, Hiram and Hermione also impressed. We can obviously ignore the shady sabotage they did to the St. Clairs, but it's the thought that counts. Is that wrong?
I've been consistently hard on Hermione, and Hiram is no exception. However, kudos to them for dropping all deals the second Veronica told them Nick tried to hurt her too. Giving up the funding showed they cared about Veronica more than money.
You could feel the concern and love they had for their daughter. Why couldn't Penelope be this worried?!
We should also be worried about Veronica's reaction after the news of Nick's accident. She was just as stoic as her mother and father; knowing her parents harmed someone didn't faze her. Veronica's new side could be villainous in the future; she reveled in the karma.
Hermione: The St. Clairs had a car accident. They were run off the road. Nick...he will recover. It will take several months.
Veronica: Oh well. Karma's a bitch.
[Hiram moves his Chess piece]
Hiram: Checkmate.
Did anyone guess correctly to the identity of the Sugar Man? I was so wrong. The teacher was never one of my suspects.
It makes some sense in hindsight: He's a prominent faculty member at Southside High, he looks trusting enough, he controls the messaging in the school new paper, and he's around the dealers all day.
His distribution business basically runs itself.
Though, did people at Southside High know he was the Sugar Man? Toni didn't look fazed at all when she shared the news with Jughead. And people there had to know his identity if he was supplying drugs.
Now that he's dead, my suspicion of Sheriff Keller being The Black Hood is rising. Police stations are hard to break into, and The Black Hood would need help to do so. However, the promo for Riverdale Season 2 Episode 7 is teasing along the same lines.
We could be seeing a red-herring here.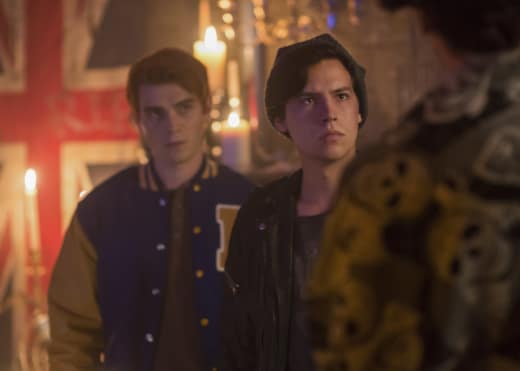 What did you think of "Chapter Nineteen: Death Proof"? Would Jughead have won the race if Archie hadn't stopped him? Why do you think Cheryl helped out Betty?
If you missed the latest episode of Riverdale, you can watch Riverdale online via TV Fanatic. Come back here and let us know what you think.
Justin Carreiro is a staff writer for TV Fanatic. Follow him on Twitter.