Gotham Season 4 Episode 11 Review: Queen Takes Knight

Lisa Babick at . Updated at .
Girl power!
Sofia Falcone showed everyone who was boss on Gotham Season 4 Episode 11 as we learned just how far she was willing to go to take control of Gotham's underbelly.
Carmine did a better job of teaching his daughter the ins and outs of criminal activity than he could have ever imagined.
Who would have guessed she'd go as far as killing her own flesh and blood, though? 
Carmine working with Falcone was sort of surprising, but he did it to protect Sofia. She wasn't having any of it, though. What I don't understand is how was she able to put together her plan so quickly.
When did she have time to coordinate the killing of her own father?
She was talking with Babs and friends when she got the phone call from her father summoning her to the Falcone mansion. Did she do it on the way? Was Babs and friends in on Sofia's plan? I'm unclear on that aspect.
Pyg being part of Sofia's plan to take over Gotham was an interesting move, but it was disappointing to learn that it was all a farce.
I enjoyed Pyg and his insanity. He was one of the most vicious villains we've ever seen on Gotham, and I thought he was a ton of fun while he lasted.
But storylines needed to be tied up. With Jerome returning and potentially teaming up with Penguin, having Pyg on the loose would just distract from that powerhouse duo.
Better to get rid of Pyg and not have the threat that he might return looming in the back of our minds.
I've always wondered how Victor ended up with Penguin when he had been one of Carmine's soldiers, so I liked that he kept his loyalty to Carmine by turning on Penguin the way he did.
Is there anyone Penguin can depend on and trust?
I didn't get the feeling that Victor turning on Penguin was preplanned by Sofia. It seemed to fall into her lap. At least that's the way it seemed to me. 
From the first day I put on the badge, I was told things could never change. Gotham was corrupt. GCPD was corrupt. Criminals and lowlives ran things. You just showed me differently. Penguin will be coming. It's time we showed Gotham who we are. Suit up!

Jim
Jim may have won his war against Penguin, but he now has a bigger battle on his hands. Sofia showed how ruthless and conniving she can be.
Once again Jim made the choice to sweep things under the carpet. He's done it with Penguin a billion times so why wouldn't there be a secret to keep with Sofia?
Jim has a reputation to uphold. If the GCPD learned that Jim reached out to a former crime boss for help taking down Penguin, it wouldn't make Jim look good.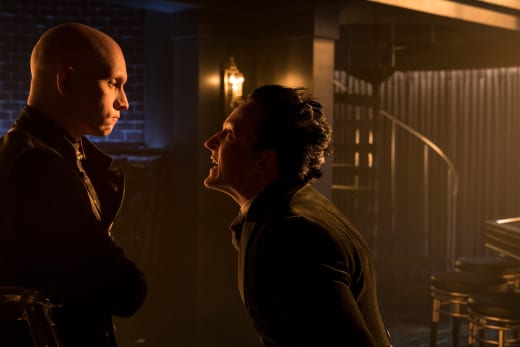 But how much stuff can Jim keep hidden in that closet of his? It's already bursting at the seams, so it's going to be interesting to see how long it will stay closed.
Is there a possibility that Bullock might rip that door open?
It's hard to believe that Bullock has walked away from the GCPD permanently, but it certainly seemed that way. Will we see him turn up on the others side of the law?
Butch is back, but I'm not sure if I like that turn of events. Grundy being part of Lee's team was lots of fun, but we didn't get enough of it. It's disappointing that it's over already. 
There's always the possibility that Butch will go back to Lee and Ed, but that doesn't seem likely. He has no idea what's happened to him, but he knows he's Butch, and I'm guessing that he'll seek out Tabitha and become part of her team.
And what's the deal with the ladies of Gotham? Now that Sofia is in charge, Babs, Tabitha, and Selina once again are bumped to the bottom of the barrel. Why can't Babs ever be in charge of the city?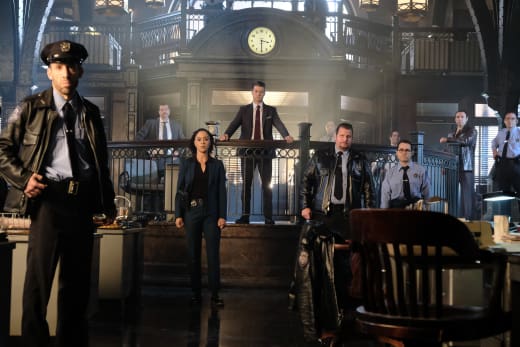 I know we are only at the halfway point of the season, but Babs deserves more. 
Bruce's bratty behavior is getting tiresome. 
He was the one who started the fight with Alfred, so it was pathetic that he ran like a baby when Alfred punched him in the face. What was worse was when he threatened to call the cops on Alfred if he didn't leave.
I get that Bruce needs to fall, but enough is enough. He's not endearing anymore and doesn't deserve to wear the cape. He's ruined it with his poor behavior, and it's going to take a while for me to get back on board the Bruce train.
On the bright side, Jerome is coming back, and that is exciting!
What did you think of the fall finale? Will Harvey return? Will Jerome and Penguin team up? Will Bruce come to his senses?
What will happen with Butch/Grundy? 
Hit the comments and share your thoughts.
If you need to catch up, you can watch Gotham online right here via TV Fanatic.