The Originals: Moving to Wednesday Nights - What Does This Mean for Life Sentence?!
Paul Dailly at . Updated at .
The CW is not taking any chances by keeping Life Sentence on Wednesday nights. 
Just two days after the Lucy Hale fronted drama dropped to an embarrassing 0.1 rating among adults 18-49, the network has revised its midseason schedule, and that spells a likely doom for the freshman drama. 
Effective Friday, April 27, Life Sentence will be banished to the lower viewed night and paired Dynasty, which is also a member of the 0.1 rating club. 
The Originals, which was previously scheduled to debut its final season on Friday, April 20 will instead debut Wednesday, April 18 out of Riverdale. 
The Originals Season 4 averaged around 1 million viewers and a 0.3 rating on Fridays last year, so the network will be hoping the show can stay around those levels by moving to Wednesdays. 
Related: The Originals: Spinoff in the Works!
Given that a spin-off of The Originals is in the works for 2018-2019, its fate will likely hinge on how well the parent series performs in its new timeslot. 
This move also affects the previously announced season finale dates for both Jane the Virgin and Dynasty. The former will now come to a close for the season on April 20, while the latter will wrap May 11. 
All told, this is what the changes will look like:
WEDNESDAY, APRIL 18
8:00-9:00 PM RIVERDALE ("CARRIE The Musical")
9:00-10:00 PM THE ORIGINALS (Season Premiere)
FRIDAY, APRIL 20
8:00-9:00 PM DYNASTY (New Episode)
9:00-10:00 PM JANE THE VIRGIN (Season Finale)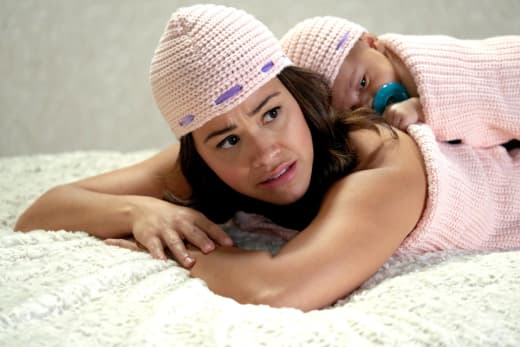 FRIDAY, APRIL 27
8:00-9:00 PM DYNASTY (New Episode)
9:00-10:00 PM LIFE SENTENCE (New Night)
FRIDAY, MAY 11
8:00-9:00 PM DYNASTY (Season Finale)
9:00-10:00 PM LIFE SENTENCE (New Episode)
Okay, Life Sentence and The Originals Fanatics! What do you think of this news?
Sound off below. 
Remember you can watch Life Sentence online and The Originals online right here via TV Fanatic. 
Paul Dailly is the Associate Editor for TV Fanatic. Follow him on Twitter.