Once Upon a Time Season 7 Episode 18 Review: The Guardian
Paul Dailly at .
Well, Rumple is back up to his old tricks, and it's kind of fitting when you consider the fact there are just a handful of episodes left.
Once Upon a Time Season 7 Episode 18 gave us some compelling stories, but there were also some downright silly choices from some of the characters. 
Rumple and Alice's scenes together were all great. Just when it seemed like Rumple was too far gone in his quest to be reunited with Belle, he proved that there were still some redeeming qualities about him.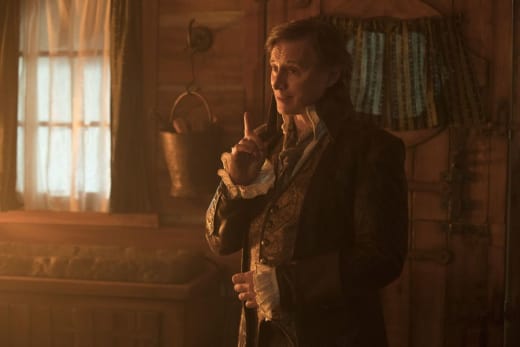 And it was about time. Yes, he put poor Alice in the terrible situation by trying to have her kill Facilier, but he came through in the end. 
Making Alice the Guardian was also a good choice, but it was a little predictable. I did like that Rumple heard Belle's voice when it seemed like Alice was going to absorb the dagger's power and become the new villain. 
The more telling part of it came when Rumple admitted that it was a burden being linked to the dagger and brought the whole charade to a conclusion before Tilly became the next Dark One. 
He clearly took what Belle said on board and realized that even if he isn't physically harming people, his actions still had consequences. 
Rumple: Can you hear me, Belle? It's me. I know it's only been a short time since I began my journey without you, but it feels like an eternity. I received a letter from Gideon. He's doing well in his studies. Our son misses you, Belle. Terribly. And so do I.
Facilier: That's good, quite good. Let it all out. After all, there's no greater pain than being separated by true love.
He's also under the impression that Belle can only return at the hands of someone with the purest heart. That's not something you get for nothing on Once Upon a Time. 
Related: ABC Sets Finale Dates for Once Upon a Time, Grey's Anatomy & More!
I felt terrible for Regina when she realized that Rumple had stolen the magic from her. I'm sure if she had some magic of her own she would have banished Rumple to somewhere the sun doesn't shine. 
Alas, there's a shortage of magic in Hyperion Heights, but all of that will probably change in the coming episodes. 
There isn't a shortage of love, however. Margot and Tilly are so damn cute together, and they both lit up the screen when they were together.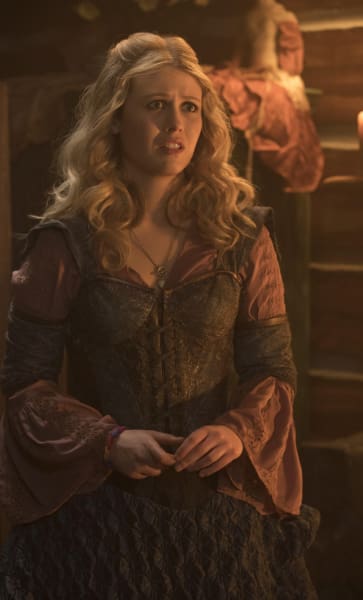 Tilly is not confident in the slightest about herself, and that's partly why she keeps getting paranoid whenever anything goes wrong. 
She probably feels expendable to Margot, and that could not be further from the truth. There's an attraction between the two characters and that extended well into the other dimension. 
Related: Enjoy UNLIMITED access to thousands of Movies and TV shows with Amazon Prime Video. WATCH ANYWHERE. CANCEL ANYTIME!
It would not surprise me if their love were the thing that finally broke the curse because let's face it, there's been a lot of focus on them of late. 
I loved that Henry continued to try and find out more about what was going on in town because he wouldn't have the confirmation that he's Lucy's father. 
You honestly think a pincushion is going to work on me?

Rumple
As bizarre as the whole situation is, it's time for them to either get together or call it quits for good. I understand that the former would not happen on this show, but it has managed to surprise me a few times throughout Once Upon a Time Season 7. 
You could tell that both Jacinda and Henry so desperately wanted the Lucy news to be true, but it must be difficult as hell for them to believe. 
It must be a confusing time for them, but I'm sure the characters will grow closer as the series winds down. Lucy will be ecstatic to learn that there is some truth to her claims. 
But that likely means more characters are going to return because Henry's going to learn a whole lot more about his life pre-Hyperion Heights and that's going to send him on a mission of self-discovery. 
Was anyone else digging Wish Hook laying down the law with Rumple about pestering Belle in the Wish Realm? 
It's such a bizarre situation for any of the characters to be in, but it's great to know that Nook is embracing being a father. 
Related: Once Upon a Time Season 7 Episode 17 Review: Chosen
That's about all we could ask of him, but we need to get a whole lot more answers about him before the series comes to a close. 
OK. That's all I got, Once Upon a Time Fanatics. What are your thoughts on the latest twists and turns? Were you surprised about Alice being the Guardian? Will Belle and Rumple reunite, or will it all be a little too convenient?
Hit the comments below. 
Remember you can watch Once Upon a Time online right here via TV Fanatic. Get caught up with all the latest magical drama right now!
Once Upon a Time continues Fridays on ABC.
Paul Dailly is the Associate Editor for TV Fanatic. Follow him on Twitter.