Legacies First Look: What Happened to Alaric?!
Paul Dailly at . Updated at .
Things are about to get dicey on Legacies. 
The CW has released new photos, and a synopsis for Legacies Season 1 Episode 10, and it teases some big changes for the freshman drama series. 
"Following a stay in Europe with her mother, Lizzie (Jenny Boyd) returns to Mystic Falls and comes face to face with someone who could make all her wishes come true -- including making Hope Mikaelson (Danielle Rose Russell) disappear," reads the official logline for "There's A World Where Your Dreams Came True."
The good news here is that we know Lizzie and Josie will be back at the school. 
If you watch Legacies online, you know that they left the school temporarily following the short-term resurrection of their biological mother, Jo. 
Related: Legacies Promo: A Dream Demon Invaded the School!
It turns out; they just couldn't process all of the grief, so they went to spend some time with Caroline. 
Viewers already know that Caroline is desperately trying to find a solution to the merge the twins are facing.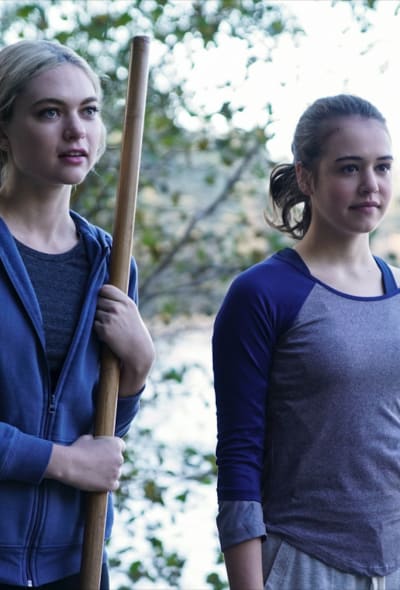 It's a decent excuse for why Candice King is not on this new show, but we'll save that discussion for another day. 
Based on the synopsis, it sounds like Lizzie is ready to craft the family that she and her sister have always wanted, and that includes taking Hope (Danielle Rose Russell) out of the equation. 
Related: Legacies Season 1 Episode 9 Review: What Was Hope Doing In Your Dreams?
It's fascinating that we're getting one of these episodes. 
Lizzie makes a deal with the witch and finds herself, and Josie automatically enrolled in the combat training Alaric has been teaching Hope for years. 
It will surely make for a tender moment between the family, but then there's Alaric's facial hair. 
Where did all of that come from? 
Did Lizzie wish for her father keep his facial hair for the winter?
In other events, Lizzie's little deal with the witch looks to have some adverse effects on Penelope (Lulu Antariksa)
who seems like she's leading some sort of cult. 
Lizzie has had it out for Penelope ever since the series debuted, so it wouldn't be all that surprising if she made her life hell. 
This episode of Legacies airs February 7. 
What are your thoughts on the storyline and the photos?
Hit the comments below. 
Legacies airs Thursdays at 9/8c on The CW. 
Paul Dailly is the Associate Editor for TV Fanatic. Follow him on Twitter.