Days of Our Lives Classic Couple Spotlight: Anna and Tony

Jack Ori at .
To say that Days of Our Lives' Anna and Tony have had a complicated relationship over the years would be an understatement.
A romance with a Dimera is never easy, and in Tony's case, he had an evil lookalike to contend with. More often than not, Andre took over Tony's life and got in the way of his romance with Anna. 
Tony and Anna's rocky relationship often lead them to divorce, but they always found their way back to each other! Even Tony's supposed death (more than once!) couldn't keep them apart permanently.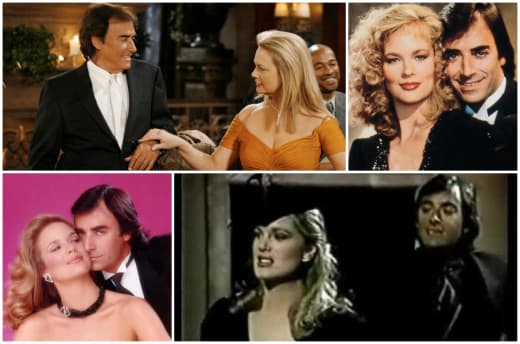 Check out our homage to Tony and Anna's long relationship, then share your favorite Tony/Anna memory.
Anna the Double Agent
A newly divorced Anna began working for Tony as his secretary in 1982.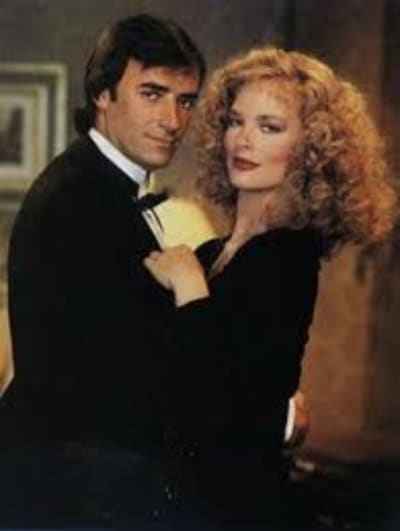 Tony didn't know that Anna would someday be the love of his life. He also didn't know that she was secretly working for his father, evil mastermind Stefano Dimera.
Related: Days of Our Lives Classic Couple Spotlight: Bo and Hope
Stefano had paid Anna a cool 1 million dollars to get Roman fired from the ISA.
Anna was more than willing, even using her daughter, who planted false evidence of embezzlement while under hypnosis.
Anna Drugs Tony And Marries Him
Anna and Tony were not the only supercouple who began with someone tricking the object of their non-affection, only to fall in love.
This is a Days of Our Lives trope -- Doug got paid to con Julie into thinking he was in love with her, Philip went out with Chloe to win a bet, and more recently Brady seduced Eve to steal her company and Gabi did the same to Stefan, only for true love to rear its head.
In Anna's case, she drugged Tony and took him to Las Vegas for a quickie wedding.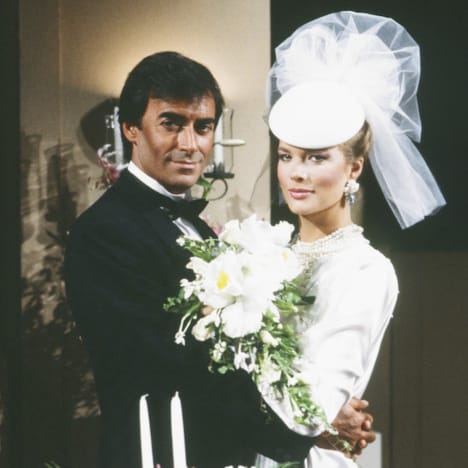 Later, she would fall in love with him for real, but there was no romance involved in this first wedding!
Anna and Tony Must Live in the Dimera Mansion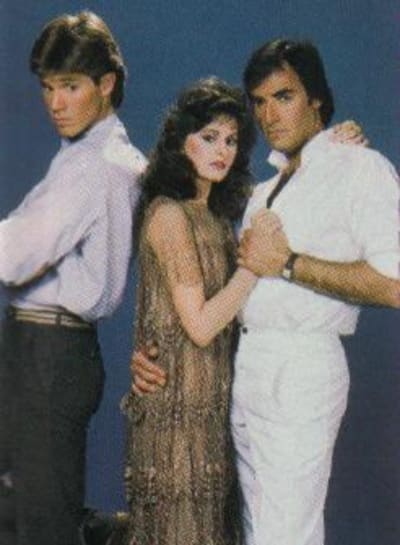 Stefano had supposedly died (just how many lives did that man have?) and left a sizeable inheritance to Tony -- if he lived in the Dimera mansion for one year.
Naturally, this situation forced Tony and Anna to live with Tony's ex-girlfriend Renee, who had supposedly moved on with David Banning. Unsurprisingly for Salem, it didn't take long for Renee to get jealous of Anna.
Anna's Pregnancy Ends in Tragedy
When Anna got pregnant with Tony's child, it was the last straw as far as Renee was concerned.
She sabotaged a boat that Anna was on, intending to kill her and the baby. Her plan was a partial success, as Anna lost her baby, but Tony was on the boat too and was seriously injured.
Luckily, Tony didn't die this time -- only his unborn child did.
Related: Get True Crime Files by ID via Prime Video Channels for Over 1,000 Real-life Mystery & Suspense Shows!
Tony Divorces Anna
Soon after the accident, Tony learned that Anna had drugged him to get him to marry her. She swore she loved him for real now, and she did, but Tony was too angry to stay with her and filed for divorce.
This left a broken-hearted Anna vulnerable to Alex Marshall's advances.
Soon after breaking up with Tony, Anna made the mistake of getting involved with Alex, and when she found a link between Alex and Stefano Dimera, she was forced to flee Salem for her own safety.
Anna Finds Out Andre Is Impersonating Tony
When Anna returned to Salem, she again got a job working for Tony.
This time, Alex was forcing her to spy on her ex-lover. It turned out to be a good thing for Tony, though, because while visiting his apartment she found him chained up inside.
Anna quickly realized that Andre had imprisoned Tony so he could take over his life, but before she could do anything about it, Andre returned and took Anna captive.
Anna and Tony got to spend time together in captivity until Roman rescued them.
Unlike for some other couples on Days of Our Lives who got held captive together, this didn't automatically lead to a reconciliation, though it was a step in the right direction.
Andre's Interference Appears to Be Fatal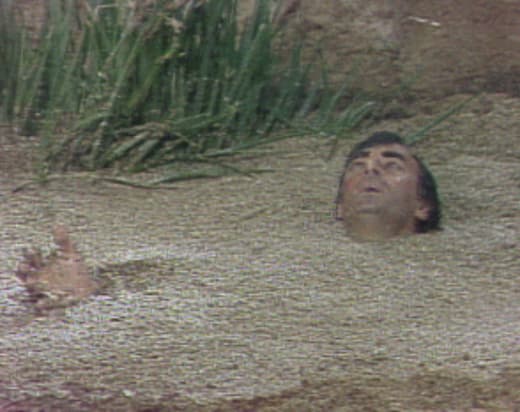 After she and Tony got rescued, Anna returned to working with Alex, and the two opened a fashion business. Tony was meant to accompany them on a photoshoot to Haiti, but Andre attempted to hijack their plane.
The hijacking failed when Andre's behavior caused the pilot to have a fatal heart attack, and the plane crash-landed on a deserted island.
Related: Days of Our Lives: 13 Things That Only Happen in Salem
It was one of the most dramatic deserted Island stories in Days of Our Lives history.
Among other things, Roman fell off a cliff and supposedly perished in Bo's arms, while Tony knocked Andre into some quicksand and Andre supposedly drowned.
Tony And Anna Attempt to Remarry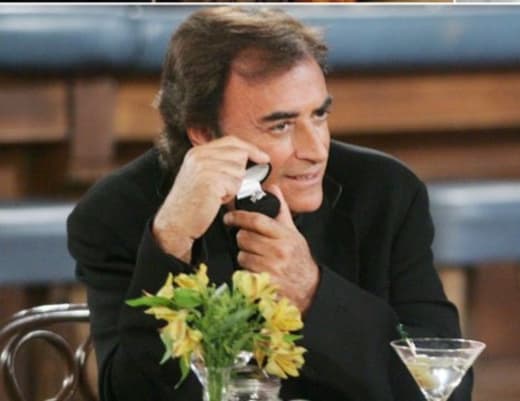 Tony and Anna finally reconciled, but Alex Marshall did not want them to remarry.
He hired an actor to play the part of the minister so that the marriage would be invalid!
After that, Tony and Anna tried to remarry again, but their second attempt got scotched when Anna was kidnapped.
The third time was the charm, however, and Tony and Anna managed to tie the knot.
The Death of an Art Dealer
Tony and Anna's happiness was short-lived, as Anna was soon accused of murdering a wealthy art dealer named Claud Van Zandt -- and Tony disappeared while trying to help clear her name!
Most of Salem assumed Anna had also killed her husband, but the truth was that Van Zandt was alive and had kidnapped Tony.
Related: Days of Our Lives' Eve Donovan: From Troubled Teen to Major Troublemaker
When Van Zandt got caught, however, there was no sign of Tony.
Anna got a letter in the mail informing her that Tony was divorcing her and was so devastated she left town.
Anna Discovers Tony Is On An Island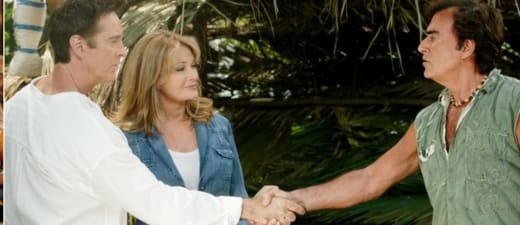 In 2007, Anna returned to Salem, planning to get back together with Roman.
However, it was not to be because her beloved Tony hadn't abandoned her after all. He'd been held captive on an island for 20 years while Andre again took over his life.
Poor Roman was once again left all alone after Anna took off to reunite with Tony. As for Anna, she and Tony remarried for a third time.
Tony's "Death"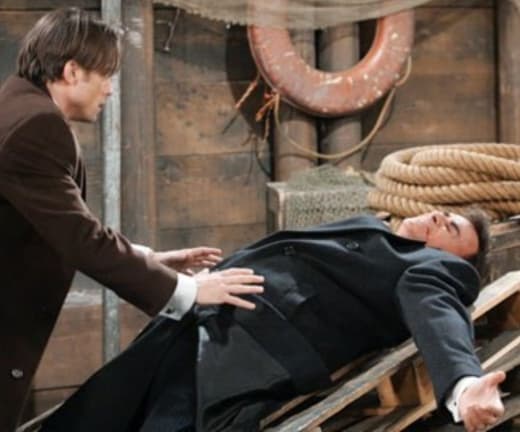 Tony was killed in an accident on the pier.
He had been involved in a feud between Philip and EJ over an alternative fuel project and had got Melanie to give him the blueprints for the project. Philip found out and confronted Tony on the pier, causing Tony to fall to his death.
Although Philip was more responsible for Tony's death, Anna blamed Stefano, as she felt that Tony's distaste for Stefano's behavior was what caused him to attempt to steal the blueprints in the first place.
In any case, a grief-stricken Anna again left town after losing Tony.
Anna Can't Get Over Her Grief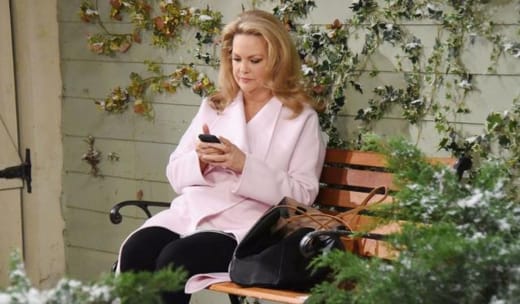 Ten years later, Anna returned to Salem.
Related: Days of Our Lives Classic Couple Spotlight: Jack and Jennifer
She had an urn in her purse containing what she believed to be Tony's ashes and talked to it constantly. Anna attempted to forge a relationship with Roman, but her grief over Tony got in the way, and she broke it off.
Tony is Alive
In 2019, Anna returned to Salem, intending to inter Tony's ashes in the Dimera mausoleum and then move on with Roman.
However, she quickly learned that Tony was alive.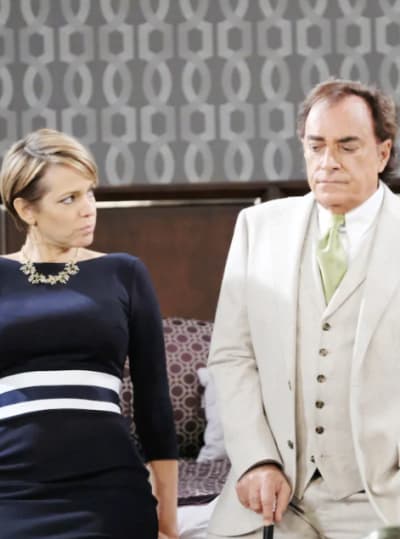 There was a complication, though. Tony was married to Kristen, who had disguised herself as Nicole Walker, and Kristen had threatened to kill Anna if Tony divorced her to reconcile with his true love.
Anna, not knowing what was going on, tried to use Roman to make Tony jealous.
And to make matters worse, Tony accidentally killed Ted and Kristen held that over his head too, making it doubly hard for him to reconcile with Anna.
The Final Reconciliation
Eventually, John unmasked Kristen and Tony told Anna the truth.
Anna loved Tony for wanting to protect her but thought the best solution was for Tony to come forward so the police could close the murder investigation. 
Unfortunately, DA Trask wanted to make an example out of Tony and charged him with murdering Ted.
Related: Days of Our Lives: Why Social Messaging Matters
Anna thought Tony could use his knowledge of where Kristen was holding Stefan and Gabi to broker a deal for himself, but Tony told the police the truth before any deal could be made.
Tony and Anna shared a tearful goodbye before Tony got taken to jail, but Anna swore to clear his name. Only time will tell if this couple will have a chance at happily ever after.
Your turn, Days of Our Lives fanatics.
Hit the comments with your favorite Tony/Anna storylines.
And if you'd like to chat more about Days of Our Lives, check out our Days of Our Lives reviews and Days of Our Lives Round Table discussions.
Days of Our Lives airs on NBC on weekday afternoons. Check your local listings for airtimes.
Jack Ori is a senior staff writer for TV Fanatic. His debut young adult novel, Reinventing Hannah, is available on Amazon. Follow him on Twitter.