Watch Lone Star Online
Watch Lone Star Season 1 Episode 2
"One in Every Family"
Original Air Date:
John snoops through the Thatcher Oil company files on this episode, while also clashing with his son. Meanwhile, Clint questions Bob's business practices.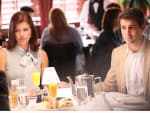 Watch Lone Star Season 1 Episode 1
"Pilot"
Original Air Date:
We meet a con man in Texas on the series premiere of Lone Star. He has a wife and a girlfriend and wants to go legit, but it isn't easy.