After a week of solving murders, digging deep into sordid mysteries and other mayhem, it's nice to fall in love.
That's where the beauty of Hallmark Channel comes in, whether with their original series or sweet made for TV movies.
Do you dream of being swept off your feet romantically? Even if you don't want to admit it out loud, we're here to allow you to admit it to yourself. We all want love.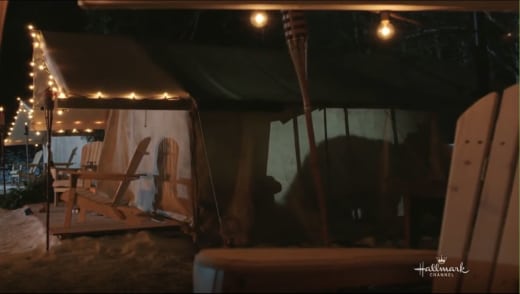 Stepping outside your comfort zone might make all the difference. Doesn't that tent look romantic? Well, except for the bear.
If you're lucky, you'll meet someone outdoorsy to help you out with those matters.
Campfire Kiss airs Saturday, March 18 at 9/8c, starring Danica McKellar and Paul Greene.
As a Hallmark fan, you'll recognize the couple because this isn't their first rodeo.
They starred in another Hallmark movie back in 2015 called Perfect Match.
Titles don't lie, as it turns out the two have a sparkling chemistry on screen that is taken advantage of in Campfire Kiss.
What's the plot? I'm glad you asked!
Feeling disconnected with her teenage son, a protective mother decides to step outside of her comfort zone and take him camping.
But as soon as she arrives, she begins butting heads with her cabin neighbor, a single father and outdoorsman who is also in search of a connection with his teen daughter. 
They're two of my favorite Hallmark movie stars, so take my word for it, they're sure to light up the small screen again.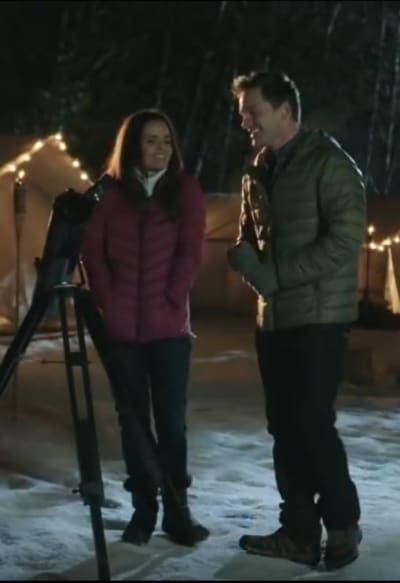 Paul Greene is perfect for his role, as he's not only a single father in real life, but very outdoorsy, too. 
If you want to find out more about him, and I don't know why you wouldn't, drop by on Saturday morning for an interview with Paul. 
He's very interesting and shares his views on love and marriage, among other things.
Plus, he's a musician and a pretty good singer, too, and I aim to prove it to you.
What do you think? Does Campfire Kiss look like one of the good ones?
Isn't it always exciting to see Winnie Cooper grown up and in love? 
Don't forget to come back on Saturday for the interview with Paul. See you then!