Hallmark Channel original series When Calls the Heart might have gotten wrapped up in the college admissions scandal thanks to former star Lori Loughlin, but they're finally moving on!
The beloved series returns Sunday, May 6 and again on Monday, May 7 for another new episode before returning to its regularly scheduled run on Sunday nights to finish out the season.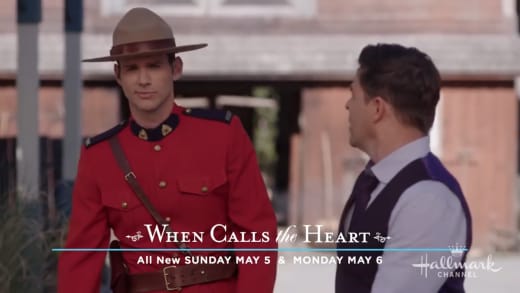 Series star, Erin Krakow, first revealed the news on her Twitter account.
#Hearties, we're excited to announce When Calls the Heart returns with a special 2-night back-to-back premiere event beginning May 5 at 8pm/7c and continuing May 6 at 8pm/7c! ❤️
Related: When Calls the Heart Producers Confirm Extended Hiatus 
Tune in during the premiere of #BottledWithLove Saturday at 8pm/7c for another BIG WCTH announcement! pic.twitter.com/5IWNqk3kT0 — Hallmark Channel (@hallmarkchannel) April 10, 2019
The news was soon confirmed with another message from producer Brian Bird via Instagram on the WCTH account.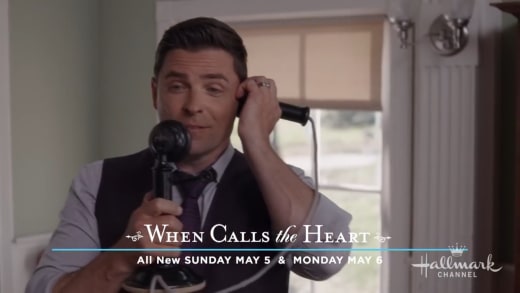 From Executive Producer, Brian Bird: #Hearties, thanks for sticking with us through this challenging time.
As you now know… the show not only must go on, but will go on, starting Sunday night, May 5th and Monday night, May 6th, and then in our regular Sunday night time slot after that through the remainder of Season 6.
Related: Lori Loughlin Dropped by Hallmark in Wake of Scandal
Life throws all of us painful curveballs, and the only way to survive is to walk right through them with courage, grace, a forgiving spirit, and most of all, hope.
Many of you have wondered what the future holds for our cast and crew, and for the citizens of Hope Valley. Your care and concern means the world to us, and the best way we can thank you is to encourage you the way you encourage us because… Hope always lives here. #WhenCallsTheHeart #WCTH #Hearties
When Calls the Heart has captured hearts everywhere with its kind messaging and love stories.
That one of its stars found themselves embroiled in a worldwide bribery scandal sent shockwaves through the community and worry over what would come of the show and how it would deal with the firing of Loughlin, one of the stars.
While there isn't word on whether Loughlin's character, Abigail Stanton, will be recast or written out of the show, the upcoming episodes will not feature the actress nor the character.
The video released today and hosted by series lead, Erin Krakow, offers a sneak peek at the upcoming episodes as well as a preview of this weekend's Hallmark Channel Original movie, Bottled with Love, starring TV Fanatic favorite Bethany Joy Lenz and former WCTH guest star, Andrew Walker.
What do you think about the news?
Will you be tuning the first Sunday and Monday in May for the excitement?
Share your thoughts with us in the comments, and be on the lookout with WCTH co-star Paul Greene soon!