This week on Criminal Minds, the BAU team heads to Yakima, Washington after the remains of a dozen people are found along a creek bed.
Criminal Minds Season 12 Episode 8 is titled "Scarecrow" and in this exclusive clip, the team discusses the similarities of the victims uncovered to other known cases and hone in on a particular body.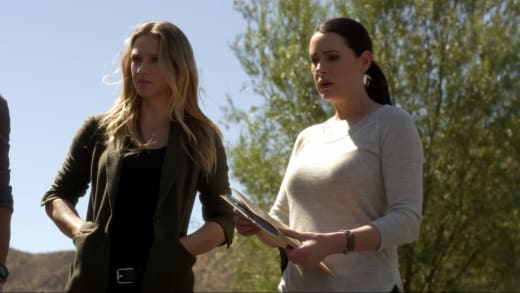 With another girl missing, it's time for the BAU to get to work. They need to save Cherry Jones.
This is also another pivotal hour for the team because Alvez might not have to suffer at the hands of Garcia for much longer.
Suffer how, you ask? As "Newbie"!
That's right. There's another new character joining the cast and this one comes in the form on Damon Gupton.
He'll play Stephen Walker, a seasoned profiler from the Behavioral Analysis Program of the FBI.
Will Walker be someone Prentiss has worked with before and trusts from her work while she's been away from BAU? Will he be able to help the team catch Mr. Scratch?
Check out this exclusive sneak peak and tune in Wednesday, 9/8c on CBS for the fall finale of Criminal Minds to find out!
If you've missed any of the action, or Garcia's painful needling of Alvez, you can watch Criminal Minds online to catch up.