Criminal Minds Season 12 Episode 8 Review: Scarecrow
Dale McGarrigle at . Updated at .
The changes, they keep a-coming at the BAU.
One is in and another is temporarily out in the end, but first, there's a bizarre serial killer (if that's not redundant) to find on Criminal Minds Season 12 Episode 8.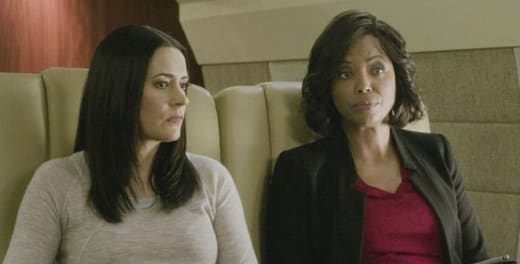 I liked that the unsub was a man who had been psychologically warped by his religious zealot of a father, to the point that he's walking around his barn dressed like a scarecrow.
Talk about your radical Christianity! Look at all the victims that eventually resulted from one man's fanaticism.
And his neighbors are clueless. That nice young fella down the road, when he's not wrapping up dead prostitutes in burlap and barbed wire, never a good look.
It was effective how the desperate sex worker/young mom tapped into the unsub's daddy issues to eventually gain his sympathy and get herself set free.
Stabbing him in the back and running blindly through the cornfield wasn't the greatest strategy, but again ... desperate.
The rural farm was a great setting for the climax.
The would-be victim running through the cornfield, to be brought up short by the skeleton/scarecrow, was impactful. And you can't beat death by drowning in a silo as a fitting end for a confused but homicidal farmboy.
Sadly, the introduction of new agent Stephen Walker had a lot of buildup for very little payoff, at least in this episode.
Prentiss has been hinting for two episodes that there's a new agent coming. This leaves the other BAU agents profiling the possible hire. Garcia's idea was rightfully universally panned.
So whoever this well-qualified, mystery person is, once they join, we change our name from the Magnificent Seven to the Awesome Eight. Huh? It's perfect.

Garcia
It's funny how Alvez is looking forward to a new agent so that he would lose his unwanted nickname. Guess again.
Alvez: Personally, I'll be happy not to be the new guy anymore. Whoever comes in can get that title and Garcia can stop calling me 'newbie.'
JJ: She is a creature of habit. I think you're stuck with that one, newbie.
It seems like Prentiss has made a great choice, a 20-year veteran from the Behavioral Analysis Program, the FBI's counter-intelligence unit. Rossi greets him like a long-lost brother, so he must have a good reputation. And he seems genuinely glad to be there.
Agent Prentiss knows this, but I have followed and admired the work of the BAU for years. So when Emily called and asked me to join the team, the answer was easy.

Walker
It should be interesting to see how the two new agents play off each other, Walker the FBI insider versus Alvez, the military man/tracker.
It's a different feel in the post-Hotch era, but not necessarily a bad one. The family just needs to take in its new members, which will require time.
Unfortunately, as Walker arrives, Reid departs, at least for a while.
Matthew Gray Gubler does a wonderful job portraying the frustrated Reid, who can't solve his mother's Alzheimer's. It's tough being the smartest man in the room yet still not having any answers,.
Prentiss: I have one condition. I need you to check in every day, no matter what. I need to know you're OK.
Reid: That's understood. ... I don't know how to fix this.
Prentiss' pronouncement is pretty ominous. It almost hints at a Mr. Scratch-Reid encounter in Houston.
It would be great to have Jane Lynch back for an episode or two. After all, she certainly has the time after her aptly named Angel From Hell went down in flames.
And now comes the holiday break So let's do a checklist after the first third of the season:
Replacement for Hotch: Prentiss, check;
Replacement for Morgan: Alvez, check.
Meaningful roles for everyone: Not so much. Just introducing Alves and re-introducing Prentiss has shoved JJ, Reid, Lewis and Rossi largely to the background. Now there's Walker to introduce as well. Good thing it's a team show, because on a team, not everyone can start.
Rounding up the 13 serial killers that broke out last season: Incomplete. Supposedly nine have been recaptured, leaving four still at large, including the worst of them. Mr. Scratch.
Boss above unit chief: I've lost track of who Prentiss' boss is. Or do it even matter if they have one? The previous bosses have largely faded into the woodwork, so why bother?
New guy for Garcia: Fail. Garcia is at her best when she's in a relationship, so let's give her one again.
Watch Criminal Minds online to catch up during the hiatus.
What's your wishes for the rest of the season? Did you get any vibe from Walker? Are you concerned for Reid? Comment below.
Dale McGarrigle is a staff writer for TV Fanatic. Follow him on Twitter.