While the various women on Dietland Season 1 have shown their hands in their journeys to get back some of their agency, it's still impossible to get a read on Kitty.
That could be because Kitty can't get a read on herself.
On Dietland Season 1 Episode 10, Kitty goes to great length to ensure Dominic is loyal to her.
When you watch the exclusive clip below, you might question whether the lengths are "great" or if Kitty has lost her way.
Related: Enjoy UNLIMITED access to thousands of Movies and TV shows with Amazon Prime Video.
Not only has Dominic done virtually everything she's asked (as far as she knows) since their new coat and tie partnership began, but she's still confused over who she wants to be: a strong commanding woman or a man in a woman's body.
It's not Kitty's most shining moment.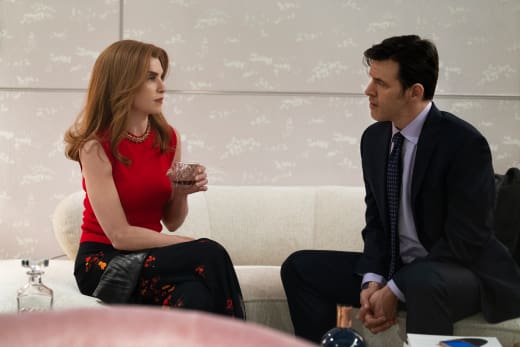 It will pave the way for more soul searching during the finale, which I expect will come as a surprise to most of you.
What do you think is coming for the characters we've come to know over the past ten episodes? 
Do you have any thoughts? Hit the comments with your ideas and share them.
Related: Dietland Season 1 Episode 9 Review: Woman Down
We'll not only have a full review for you after the episode but a post-mortem with thoughts from some of the cast. 
It's going to be a great celebration of this thought-provoking show!
Be sure to watch Dietland online if you need to catch up. You have the entire weekend to get on board!