Funny Story Trailer: Emily Bett Rickards Explores Life After Arrow in LGBTQ Movie

Carissa Pavlica at .
You've just said goodbye to Felicity Smoak Queen on Arrow, but that is hardly goodbye from Emily Bett Rickards.
Rickards is taking on a role unlike any we've seen her in previously in Funny Story, a movie coming to theaters, digitally, and On Demand May 24th.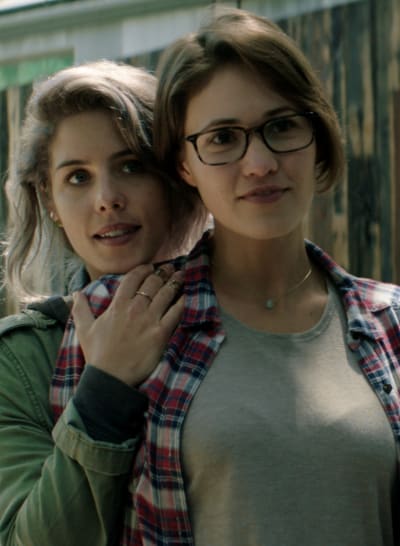 Walter Campbell (Matthew Glave) is an aging heartthrob struggling to keep up appearances -- especially with his estranged adult daughter, Nic (Jana Winternitz).
Arrow Review: You Have Saved This City
In an attempt to reconnect with his family, he invites himself to crash her vacation in Big Sur.
Offering a ride to her friend Kim (Emily Bett Rickards), they bond in unexpected ways that are sure to ruin the lives of everyone in their path.
Are you excited to see Rickards tackling someone a little less reserved that Felicity?
If you're unfamiliar with the name Matthew Glave, you should recognize his face from Girlfriends' Guide to Divorce, Better Things, and countless guest-starring roles including a turn on The Rookie this season.
From director Michael Gallagher comes a hilarious and heartfelt tragicomedy you never saw coming.
Enjoy UNLIMITED access to thousands of Movies and TV shows with Amazon Prime Video
Filled with memorable characters and award-winning performances, Funny Story teaches us about the destructive power of narcissism, the healing power of forgiveness, and the dangers of doing karaoke after drinking enough tequila.
Directed by Michael Gallagher who co-wrote the film with Steve Greene, Gallagher also produces with Jana Winternitz and Michael Wormser. 
Costarring with Glave, Rickards, Winternitz are Nikki Limo, Lily Holleman, Jessica Diggins, Aschleigh Jensen, Jacob Wysocki, Daisye Tutor, Pete Gardner, and Reginald VelJohnson.
We'll try to get a review of the movie onto TV Fanatic before it arrives.
New Show Watch 2019-20: All New Shows Coming to The Big 5
So, are you in??
Share your thoughts below.