Game of Thrones Season Finale Preview: Does Cersei Have a Plan?
Paul Dailly at .
It all comes down to this. 
Game of Thrones Season 7 Episode 7 will find some of the most powerful people in Westeros meeting up in King's Landing to discuss the Night King and just how difficult it is going to be to win the war.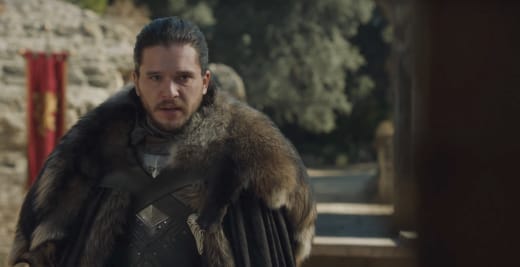 There's no confirmation on whether Cersei will even join the fight, or if she will merely try and capture all of her enemies and kill them in the most terrible ways.
Jon makes a bold declaration that the only war that matters is the one that finds everyone joining forces to destroy what is beyond the wall.
Considering the fact the Night King now has Viserion at his disposal, it seems very plausible that the King will be making his way through the wall in the near future.
It would be exciting to watch all the different factions fight together, but it's difficult to assess whether that will come to fruition with Cersei around.
On top of that, how will Cersei react to being reunited with Tyrion? Will she be able to see past him killing Tywin after learning that Olenna was the one who killed Joffrey?
We have no idea.
Elsewhere, Sansa will question whether she is worthy of Winterfell after Arya threatens to out her secret to their brother.
Either that or the sisters will join forces to take down Littlefinger after comparing notes on his scheming.
Have a look at the full trailer below and join us in the comments with your thoughts on it.
Note: Game of Thrones Season 7 concludes August 27 on HBO.