Orange Is the New Black Season 4: Blu-Ray/DVD Release Party! Get In on the Fun!!!
Carissa Pavlica at . Updated at .
Summer is the best season to be cooped up in prison with all your favorite inmates.
Oh come on, you know it is.
When that song starts playing, you cannot resist saying "no" to the yard and staying inside for hours of entertainment with the gals from Orange Is the New Black, am I right?!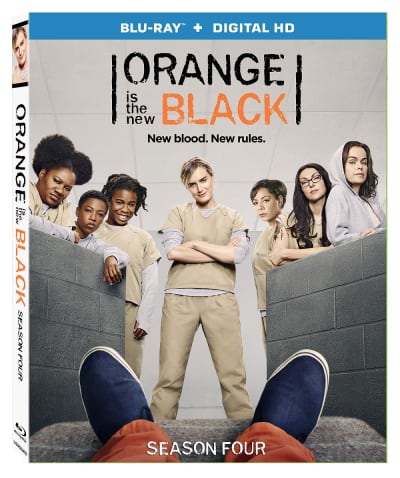 Not only does Orange Is the New Black Season 5 arrive next month, but Orange Is the New Black Season 4, the critically acclaimed cultural phenomenon arrives on Blu-ray, DVD, and Digital HD May 9 from Lionsgate!! (THAT'S TOMORROW!!)
Timed to the series' Season 5 premiere, the Orange is the New Black: Season 4 Blu-ray, DVD, and Digital HD release includes all 13 episodes, as well as exclusive bonus material that fans can't find anywhere else, such as:
a featurette that takes viewers around the set of Litchfield Prison (an exclusive clip of which you can find below!),
a gag reel,
and selected episode commentary from cast and crew.
The Orange is the New Black: Season 4 three-disc Blu-ray (plus Digital HD) and four-disc DVD will be available for the suggested retail price of $34.97 and $34.98, respectively.
Select episodes will also feature audio commentaries with cast and crew (on Episodes "It Sounded Nicer in My Head," "The Animals," and "Toast Can't Never Be Bread Again").
The best news for readers of TV Fanatic??
Get into position like Yoga Jones because you have a chance to win one of THREE copies of OINTB Season 4!!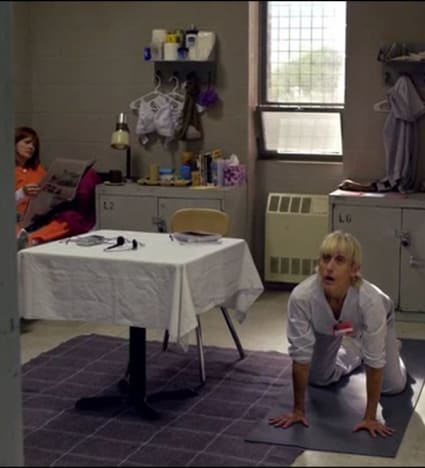 Here's what you have to do:
You have to be a registered user of TV Fanatic.
You have to watch the exclusive clip below and email carissa@tvfanatic.com with your answers to the following questions:
What was the room number of the room where Judy King was housed,
How many inmates were in the room before she arrived,
And to what room were they moved?
So it's a three part question and you can only get the answer by watching the clip below!
Seriously, if you haven't watched Orange Is the New Black (with one of my personal favorite theme songs of all time), then you have been missing out. 
Perhaps this will be the start of a beautiful new relationship.
We will be taking answers only until May 15th at 11:59pm ET, so make sure your post is dated by then! 
Don't miss out on watching or owning a piece of this amazing series!!