Riverdale: From Pop Icon to Hot Dad, Luke Perry Still Makes Us Swoon!

Carissa Pavlica at . Updated at .
Once upon a time, Luke Perry was a struggling actor.
Fast forward many years into the future, and things look much different.
Teenagers sparked Luke Perry's career once, and they're doing it again.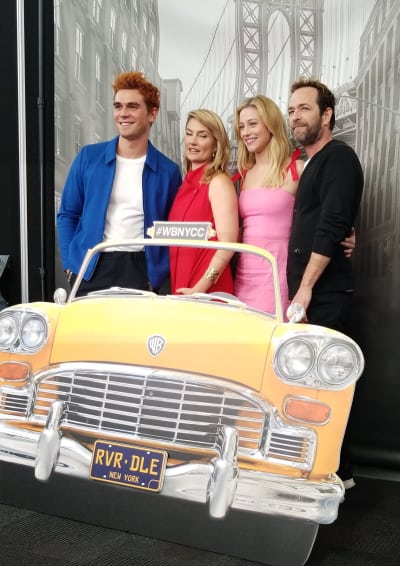 Perry's career didn't begin easily, as you'll discover when you watch the interview below.
But when it took off, he became one of the biggest stars in the world.
That's what happens when you join a TV show that sinks into pop culture as did Beverly Hills, 90210.
Related: Riverdale Season 3 Episode 1 Review: Chapter Thirty-Six: Labor Day
As Dylan McKay, he (and his sideburns) became a part of something so magical it's still airing on TV years later. 
It spawned a spinoff, on which he guest-starred, and people still debate whether his character belonged with Kelly or Brenda. 
Now, though, Perry's attention is elsewhere. He's a hot dad.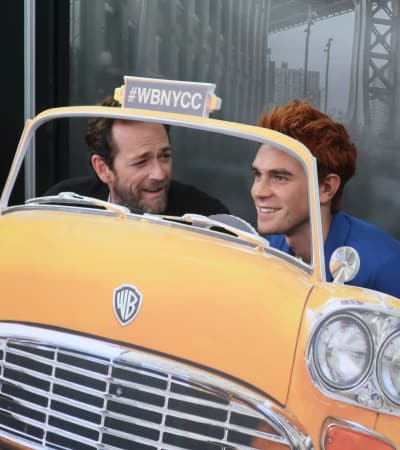 While watching the interview below, one thing becomes instantly clear, Perry has a lot of respect for his co-star and on-screen son, KJ Apa.
Perry has been in the shoes of the younger actors on Riverdale and knows what it's like to be the next big thing.
He sees their passion and exudes pride for the young man he is proud to call his friend.
If you thought he was a hot dad before, you are going to go nuts after watching this interview.
Related: Riverdale Round Table: The Ultimate Season 3 Wish List
Instead of spending time speaking about himself and his work on the show, it's almost as if Perry would rather commend Apa for all that he's doing to bring Archie to life.
Perry's kindness and generosity have to be why he's been a part of such a tough business for so long.
Who wouldn't want to reward a man who treats others with such respect? 
Yes, there is a lot more to the interview, but you have to watch to see it. Start now.
Riverdale airs Wednesdays at 8/7c The CW! Be sure to watch Riverdale online to see Perry in action!