The Fosters Series Finale Sneak Peeks: Awkward Family Dinner

Jasmine Blu at .
The Fosters had its fair share of awkward moments over the years, but this family dinner may take the cake. 
Lena's face is the face of a woman trying to survive the most uncomfortable dinner in the history of family dinners. Someone, please save mama from this hell!
On The Fosters Season 5 Episode 20, Brandon and Eliza are coming together for a good ole fashion family dinner in the Fosters' backyard with both of their families. Suffice to say it's an uncomfortable experience for most people involved.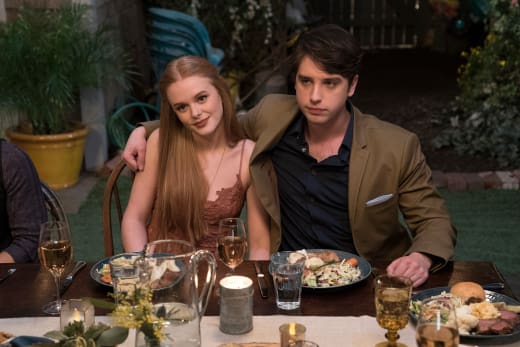 Eliza's parents are a bit more traditional and conservative compared to Stef and Lena, and they make sure to hit that point home multiple times. Eliza's mother Diane appears to be a sophisticated woman, but she lacks couth and has perfected the art of the backhanded compliment with a smile. 
In the first section of the extended sneak peek, Stef is saluting the happy couple, welcoming Eliza's family, and introducing everyone to the newest Foster, a precocious young Corey. 
Related: The Fosters Series Finale Promo: The Fosters Forever!
She also thanks the couple for their part in planning Brandon and Eliza's destination wedding at the Turks and Caicos. It all seems pleasant enough.
Yeah, well, unfortunately, Eliza's parents have been so busy jettisoning around the world that this is their first time meeting Stef and Lena, and it's mere days before the wedding. 
Not for lack of trying on Stef and Lena's part, as Stef pointed out. Yikes!
Next up, we have Callie who is chatting it up with Eliza's brother Jamie. She looks stunning in her reserved top and what the Tumblr kids refer to as the "bisexual bob".
She tells him about her career plans now that she's out of law school, and he tells her that he's a corporate lawyer. Callie's claws come out, and the two engage in some slightly heated banter about ideologies.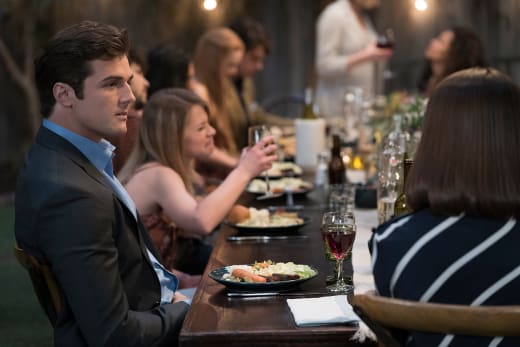 They both make some snap judgments about each other right off the bat, and they nail that lawyerly banter between opposing attorneys well. Mostly, there is some serious chemistry between the two beneath all of that wicked banter. I don't hate it. 
Related: Get Hallmark Movies Now via Prime Video Channels for Stories with Heart, Captivating Movies & More!  
On the other side of the table, Stef and Lena have to endure a conversation with Eliza's parents, namely Diane, about Brandon's job prospects and ability to provide for Eliza.
Stef appears on the brink of making one of those biting classic Stef comments, but Lena swoops in with dessert.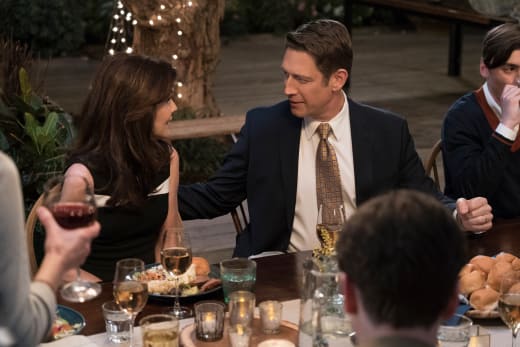 Do you ever experience secondhand discomfort? If you watch The Fosters online, you know it's a common enough occurrence. 
Jesus and Emma fans will be relieved to know that the pair is still together, but based on the conversation Emma and Mariana have in the kitchen, Emma is keeping something big from him. That never goes over well! 
"My mother was comparing foster kids to stray animals" is a quote Eliza says. Yup, that is something that happens, and you don't want to miss it, or maybe you do.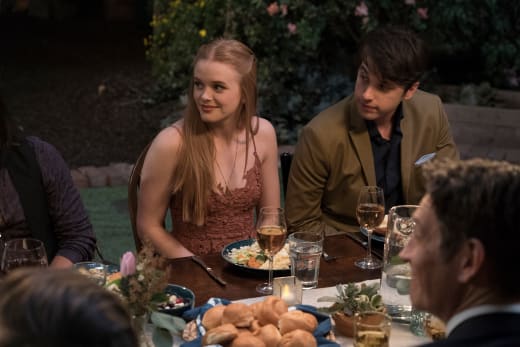 Another gem, Eliza's parents found time to meet Mike and Ana weeks before meeting Stef and Lena. They also mention that Stef and Lena may not get along with their friends. 
Why is that, you ask? According to Diane, it's because "they're really traditional," and they're not as "interesting" as The Fosters. Damn.
I feel like I have just tiptoed through a minefield. Don't take my word for it, check it out yourself!