The Vampire Diaries Season 8 Episode 1 Promo: Devil of a Time
Matt Richenthal at .
This is it, the beginning of the end.
So says Damon Salvatore in the following preview for The Vampire Diaries Season 8, speaking about his own fate with Stefan, but speaking about the show's as well.
Indeed, the incredible run of The Vampire Diaries will wrap up next spring, with producers and cast members confirming Season 8 will be the show's last.
It's about time, but that doesn't make it any less sad for loyal fans.
Are you ready to let TVD go? Are you prepared for the beginning of the drama's end to get started next month?
The question, of course, remains: How will the series bow out?
And we don't have an answer at the moment.
But we last saw Damon and Enzo during a horrifying murder spree, as they were possessed by whatever the heck was in that vault and were having themselves a grand ole time while...
... well, killing lots and lots of people, basically.
"What was in that vault?" Stefan asks in the video below, hoping to receive some kind of answer that can help him defeat the evil spirit.
Damon doesn't appear to have an answer, but he does have a scary retort for his brother:
"I've seen how this ends. Humanity can't save me from it. Once the devil comes a-callin', you're done."
We've seen Damon go to the dark side plenty of times before, of course, but never due to some kind of outside force.
Not much about The Vampire Diaries Season 8 Episode 1 or any upcoming storylines is revealing in the promo, although we do get a quick glimpse at Stefan and Caroline being very sweet and cozy.
Other than that, there's just a lot of blood and chaos.
And we mean A LOT Of blood and chaos. What else would we expect from The Vampire Diaries, right?
Julie Plec has been relatively tight-lipped when it comes to revealing any Season 8 spoilers, but she did tell TV Line that Damon will be acting so violently for a "reason."
And that reason is not some kind of perverse joy.
Rumors of Nina Dobrev's return, meanwhile, are already making their way around the Internet.
She sounded open to coming back as Elena for the series finale back after she left following Season 6, and we now know the series finale is nigh.
Plec has even hinted already there's a chance Dobrev makes one last appearance on the series that made her famous.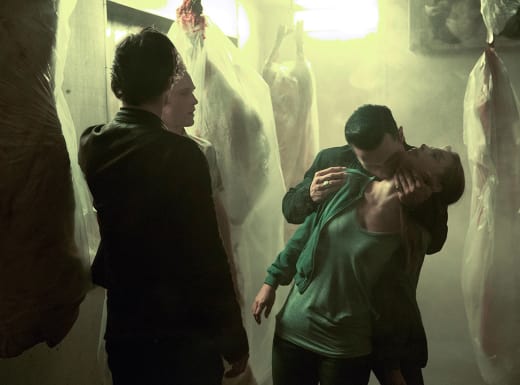 Look for the final season to be comprised of 16 episodes.
Will there be just as many deaths?
Do you want Elena to return? How do you want the series to conclude? Are you sad it's almost over? Or does the timing feel right?
So many questions. Still some time for there to be answers.
Check out the first footage from The Vampire Diaries Season 8, which kicks off on October 21 at 8/7c on The CW, below!
What do you think it will take to bring Damon back?