The Vampire Diaries Round Table: The First of the Last!
Miranda Wicker at .
Y'all. It's a pretty sad day for me around these parts. It's the first of the last of our TV Fanatic Round Tables for The Vampire Diaries. After 7 seasons of weekly discussions, we'll be wrapping it up when the series ends. (SO SAD!) 
But first, let's break down all the ways The Vampire Diaries Season 8 Episode 1 did (or did not) live up to our expectations! Join TV Fanatic staffers Paul Dailly, Amanda Steinmetz, and me (Miranda Wicker) by jumping into the comments below with your answers.
Who cracks and flips his humanity switch first: Damon or Enzo?
Paul: I have a feeling it will be Damon. As much as Damon has a strong bond with Elena, I don't see any hope in hell of him not turning into the evil version of himself before the show.
Amanda: I don't really think Enzo has flipped his switch entirely. He's been leaving clues for Bonnie. So I'm assuming Damon will be the trickier person to get back to normal.
Miranda: They are both BARELY hanging on right now that it sort of feels like a race to the finish. HOWEVER! I'm banking on the fact that both Damon and Enzo maintain the last shreds of their humanity and it's Stefan we see completely lose it. Again.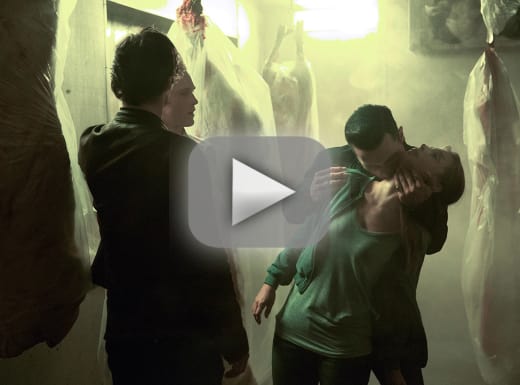 We know Nanny Seline has a sordid past. What's she hiding?
Paul: I have a feeling she's going to have something to do with Sybil. Maybe she's running from her, or something? 
Amanda: No clue, but I like Paul's idea.
Miranda: Did anyone else get a Nanny Carrie vibe? No? Okay. Anyway. Maybe Seline's sordid past is just, like, a sheltered existence and she's a runaway looking to start a new life outside the watchful eye of her super protective parents. Something normal. 
What does Sybil need/want with the twins?
Paul: Power! She knows the twins were strong enough to open the vault, so she knows they have a whole lot of power.
Amanda: My thoughts exactly, Paul. The twins are clearly a powerful duo. When they're older, I'm sure they will be a force to be reckoned with. If their power was put in the wrong hands, that could be really bad.
Miranda: The twins either have the power to put this genie back into her lamp or explode her power so that a Hellmouth opens up and swallows Mystic Falls. Since Virginia died without giving us any clues, it could go either way.
Are you happy that Caroline and Stefan are happy?
Paul: 100 percent. However, I will not root for them if the powers that be decide to try and drive them apart again. Yuck. 
Amanda: Yes! But I'm not counting on that to last long. No one on this show is allowed happiness for more than a few episodes. 
Miranda: Actually, yes. Totally. Completely. Let them be happy. Except that's not really what this show is all about, so...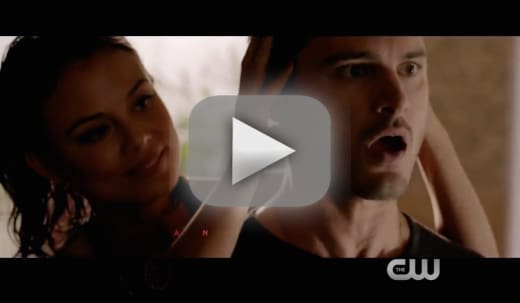 What do you think about the heavy reliance on Elena references for Season 8?
Paul: I really don't mind it. It's the final season and she was such an integral part of the show. She's always going to be with her friends, whether she's in a deep sleep, or not.
Amanda: I don't have any issue with it. The writers can't pretend she doesn't exist or that her presence didn't have an effect on Damon. It would be stranger never to bring her up.
Miranda: It feels a little heavy-handed, but maybe that's because it was the first episode. I'll give it through The Vampire Diaries Season 8 Episode 2 to decide if there's too much Elena.
Grade The Vampire Diaries Season 8 premiere.
Paul: B-. It started well, but kind of fell apart as the episode progressed. It's still way better than the back half of The Vampire Diaries Season 7, but hopefully the shorter episode order allows the show to stay on track.
Amanda: I'll give it a B. I appreciated the darker look and tone of the episode, but I'm not sold yet on the new villain. What makes this woman the worst of the worst?
Miranda: A-. Even at its worst, this has never become an unwatchable show for me. Never a hate watch. My opinion of the opener may be clouded by the fact that I know it's the end so I'm willing it to be good. Not just good. Great. AMAZING. 
Miranda Wicker was a Staff Writer for TV Fanatic. She retired in 2017. Follow her on Twitter.