YOU Season Finale Promo: Becky, You in Danger, Girl!

Jasmine Blu at .
Who will live, and who will die? 
YOU Season 1 Episode 10 is the showdown that fans have been waiting for all season. Now, everyone is dying to know who will make it out of the hour alive.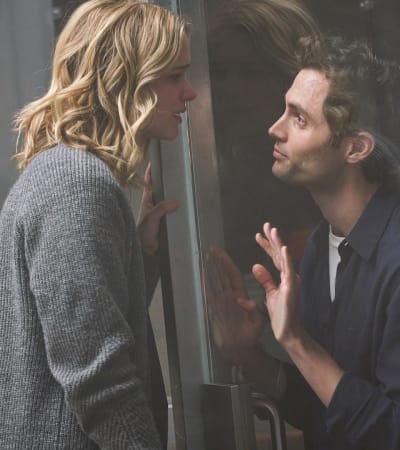 On YOU Season 1 Episode 9, after months of stalking and murder, Joe's wicked ways have caught up to him. An oh so oblivious Beck has discovered the truth. 
Joe's darkness has eluded Beck for a disturbingly long time, but she found his treasure chest of mementos from all of his misdeeds.
Related: YOU Season 1 Episode 9 Review: Candace
Beck knows about Joe, and Joe knows that Beck knows. 
Beck's time may have run out. That could be a good or bad thing depending on your feelings about Beck. It'll be exciting regardless. 
Joe has nearly a handful of bodies under his belt that we know of, but Beck is notoriously manipulative. If Beck can convince Joe that she loves him and she doesn't hate him for his actions, she may be able to talk herself out of the cage. 
Joe is disturbed but clever. It's possible that Joe won't fall for her manipulation. 
In the promo, Beck's voiceover inquires how the hell she ended up in that cage. Well, we all know it has been a long, twisted path that led her to that cage, and she didn't do herself any favors.
She also chastises herself because she knew something was wrong but did nothing about it. 
She admits she wanted to be loved, well, she may end up loved to death. 
One thing that stands out the most is Dr. Nicky being hauled away by the cops. Did Joe frame him for something? We'll have to watch and see! 
Related: Get Great Selection of New & Classic Movies with the Lifetime Movie Club via Prime Video Channels!
It's an action-packed teaser that promises a thrilling finale. Check out the promo below, and hit the comments with your reaction! 
If you want to binge the series again before what is sure to be an epic finale, you can watch YOU online here via TV Fanatic! 
You can also check out our YOU Reviews!