ABC President Willing to Take the Risk
by Steve Marsi at .
No one can accuse ABC of playing it safe this year.
Not that it can afford to, writes Matt Roush of TV Guide. With nine new series to introduce this fall (10 if you count Day Break, which will pinch hit for Lost for 13 weeks beginning in November) there's little doubt that the network has its work cut out for it. ABC has taken some notable risks as a result, the most noteworthy being the move of Grey's Anatomy to Thursday night.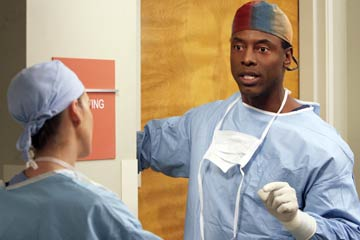 "We know it's an aggressive schedule," ABC Entertainment president Steve McPherson said. "We're rebuilding. We've got a lot of work to do... We have to look at the assets that we have and play those cards."

"There's risk in it, there's no question, but if you look at our options and you weigh out what options we had to play and where we had to play them, indeed this is the best scenario. It's not ideal. I wish I had seven nights of programming I didn't have to change. But that's not the way the game is played," he added.

The shifting of Grey's Anatomy sets up a brawl with CSI, which has dominated Thursdays for years. Who's the favorite? Nina Tassler, head of CBS Entertainment, played the lowering-expectations game last weekend when she referred to her network's smash hit crime drama as the underdog.

McPherson wasn't buying it.

"I heard Nina was playing the rope-a-dope. It's kind of funny. CSI and CBS have dominated that night. I think they are the champions without question, and we are coming on with a strong contender and hope to do some business," he said.

Adding to ABC's risk factor this season is the fact that many of its new shows are unconventional. As in, high concept or serialized, or, to be more specific, demanding of their audience. But the man running the show seems to think that's the direction he should go.

"I hope that viewers will give the next serialized show a shot. But I think it raises the bar for how good serials have to be... We have to have more appointment television." McPherson said. "More Losts. More Desperate Housewives. More Grey's Anatomys. We have to have shows that people need to watch at a specific time."

Steve Marsi is the Managing Editor of TV Fanatic. Follow him on Google+ or email him here.

Tags: Grey's Anatomy
Related Stories