Thanks to all who participated in this edition of the Caption Contest. It was a pretty good turnout and some great responses were posted. While we were nearly swayed by the emotion of Elizabeth Parker's response, and both Katie and Naomi came up with some hilarious captions of their own, our staff has come to a consensus and named Eileen the winner. The winning caption appears under the image below.
Here's This Week's Image: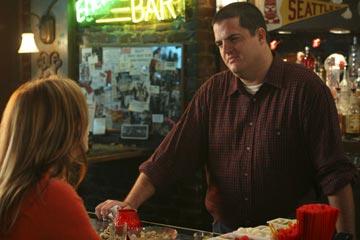 Joe: Pick me, choose me, love me.
Meredith: What are you, on drugs?
Great stuff. Thanks to all who participated. You can see all the responses by scrolling down the page, as well as by clicking on the image itself (where others posted comments). Be sure to take part in this week's new contest, and share your thoughts on all things Grey's Anatomy in our new