A reporter for The Buffalo News is grateful for one fact not many people know about Kelly Clarkson: America's Singing Sweetheart talks quickly.
That's a good thing when there are only 15 minutes available for an interview. Clarkson, who will perform Monday at Six Flags Darien Lake Peforming Arts Center, covered many topics during the allotted time.
Personable, polite and poised on her cellphone, it's apparent why the inaugural winner of American Idol has become such a breakout star. As she answered questions for this piece, she was zipping around in a car with her brother, Jason.
The American Idol song controversy: First and foremost, Clarkson did NOT make her songs unavailable to Idol, despite tabloid reports. Country cutie Kellie Pickler even impressed the judges with her take on Clarkson's pop smash "Since U Been Gone" in January and easily made it to the top-five as a result.
Clarkson is closer to incredulous than angry about the incident:
"People are saying I didn't want my songs used, but people are always singing my songs. I didn't say anything."
Unfortunately, Clarksondidn't actually see Kellie covering her tune; she's been too busy to catch subsequent seasons of the show.
"I'm either on tour or overseas, and even when I wasn't working I was on vacation. And while the last
Idol
was on, I was singing on the
Academy of Country Music Awards
with Rascal Flatts. Something is always happening, so I don't get to see it," she lamented.
But she hears about it. Plenty. Clarkson caught flak for forgetting to mention American Idol when she became the first Idol to win two Grammy Awards (both for her second CD, "Breakaway," now spending its 82nd week on the chart).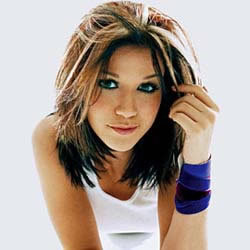 "I didn't thank either one of my dads ...," she says, almost chuckling at the transgression. "Forgetting

Idol

was the thing people fixated on, but family would trump over that."

On her victory, the humble singer said:

"I didn't expect to win. I didn't know what to say. I'd talk, and I'd cry. I'm horrible. I sound like an idiot. But I love where I came from. For an unknown to come into the business is really hard. I wasn't the ideal picture-perfect pop star look-alike. It's a cool way for real talent, for people who want it and have the drive, to go the extra mile."

Making an adjustment: Surprisingly, becoming an insta-star wasn't as difficult an adjustment to make as it would seem.

"I'm 24, I should be working," Clarkson acknowledges. "But I'm learning how to balance how to have fun while working. I used to do the shows and go to my room. I'm starting to learn I can go out. I can plan to have some time between these shows. I know how many weeks I can tour before I get sick of it and need to go home and rest."

It doesn't appear that Clarkson has lost touch with the girl born in Fort Worth in 1982 and raised in Burleson, Texas, after her parents divorced. She hides it well if so. Maybe Broadway, a career goal, isn't very far-fetched, either.

For now, she has enough to do. Clarkson suffered walking pneumonia while on a tour last year.

"I had bronchitis and didn't know it. If I'm not bleeding out of the head I don't go to the hospital. That's how I grew up. I thought it was a cold but it turned into walking pneumonia," she says.

On a health kick: For the current Addicted Tour, Clarkson is taking care of herself - no sodas; just Vitamin Water - with a healthy eating plan based on moderation, not deprivation.

"Now I focus on one thing at a time," she says. "If it's a tour, I focus on that. If it's the record, I focus on that. If I start looking at the bigger picture it gets too big, too massive, gets intimidating."

So the focus, this moment, is on going back on the road with four or five new songs, all replete with the Prince/Sly Stone-style vibe planned for her third album, which will released in 2007.

"I'm just really excited about introducing this new material, we're testing it out. Thing is, I tour a lot - if everyone hasn't noticed," she says, laughing at the obvious observation - "and my whole record has to be a "tour record.' "

But what has Clarkson even more excited is that she is seeing her idol, country singer-actress Reba McEntire, in concert in Las Vegas this summer.

American Idol followers will recall how McEntire made a surprise appearance on the show in 2002, singing a duet with the startled contestant.

"That moment is tied with winning the Grammy, how cool it was for me. I adore her," Clarkson gushes. "I never get nervous on stage but with her it was, "Oh my God,' the 10-year-old in me bawling."

Matt Richenthal is the Editor in Chief of TV Fanatic. Follow him on Twitter and on Google+.

Tags: American Idol