For a 19-year-old, Diana DeGarmo has come a long way.
The second place finisher on the third season of American Idol, who lost by less than 1 percent to Fantasia Barrino, toured for much of 2005 to support her debut album, Blue Skies.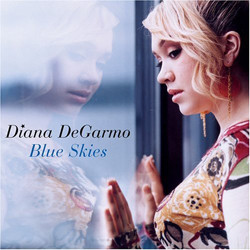 In November of last year, DeGarmo appeared as Maria in the American Musical Theatre of San Jose production of "West Side Story." On February 7, 2006, she made her Broadway debut as Penny Pingleton in the musical "Hairspray" at the Neil Simon Theatre in New York City, drawing rave reviews.
Now she returns to the Center for the Performing Arts in San Jose as the title character in "Brooklyn," a musical, urban fairytale, which runs August 9-13 and also stars Tony winners Melba Moore and Cleavant Derricks.
Not bad for a theatre newbie!
The San Jose Mercury News caught up with the songstress and, using entirely questions from Diana's fans, sought the skinny on everything going on in her life. Is there life after Simon? Does she ever have revenge fantasies about Fantasia? When will she return to the recording studio? And what's with the NASCAR obsession? Here is the real deal with DD:
Q: Hey Diana, I think you are an amazing singer and performer. I have a couple of questions for you: What was your favorite part in "Brooklyn The Musical" and why? Are you going to do a tour for your second album? If you are will you be coming to AZ?
-- Serenah
A: My favorite part of Brooklyn The Musical is when I get to sing "Streetsinger" with Cleavant Derricks. We have so much fun on that song. I would like to do a tour with my second album, but I don't know when or where we are going. We will keep you updated, though!
Q:
Hi Diana, I saw you in "BKLYN" in St. Paul. The show was excellent! Your duet with Cleavant was amazing! (I hope you two are able to work together again!) I'm curious as to your process when it comes to dramatic acting. There are several dramatic scenes in "BKLYN" that involve tears, anger or intense loneliness. Also, in "West Side Story," there was the whole ending scene that is extremely intense (that also involved an accent). How do you prepare yourself for these types of scenes night after night? Do you draw from personal experiences to get yourself in that place emotionally? Do you have to psych yourself up for certain scenes? How difficult was it for you to carry an emotional scene like the final scene in "West Side Story" and do so with an accent - something many seasoned actors struggle with? Was it harder to lose yourself in the character and the intensity of the moment because of the accent? And, completely unrelated, you've said that one of your favorite movies is "What Dreams May Come." What do you enjoy about it?
-- Tara
A: I do try to draw from personal experiences when trying to do a dramatic scene; but, in truth, when you become a character, you truly begin to feel the pain that THEY are going through. It's kind of strange. It's almost like you have a multiple personality. Luckily for myself, Maria's accent came very easily to me; so when it came time for me to have my emotional breakdown I was so into the show that I really did feel as if I were her. It's kind of odd to describe, but completely amazing. I am a very spiritual person, and the movie "What Dreams May Come" is so beautiful. It talks about the belief that we can all create our own sense of Heaven, and the true love that the two main characters represent is just breathtaking. I HIGHLY recommend it!
Q: Diana, You did such a wonderful job in "BKLYN!" I saw you in St. Paul. I had a question for you. I spent my middle, high school, and a year of college singing in choirs. I was wondering if you have a favorite piece that you performed with your choir in high school? What's the name of the piece, and why did you enjoy it? What voice part did you sing? Thank you so much for your time. Also, you totally impressed my 12-year-old cousin, after "BKLYN." He was so taken by your manner and the fact that you "didn't act famous." Thank you for treating us so well.
-- Tonia
A: My favorite piece was "Cantate Domino." I did it when I was a freshman, and it has stuck with me ever since. I know all of the girls in my choir worked so hard on it, and it really paid off because every performance of it was AMAZING! While I was in choir I sang every part from First Soprano all the way to First Tenor. It was fun, but interesting.
Q: My question is about your acting career. Even with minimal experience you seem to be doing well with roles in "West Side Story," "Hairspray" and "Brooklyn." Did you take acting lessons or are you experiencing "on the job training?" Do you ever rely on your fellow cast mates for tips and ways to approach scenes or do you try to approach your part without a lot of outside help?
-- Amanda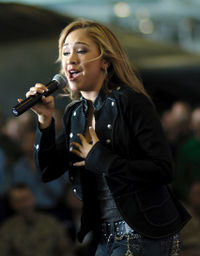 A: I had a little training when I was younger, and I got some help for "West Side Story"; but most of it is definitely "on-the-job training." I believe that we never stop learning; so when I go back to New York, I am already signing up for more classes in many different levels/fields of entertaining... Each person does a character differently. I don't mind taking tips, but I like to stick to my own natural instincts. I always listen to the director, though!!

Q: Hi Diana, I am so looking forward to seeing "Brooklyn." I've never walked away from a concert or one of your musicals thinking it wasn't money well spent. You're an amazing performer. I wanted to ask if you are open to auditioning for more daytime dramas after the experience of auditioning for The Guiding Light. Is it a goal of yours to land a TV show or are there other things (besides the album of course) that would be higher on your priority list in 2007?

-- Carlie

A: Music is the #1 position on my priority list. Yes, musical theater is fun, but my heart lies within the recording studio. Yes, there may be more shows in the future. I never quite know where the wind will take me.

Q: Diana! I love your voice and your ability to make me cry when you get into the song. Will I cry when I see "BKLYN"?

-- Kim

A: Well, if we have done our job correctly then YES!

Q: Did you get to meet Eden Espinosa when she came to see "Brooklyn" in Hartford? If so, Can you tell us a little about how that went meeting the person who was first known as Brooklyn? Good Luck with your sophomore album, looking forward to seeing you set forth your own view of how Diana will make an album, take your time and its ok if you left a few things as a surprise, the mystery is sure keepin em hoppin.

-- Susan

A: I actually knew Eden long before "Brooklyn" came into view. She is an amazing performer and I admire her greatly. She was a definite help in my taking on the role. Thank you for believing.

Q: Would you do acoustic work in the future?
-- Fanny

A: Definitely, I think acoustic shows are beautiful and a lot of fun. They are a lot less stressful.

Q: Diana, you made some interesting acting choices as Penny. What was the inspiration for your take on the role? Whose idea was it for your Penny to wear glasses?

-- Emma

A: Every Penny on Broadway has worn glasses. Penny's character took a slightly different turn from the movie to the theater. My main inspiration was myself, actually -- oh, and my mother's dancing skills! Any of my friends will tell you that I am a total ham bone so I just went from there. I just wanted Penny to be a loving, caring, slightly airy person that was just in her own world. Penny thinks she's a Rock Star, and that's all that matters.

Q: I read an interview with Melba Moore, from the Houston newspaper, and she said that you were someone she found inspiring for your work ethic and your beautiful voice. What's it like to look up to someone like Melba and then have her turn around and say something so beautiful about you? Will you be keeping in touch with her after Brooklyn is over?

-- Terra

A: Ms. Melba is an incredible performer and beautiful human being both inside and out. I love sharing the stage with her every night. She can sing the paint off the walls! I am serious I very much appreciate her kind words. We are very fortunate to have a wonderful cast of down to earth people. There are no divas on this tour. I will definitely be keeping in touch with her after the tour is over. Who wouldn't?!?

Q: Hey Diana! First off, I would like to compliment you on the wonderful job you're doing in "Brooklyn." You play the part so well. I would like to know which acting part - Maria, Penny or Brooklyn - has been your favorite to play, and why. Thanks for doing this! I hope you'll come back to CT in the near future!

-- Jamie

A: They are all so different that it's hard to just pick one. I love Maria because I got to speak with a different accent and sing beautiful music. I love Penny because I got to be the goofy nerd that lives deep down inside of me. I could do pretty much whatever I wanted on stage, and I could always say that it was "a part of my character." I loved Brooklyn because she is so much like myself in many ways. Also, the show "Brooklyn The Musical" is so different from your everyday, huge musicals that I was happy to take a step away from the ordinary and do something a little off the wall. They are all fantastic characters, and I would do them all again if asked to.

Matt Richenthal is the Editor in Chief of TV Fanatic. Follow him on Twitter and on Google+.

Tags: American Idol