Today is a big day for the Season Two duo which first captivated audiences back in 2003. Clay Aiken has officially announced that his third album, A Thousand Different Ways, is due out September 19. Now, the man who bested him on American Idol, Ruben Studdard, says he will make his return to R&B with his third album, set for release September 26.
The album's title, fittingly, is The Return. Its first single, "Change Me" hit radio stations July 31 and is already getting plenty of air time.
Studdard's third CD signifies his mainstream after recording the successful gospel album, I Need an Angel, in 2004, MSNBC reports.
"I've had people ask me where I've been in the past few years so I thought calling it The Return made sense," said Studdard.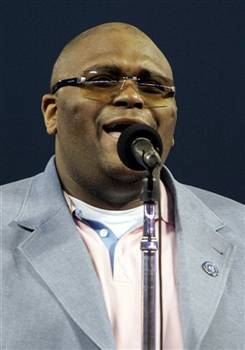 The first track, which refers to the nickname Ruben affectionately earned on Idol, also served as inspiration for the album title.

"The first track on the new record is 'The Return of the Velvet Teddy Bear,' so I just shortened it and made it the title of my CD," Studdard said. "With The Return, I'm letting all the people who've followed me from American Idol until now know that basically I'm back."

The 27-year-old Alabama native's debut album, Soulful, was released in 2003.

Studdard, who has been in his home state working with his foundation and music camp this summer, will be performing with some fellow Alabamans -- the R&B/Soul quartet Just A Few Cats -- on August 10 in Tuscaloosa, Ala.

Matt Richenthal is the Editor in Chief of TV Fanatic. Follow him on Twitter and on Google+.

Tags: American Idol