Season Two DVD Party Notes: Even More Patrick Dempsey Quotes and News
by Steve Marsi at . Comments
Ladies, you don't mind that this week has been filled with Patrick Dempsey news at The Insider, do you?
We didn't think so.
Everyone's hottest doctor was looking characteristically dashing when he turned out to promote Grey's Anatomy Season Two DVD this week. (It hits shelves a week from today, September 12). Of course, the handsome pseudo doctor did explain that he's a bit more mistake-prone in real life than his character
"Derek is a neurosurgeon," Dempsey said. "He's McDreamy. I don't think he's a real kind of guy, but that's OK."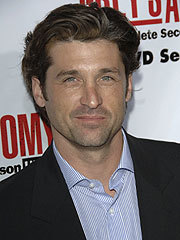 The just seemed to insult his gender with that quote, although we suppose Dr. Sheperd does set the bar a bit high. Dempsey also shared a story of a recent plane flight when he was asked to help another passenger that suddenly became ill.

"There was a seizure, but I didn't get involved," he said. "People looked at me and it was like, 'Are you going to respond to this?'. I'm like, 'Certainly not, I'm not a surgeon'. People just expect I know how to do a craniotomy."

Hey, at least he can pronounce it. That's more than most of us can say.

Fortunately, there were no medical emergencies at Tuesday's DVD launch party. Dempsey was joined by co-stars Isaiah Washington, Chandra Wilson, James Pickens, Ellen Pompeo and Sandra Oh.

Steve Marsi is the Managing Editor of TV Fanatic. Follow him on Google+ or email him here.

Tags: Grey's Anatomy