Kellie Pickler brings us more thoughts (some of them deep, others not so much) from the road. In her previous journal entry, Kellie talked about what a thrill it was to be on tour, and what a strange trip it's been for her since her first auditions. Now she's back for round two of her tour exclusive, courtesy of USA Today. Here's what K.P. has to say:
~~~~~~~~~~~~~~~~~~~~~~~
Hi again! Thanks to all of you who read my first online diary entry and posted your comments. It's great to have your support and encouragement! Here's the latest on where I've been and what I've been up to.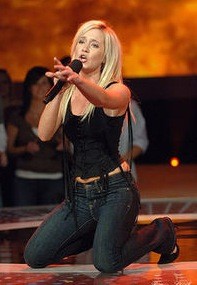 After Carolina it was off to Georgia!!! We had a lot of fun there because it was our own Georgia peach,

Paris Bennett

's hometown! You could tell that Georgia was very proud of Paris! Unfortunately for me I was under strict doctors orders to be on vocal rest for the next three shows! I guess I was overdoing it when we were in Carolina -- of course I wanted to show off in my hometown!

So in the meantime I focused my attention on writing songs for my album. Even though I was on vocal rest for shows in Georgia and Florida, I still wanted to say hello to all the fans, so after Bucky performed I would go out and wave to the crowd so everyone knew that I was there and appreciated their support.

After that, I would change into all black and a hoodie and I'd sit right in front of the stage and enjoy watching the others perform. And I have to say that they put on a great show!

When we left Florida I was so excited about the next stop that I couldn't sleep. Finally we were headed to my future hometown... NASHVILLE, TN!!!!! As soon as we arrived I went straight to the doctor for a checkup to see if I was fit to sing in the tour again. Thankfully she said that I was ready to join the other Idols and perform again!

I think that Nashville was the biggest show of the whole American Idol tour for me because after all, Nashville is Music City! Everyone welcomed me with open arms and really made me feel at home.

Plus, not only were we touring there, I began recording the album too, which comes out October 31. Yeah, my first time in the studio recording for my album, I will never forget that feeling! During my first session this man walks in the door and I looked over my shoulder and quickly took a second look. I was so excited when I realized who it was... Kenny Chesney!!!!!

I couldn't believe that he was standing next to me! It was so weird because just last year I went to one of his concerts and after his show I remember going home and calling my friend Summer and telling her that after seeing Kenny on the stage that night, I knew that that was what I wanted to do for the rest of my life.

Until next time!
Love Kellie

Matt Richenthal is the Editor in Chief of TV Fanatic. Follow him on Twitter and on Google+.

Tags: American Idol