He's known for giving love to his "dawgs," but American Idol judge, Randy Jackson, is largely involved with the Million Cat Rescue, 9Lives' campaign. It helps felines find homes.
Jackson recently sat down with TV Guide to talk about such charitable work ... along with a certain FOX TV show.
TV Guide: What's up with the Dawg and cats? Are you a feline fancier?
Randy Jackson: [Laughs] I have three dogs and now I have two cats, and they get along fabulously. I'm an animal lover in general. The Dawg is helping cats out, that's how I look at it. The Dawg is so large and in charge, he's helping cats out.
TV Guide: And you've already made a dent in the Million Cat rescue, haven't you?
Jackson: Yeah, I adopted one, "Mr. Dawg." [Chuckles] He's a cute little kitten.
TV Guide: Is it true that more people than ever have tried out for Idol this season?
Jackson: Yeah, it's amazing. Last season was one of our biggest ever, and this year eclipses that. Droves of people are turning out, which we're happy about. We're in the middle of auditions right now.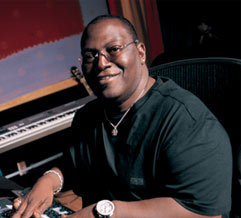 TV Guide: Are the singers getting slicker, more talented? Less tone-deaf?
Jackson: No, not really. You would hope that people would get slicker, would know what to expect, but I don't know what show they're watching! They say they watch the show all the time, and then they come in, sing a bad song and they sing it terribly. I want to say, "What show are you watching? Was the volume up when you were watching?" [Laughs] Wonders never cease.

TV Guide: There are those who just come in for a goof obviously, for a second of fame, but do some of these truly awful applicants really think they can sing?
Jackson: Some of them actually are just delusional.

TV Guide: Idol comes back in January. Will there be any changes?
Jackson: There are a couple of new little wrinkles, but we're trying to keep it all under wraps.

TV Guide: Why do you think Celebrity Duets didn't really catch on?
Jackson: [Laughs] It was a good idea, but I'm not so sure that there's much to be invested in.

TV Guide: Do you think that actors doing it for fun and charity can't compare to watching real people striving to establish careers?
Jackson: Maybe that's it. [Duets' celebrities are] already making it in some way.

TV Guide

: How many more years do you have on your

Idol

contract?

Jackson: You make it sound like a [prison] sentence. [Laughs] No, we're blessed to have the show. We have four more years.

TV Guide: You're not bored yet?
Jackson: No! It's the greatest job in the history of the entertainment business. Music's still the center of my world, so I love it.

TV Guide: Did you hear about former Idol contestant Corey Clark getting arrested?
Jackson: No kidding. [Chuckles] Hey, I wish everybody well. Everybody's just trying to get through their life the best way they can.

TV Guide: Are you surprised at how successful so many Idol winners and finalists have been with their CDs? As we speak, there are so many out or due out.
Jackson: Yeah, there are seven coming out this fall, albums and singles.

TV Guide: Which of those or any other Idol participants in your opinion is going to be a keeper, who will make music that will be around for a while?
Jackson: It's hard to say. Kelly Clarkson's certainly doing a great job; Reuben, Clay and Fantasia have shots; Carrie Underwood's doing an amazing job. I think all these kids have a shot. It's based on how good their records are.

TV Guide: What did you do with your recent time off?
Jackson: I'm one of those workaholic guys, so I don't really have time off. [Laughs] I put together the Mariah Carey tour this summer; she's out on it now and selling really, really well. I produced an album with this guy Sam Moore, from the legendary Sam and Dave.

It's got Springsteen, Bon Jovi, Sting, Travis Tritt, Wynonna Judd, Fantasia, Nikka Costa, the late great Billy Preston — it was his last recording — Eric Clapton, Stevie Winwood ... It's an amazing record. It just came out.

TV Guide: That's a heavy-duty talent list.
Jackson: And Sam is 70, yet he's singing, like, unbelievable soul.

TV Guide: You should have brought out your bass.
Jackson: You know, I still keep playing. It's the only thing that keeps me sane. It really is.

TV Guide: Any last thoughts on Idol?
Jackson: I think it's the greatest talent show ever. A lot of good has come from it, and a lot more good is going to come from it. I think it's helped a lot of people and that's the whole idea. Oh, and you should adopt a cat!

Matt Richenthal is the Editor in Chief of TV Fanatic. Follow him on Twitter and on Google+.

Tags: American Idol